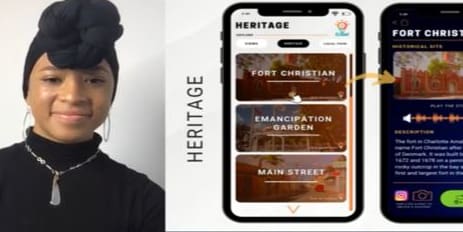 A tourism company called "VI Crawl" has created an app that allows tourists to experience the U.S. Virgin Islands from a local point of view.
The app, which has not yet been launched, is said to provide authentic virtual and augmented reality and exploratory experiences to visitors of the U.S. Virgin Islands.
"When traveling to any exotic destination there are few simple rules you must follow. Rule number one, respect the culture; rule number two, don't eat anything you can find at home; and rule number three take pictures, a lot," said project manager Torhera Durand in a video provided to Accelerate V.I. for its 2021 Pre-Accelerator Business Showcase.
The Accelerate V.I. program is an initiative by the University of the Virgin Island's Research and Technology Park to build a pipeline of early-stage startup companies and provide them with the tools they need to grow and scale from the U.S. Virgin Islands. VI Crawl was one of the Virgin Islands entrepreneurs to present at the showcase.
Other founders of VI Crawl include Creative Director Nyaila Callwood and Executive Director Khlalarni Rivers who are all University of the Virgin Islands alumni. Rivers said that through the app, tourists will be able to enjoy an authentic experience from the eyes of locals.
The application is "centuries of V.I. history and culture in the palms of your hands," Rivers said.
When you enter the application the "explore page" is packed with cultural information cards, fun facts, and folk tales from the Virgin Islands. Each card holds a creative audio clip with a local voice. Users will also be able to activate GPS directions that guide them to each site. When users are close to a site, a notification will trigger and take them directly to the information card. The card categories include heritage, lookouts, and food. When exploring lookouts, the application will take the user to an aerial map of the views. When selecting the food card, the application will explore local food options.
Interested businesses will be welcomed to take part in the application, and it will offer packages. Their premium package includes premium placement on GPS notifications and premium pin on their aerial views page. Their marketing strategy is using QR codes and placing them at packed ports and docks, lookout points, car rentals and other locations.
"By partnering with taxi and safari drivers and providing them with a platform that can help answer all the cultural, historical and food questions that tourists may have, we will make their jobs a whole lot easier," said Durand.
What makes the VI Crawl application so unique, according to its creators, is that it functions not only as a website, and it not only focuses on one island, the VI Crawl App covers the entire territory.
Rivers said VI Crawl is trying to expand its team and is looking for a project coordinator.
VI Crawl can be reached by calling 340-513-7793, sending email to crawlvi@gmail.com, or on its Facebook page. Those interested also can join the beta test list or share recommendations at the VI Crawl website.