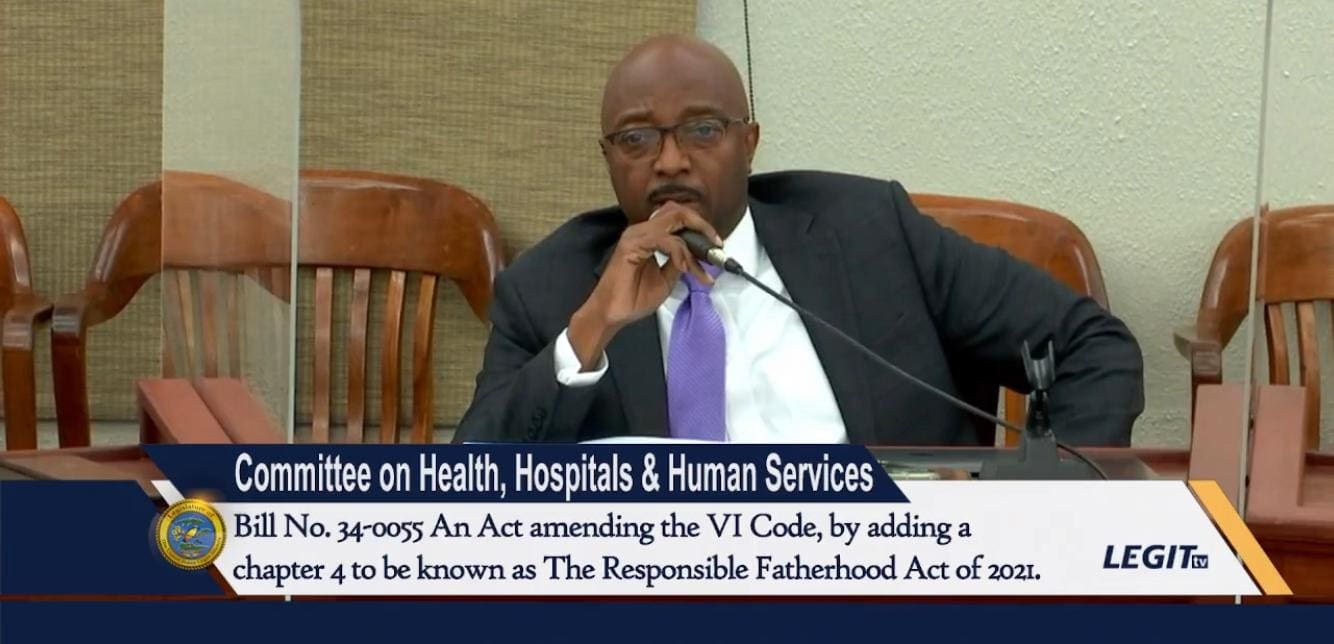 Senators and testifiers talking Friday about a responsible fatherhood initiative bill made note of this year's Kids Count Data statistics, which show that 58 percent of children under the age of 18 live in single-parent, female-headed households, compared to the national average of 23 percent.
"Ten percent of children live in single-parent male-headed households. Only 23 percent of Virgin Islands children live in a home with two parents who are married, compared to 66 percent of children in the United States," Department of Human Services Assistant Commissioner Michal Rhymer-Brown said while testifying in support of the bill.
According to sponsor Sen. Milton Potter, the goal of the initiative is to promote the importance of the participation of both parents in the lives of their children and to implement social policies and practices that value the contribution that each parent brings to the family unit. It will focus on children whose families have received or are receiving public assistance, Potter said during a Committee of Health and Human Services hearing.
Potter added that the bill "is an attempt to shine a bright light on fatherhood in the territory. Much of what you're seeing today on the streets that look like crime is a manifestation of our families in crisis, often because of absent fathers." He said that though there is support for single mothers, the role of fathers is often overlooked.
Rhymer-Brown agreed. "Fathers are important to children's well-being," she said. "Sensitive, supportive, involved fathers contribute to children's physical, cognitive, emotional, and social adjustment."
Other testifiers of the bill were Family Resource Center youth and child therapist Cacki Barrett, CEO and Founder of the Mission Project Carlton Stevens, community advocate and secretary of the Men's Coalition of the Virgin Islands Abdul Ali, and Director of the Virgin Islands Department of Justice Paternity and Child Support Division, Terrence D. Joseph.
"Children who grow up with involved fathers are 39 percent more likely to earn all A's in school, 45 percent less likely to repeat a grade, and 80 percent less likely to spend time in jail or in the judicial system," Barret said.
According to Rhymer-Brown's testimony, the DHS is the identified grantee of several federal grants that promote responsible fatherhood and positive family engagement. As such, the department has established the Council on Responsible Fatherhood and will work in collaboration with the Paternity and Child Support Division of the DOJ to ensure its operation.
DHS aims to utilize its Division of Family Assistance's Temporary Assistance to Needy Families program to assist fathers with job readiness workshops, provide financial assistance, employment training, and family activities. However, not every father will be eligible for assistance. Instead, it will focus on eligible, low-income, two-parent families.
"From a DHS perspective, we must seriously reassess our current TANF State Plan and explore and research the option of financially supporting two-parent families who meet the low-income eligibility requirements for TANF cash benefits," she said.
Additional requests were made by testifiers and senators to implement budget guidelines for aspects such as marketing, staffing, projects, travels, and technology for the program.
Though senators peppered testifiers with questions, there was unanimous agreement that attention should be given to the role fathers play in the lives of their children. According to Potter, with fathers present, children develop healthier relationships, they have less emotional and physical problems, are less likely to use drugs, exhibit violent and antisocial behaviors, perform better academically, and are more successful in their lines of employment.
Of the bill, Potter said, "This is an example of what we can do to connect with fathers in our community, provide them with the support and engagement. Ultimately, if we support fathers, we can restore the Virgin Islands families."
Senators Samuel Carrion, Kenneth Gittens, Alma Francis-Heliger, Novelle Francis Jr., Janelle Sarauw, and Kurt Vialet voted in favor of the bill, which will advance to the Committee on Rules and Judiciary.