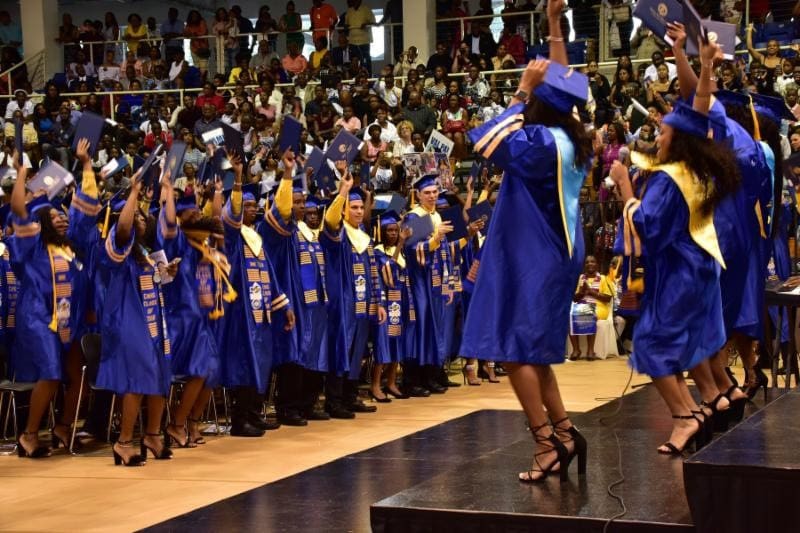 COVID-19 testing is not required for friends and family to attend graduation ceremonies at the territory's public schools, the V.I. Education Department said Wednesday.
Nor are attendees required to provide proof of vaccination, said Cynthia Graham, director of public relations and communications for the Education Department.
The only requirement is that attendees wear masks, per the V.I. Health Department's guidance, said Graham.
The clarification was issued after one school mistakenly announced stricter COVID-19 graduation policies than the Education Department has implemented, leading to angry social media posts.
"We just needed to clear it up," said Graham.
One such Facebook post expressed alarm at the cost and hassle of COVID-19 testing for those with multiple family members and graduations to attend.
"People don't have $200 to $300 to just go out and test without symptoms. People in the V.I. living in poverty and struggling to survive, high gas prices, high food prices, high rent, and now this," read the post that ended with a series of angry face emojis.
"We have big Egg Hunts on all three islands, Carnival, a Music Festival, and jams every weekend and now you're telling me in order to attend my child's graduation I must take a Covid test 48 hours before and provide negative results to attend?? Our damn priorities are in the wrong place," read another post.
However, it simply is not true that testing or proof of vaccination is required, Education's statement made clear.
"In light of recent messages circulating on social media, please be advised that the Virgin Islands Department of Education has not issued any notice requiring graduates and/or guests to test for COVID-19 prior to attending graduations," the statement said.
"Proof of vaccination is also not a requirement. Public schools that have independently issued any such statements to their students and parents have been directed to immediately retract those statements," the statement said.
"As our community continues to respond to the coronavirus pandemic, the Department of Education continues to work closely with the Department of Health to keep students and staff safe. We are optimistic to have arrived at a place in this global health emergency where we can once again safely gather in-person to celebrate our students' achievements," according to the statement.
As students and their families celebrate the first fully in-person graduation ceremonies since the start of the pandemic in March 2020, when hybrid celebrations became the norm, the territory is experiencing a surge in cases.
As of Tuesday, there were 1,130 active COVID-19 cases in the territory, up by 99 from the day before, according to the Health Department. St. Croix has 532 cases, St. Thomas 574 and St. John 24.
Schneider Regional Medical Center on St. Thomas reported 12 COVID-19 patients in-house on Wednesday, with one of them on a ventilator. None of them is vaccinated, it said.
Gov. Juan F. Luis Hospital on St. Croix had not posted its most recent numbers.