A series of viewings and tributes are being planned to remember the life of Charles Wesley Turnbull, the sixth-elected governor of the U.S. Virgin Islands. The former leader's body came home on Wednesday after departing this life in Washington, D.C., on July 3.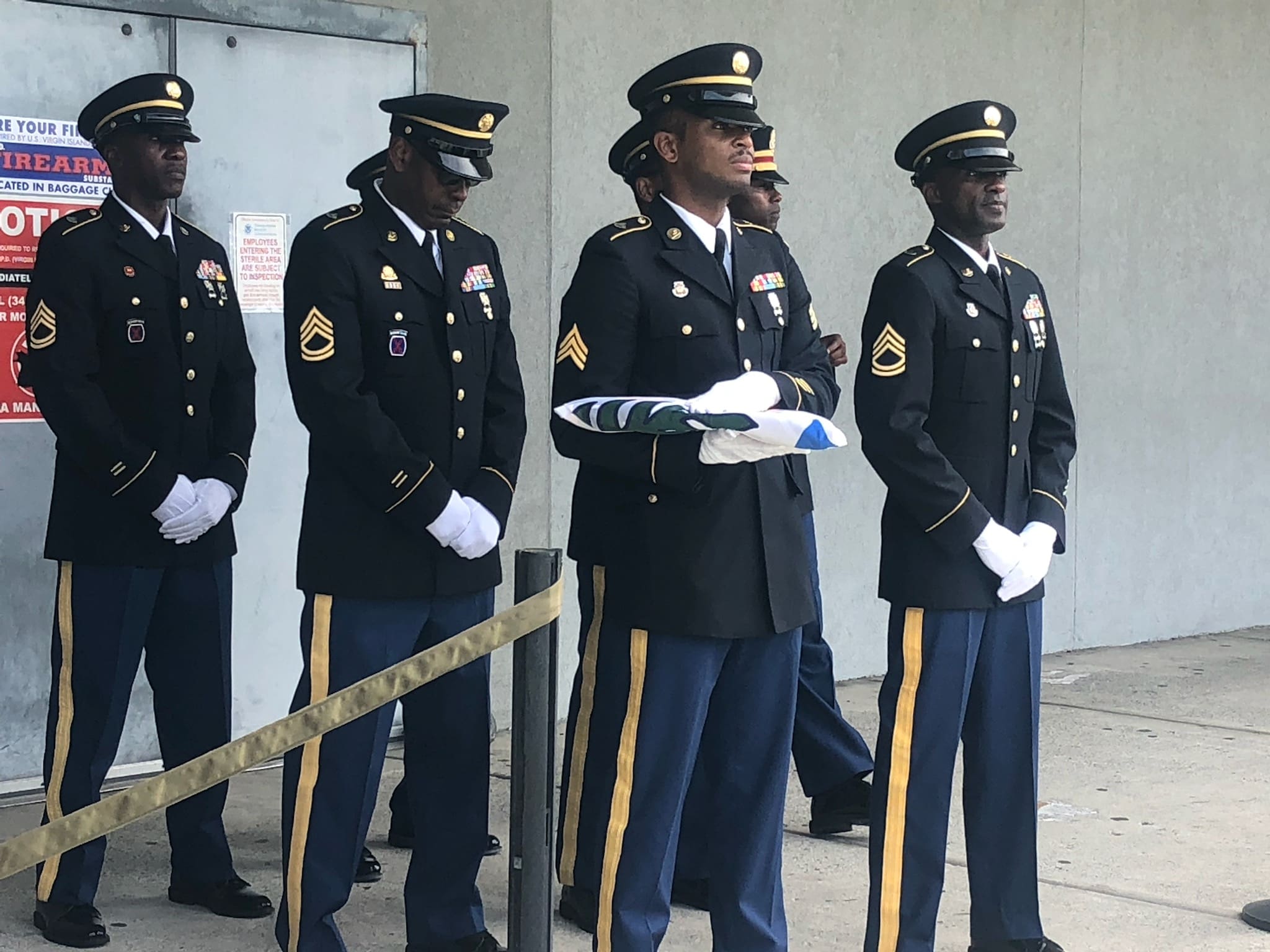 Gov. Albert Bryan Jr. and Lt. Gov. Tregenza Roach, along with Port Authority Director Carlton Dowe and Veterans Affairs Director Patrick Farrell, joined the delegation that witnessed the return to Cyril E. King Airport on St. Thomas. Turnbull's casket was borne by an American Airlines jet that also carried some family members.
A military honor guard in formal dress uniforms marched slowly to the rear of the plane after the regular passengers disembarked. They stood in formation, waiting for Turnbull's casket to descend down a ramp from the cargo hold. One guardsman cradled a Virgin Islands flag, which was carefully unfolded to cover the casket.
While the honor guard marched across the tarmac to a waiting hearse, Bryan and Roach stood alongside Mavis Turnbull, the former governor's sister. Roach reflected on the moment he was part of on Wednesday and the man being honored.
"Dr. Turnbull is our historian governor. He had this ability to contextualize any moment in its proper history and culture of the moment, and he was somebody who I spoke to often," the lieutenant governor said.
From the time of his passing in early July, those paying tribute to Turnbull recalled his willingness to mentor and counsel elected leaders. On Wednesday, Roach joined their ranks. "He supported me in my campaigns for the Senate. He supported me in my campaign for lieutenant governor. And we would have rich conversations about history, about writing — because he also has books out, and when my first book was out, we spoke. I consider him a friend, a mentor. He has touched the lives of so many Virgin Islanders," he said.
Once the brief ceremony ended, the governor and his entourage escorted the hearse to the funeral home on Veterans Drive to complete the first leg of the homecoming. Bryan said there are plans to have Turnbull lie in state on St. Thomas, St. Croix, and St. John before funeral services take place. The dates of those events have not been announced yet.
Bryan said Government House also plans to host a memorial dinner, inviting members of Turnbull's cabinet and administration to attend. For the public, he said, there would be a chance to reminisce at a public event to take place at Emancipation Garden.
The governor added he would miss Turnbull's company and their talks together. "It's sad to see him go. I thought he would be around. I kept looking to have dinner with him. He was such a jovial soul. I really enjoyed shooting the breeze with him," Bryan said.