Crucian DJ Michael Canton hosts the Soul Show on WTJX-FM, Saturdays, 7-10 p.m. on St. Croix. The show is a progressive musical adventure into soul music, its origins, and its derivatives. The station can now be picked up on Featured On Demand.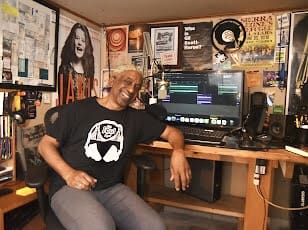 The three-hour weekly program covers upward of five decades of music per week, presenting this thread in a cohesive and intelligent manner, Canton said. "Special features and themes are frequently incorporated to add depth and enrich content: Prince's legacy, Black History Month, Women's History Month, interviews with Third World, Nona Hendryx of LaBelle, James Brown bandleader Fred Wesley, Stephen Colbert's drummer and multi-instrumentalist Louis Cato, and more."
"The Soul Show" dates back to 1995 as the longest-running adult alternative station on WYEP in Pittsburgh, founded by Stephen Chatman and Don Patterson. Canton was the co-host with Chatman in 2006 and picked up the reins as the solo host in 2009. The show was canceled in August 2022 due to "listener feedback" as the official statement for the closure. Canton continues the show at his website: soulshowmike.org.
Canton posted the WYEP release on his Facebook page with the note, "27 years for a black/brown show in primetime? Pretty awesome. I'm pretty sure Stef and Don [referring to 'Soul show' founders Stephen Chatman and Don Patterson] would be happy to know we've kept it going at a high level for almost 3 decades, not to mention that it continues to thrive in four other national and Caribbean FM markets."
WYEP program director Liz Felix said in a statement, "Based on feedback from listeners, we are working to bring listeners more of the great mix of music on the weekend they hear during the weekdays."
"We are grateful to both Ken and Mike for their long service on WYEP and grateful to all the listeners who share their feedback and suggestions," noted Mike Sauter, vice president of Broadcasting for Pittsburgh Community Broadcasting. "It's part of what makes public radio great and why we are so committed to serving our listeners and the entire Pittsburgh community."
Canton was raised on St. Croix, left to earn his engineering degrees from Brown and Carnegie Mellon, then made Pittsburgh his home. He recently retired as a project manager from Westinghouse Electric Company, a major power and technology and construction firm of 10,000 employees.
"Using his distinctive voice and passion for music, Canton began to produce and host the Soul Show on WYEP-FM Pittsburgh, one of the country's most respected independent music stations. The weekly three-hour program is approaching 25 years," according to Canton's website.
Canton is a prominent figure in the Pittsburgh music scene. He often emcees concerts and festivals, does some voice acting and visual acting, is a photo hobbyist and does bits and pieces on the side — some come to him, and some he goes for, he said. He frequently returns to St. Croix to visit family.
Public radio works best for Canton. He did Infinite Soul on Sunny FM in 2016 for a year or two. He named "The Soul Show" on WTJX to match the one in Pittsburgh. The template is similar, he said. The show is syndicated in St. Croix, North Carolina, Alaska, and Rhode Island. Through the satellite system, he produced them at home and sent them to all the different places at once.
When Canton found out about the African American Radio Consortium, he knew he could deliver his program to stations that want it and need it. "They are my outreach to the world," he said. "The mission is having people come in and bring their love to the broadcast."
Cantons' website is a platform that houses podcasts, links to his monthly column in newspapers, and photos he takes of concerts around Pittsburgh. It's a landing site. In it are archives of Pittsburgh shows and syndicated shows. "That's where I put things. Now that WYEP is gone, the syndicated show is in those other four cities I mentioned."
When asked how he remembers the history, and the trivia, Canton responds with, "The trick is finding ways to put it all together — who they played with, what they played — after 16 years, it becomes easier, and I usually have info off the cuff."
Listeners will agree Canton knows a lot about a lot of things.
According to Canton, WYEP thought it would boost listening by changing the format of his show; people have shifted their membership dollars to WTJX to listen to "The Soul Show." "The power of listeners of public radio is to go where they want to hear music."
Canton sees the cancellation as business, but he also sees cultural arrogance. They were not interested in music of color, he said. His show was one of only two Black-hosted shows. "Culturally, the station had become increasingly narrow. I was far more frustrated with their lack of sensitivity in their public statements. It's good marketing when people look at your website and see diversity."
Local listeners will be interested in how Pittsburgh came to St. Croix and St. Thomas. The cultural arrogance that happens up here is not so visible on the islands. Some things that happen in Pittsburgh would not happen in the VI, he said.
"Some things are just what they are."
For more information: