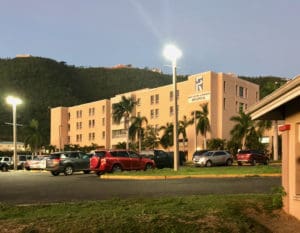 A critically ill cruise ship passenger who was treated at Schneider Regional Medical Center on St. Thomas has died of complications related to COVID-19, the V.I. Health Department reported Friday morning.
The passenger, who became sick while aboard ship and was taken directly to the hospital upon arrival, did not contract the virus in the territory and since there was no possibility of community spread, will not be included in the data on COVID-19 deaths acquired or transmitted in the U.S. Virgin Islands, the department said in a news release. The territory's death toll from the virus remains at 125.
The department did not release the patient's age, sex, or the date they were admitted to hospital.
"In support of the Virgin Islands tourism industry, cruise ships, travelers and crew visiting the territory, the V.I. Department of Health and hospitals routinely provide emergency or critical care to visitors in an effort to prevent the spread of disease or to provide urgent care as soon as possible," the department said.
Perhaps the most well-known foreign patient was Rolly Tolentino, aka "Sam the Sailor," of the Philippines who spent 12 weeks at Schneider Regional Medical Center after falling critically ill with COVID-19 in May 2020 as his cargo vessel traversed Virgin Islands waters. The U.S. Virgin Islands offered him care and refuge after Puerto Rico refused his ship entry due to coronavirus fears, a decision that was not without controversy at the start of the pandemic.
"It is great to see our tradition of holding out a welcome to one and all was not in vain," Gov. Albert Bryan Jr. — who dubbed Tolentino "Sam the Sailor" in his early press conferences on the virus — said at the time.
"We were able to render aid, and not be selfish and close our door, and save a life," St. Thomas/Water Island Administrator Avery Lewis said on the day Tolentino was released, to fly home via air ambulance to his native Philippines.
The latest death is a reminder that the COVID-19 virus remains a threat despite the relaxation of masking and distancing mandates, and the department continues to encourage the public to become fully vaccinated and boosted.
Vaccines for COVID and the flu for residents ages five and older are available by calling the Health Department at 340-244-0016 on St. Croix, 340-777-8803, ext. 2600, on St. Thomas, and 340-776-6400 on St. John.
The bivalent booster is available for anyone over the age of five who has had the previous shots.
Residents are also urged to remember to follow all precautionary measures by practicing social distancing around persons outside of your household, wearing a mask in crowded public areas, washing your hands often with soap and warm water, and cleaning frequently used areas thoroughly.