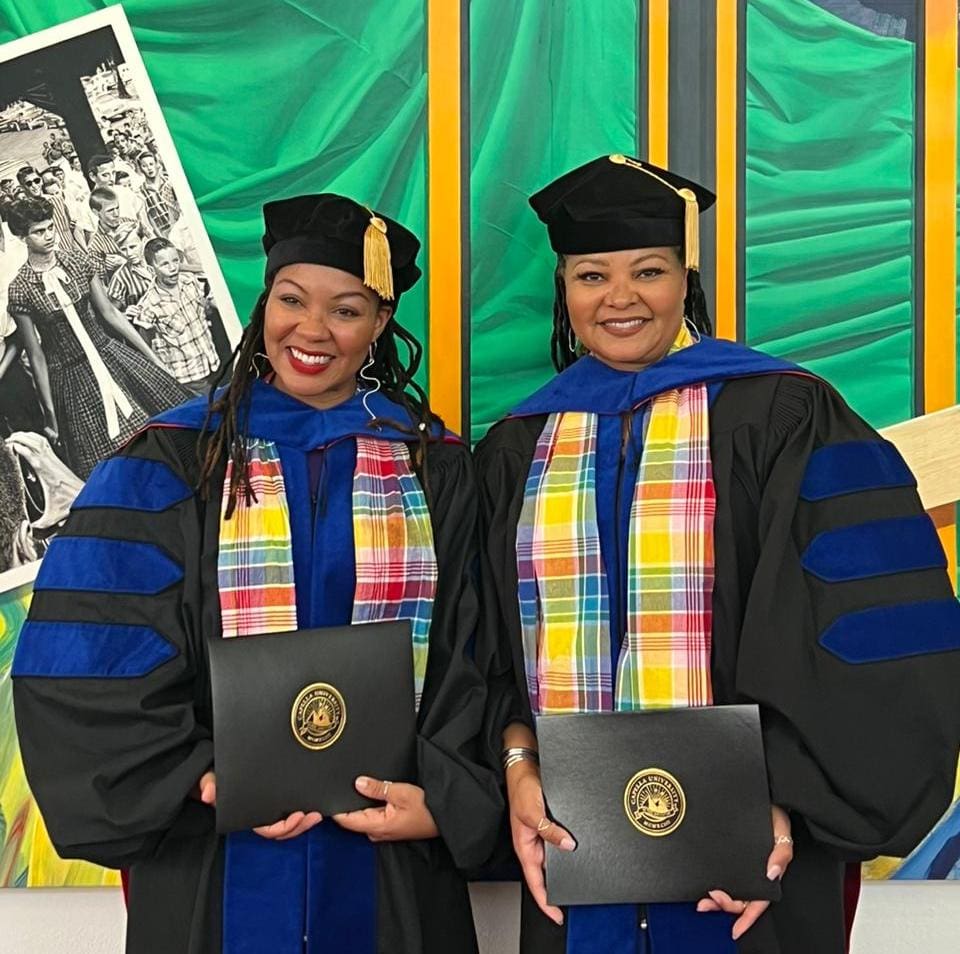 The Simmonds sisters — the daughters of Virgin Islands artist/culture bearer El'Roy Simmonds, and educator/children's advocate Carmen Simmonds — participated in the hooding ceremony for Capella University's School of Social and Behavioral Sciences Ph.D. program on Saturday in Charlotte, North Carolina, making V.I. history as two Virgin Islands sisters in the same family to be declared doctors in philosophy on the same day.
Born and raised on St. Croix, Dr. Xaulanda Simmonds-Emmanuel and Dr. Khnuma Simmonds, shared similar yet different experiences as children of the Virgin Islands, according to an announcement lauding their achievements.
Simmonds-Emmanuel was the pre-Hurricane Hugo, Generation X baby who graduated from the Country Day School whereas Simmonds was the post-Hugo Millennial, who graduated from the St. Croix Educational Complex Magnet Program. Between these sisters are two different eras and 16 years of age difference, yet one united message in their household: Education, women's empowerment, Black excellence and V.I. pride, it stated.
This V.I. History Month, the Simmonds sisters now represent the 2 percent of the U.S. population that has a Ph.D., according to the World Population Review, 2023; and this Women's History Month, they help to close the gender disparity gap that still exists as men are still more likely than women to have a Ph.D. in the United States, with 2.5 percent of the Ph.D. candidates being male and 2 percent female, as they join the 60 percent of the Black women who make up this percentage with doctoral degrees.
A recent article by Simmonds-Emmanuel entitled 'Storytelling beyond the numbers: A Black women's pursuit of a doctoral degree' further investigates the stories of other women Ph.D. holders in the Virgin Islands and beyond, who share their stories beyond the numbers of "why" they, too, have pursued their doctoral degrees. Much like them, the Simmonds sisters have pursued this highest degree — not merely for career advancement or pay increases (although they won't reject it should it come!) but to document the experiences of Black voices through research and personal reasons of family, faith, community and building legacy for generations to come.
What's next for the Simmonds sisters? Well, they are just getting started, they said.
Simmonds-Emmanuel is the chief passion officer of The XauSky Group and co-owner of My Girlfriend's Closet St. Thomas with a Doctor of Philosophy in Psychology. Her dissertation was on "Predicting Work Passion: A Multiple Regression Analysis" involving healthcare middle managers that self-identify as people of color.
Simmonds, the founder and CEO of Girlfriendism International LLC/My Girlfriend's Closet St. Croix is a Doctor of Philosophy in Advanced Studies in Human Behavior. She published her research, entitled "Caribbean Women, Music & Dance: Self-Expression and Intimate Partner Violence Recovery," involving survivors in the U.S. Virgin Islands. In addition to their peer-reviewed published research and cover features in local publications like EmpowHER magazine and national publications like Voyage Minnesota and Disruptors Magazine, the Simmonds sisters are also pleased to serve as co-authors for the newest V.I. anthology book launch — "Passion and Purpose" by Courageous Woman Magazine.
This anthology, which features 21 women to watch from the U.S. Virgin Islands, including the Simmonds sisters who share their stories of entrepreneurship, leadership and everyday life, will be available for purchase and download on Amazon on March 22 during Women's Literary Month. March is indeed a celebratory for the sisters and they express much gratitude to "the village" that raised them, "the girlfriends" who continue to support them and Capella University's marketing team that extended a special invitation to participate in a commencement photo shoot that will continue to celebrate this V.I. win on a national platform later this month.
Both sisters continue to work independently and collectively through their entrepreneurial endeavors and the family non-profit, H.O.P.E. Incorporated — a project of the St. Croix Foundation for Community Development that is Helping Ordinary People Everyday … to be extraordinary through the arts and creative expression.
They encourage the community to mark the date of April 1 for their next event — The Reclaiming Faces Survivor Exhibit. Inspired by Chalana Brown's "Claiming Spaces: The African Story of the Sugar Mill" that launched on V.I. Emancipation Day of 2021, Reclaiming Faces is a continuation of anti-oppression, pro-healing and Afro-Caribbean emancipation work that is presented in the form of a photo exhibit curated by and for survivors of domestic violence, sexual violence and child abuse in the U.S. Virgin Islands.
The exhibit launch will also serve as a ceremony of gratitude and reveal of Simmond's doctoral research findings. Intentionally launching on April 1 during Sexual Assault Awareness Month and Child Abuse Prevention Month in 2023 (the 175th Year of Emancipation in the U.S. Virgin Islands), this exhibit will unveil in the spirit of Sankofa (remembering the past to make progress in the future), the very spirit the sisters wish to impart as they honor their family and remember the rich V.I. history from which their resilience and discipline is drawn in order to write the narratives of their own "herstories" and continued V.I. legacies.
For more information on the "Reclaiming Faces Survivor Exhibit,"visit www.hopeusvi.org and stay tuned for updates. To learn about My Girlfriend's Closet St. Thomas — the sister brick and mortar boutique to My Girlfriend's Closet on St. Croix and/or GirlfriendismTM International LLC — brands that are Virgin Islands-owned, woman-owned, Black-owned, survivor-owned and veteran-owned — visit www.girlfriendism.com and follow their social media pages and handles: Facebook and Instagram: @mgcstx, @mgcstt @mgcusvi #Girlfriendism.
The sisters' father, El'Roy Simmonds, was born and raised on St. Croix and is a master local artist who was once an exchange student at the Kuntz Academy in Copenhagen, Denmark where he conducted research on the history of the relationship between Denmark and the U.S. Virgin Islands. He holds a Master's Degree in Fine Art from Pratt Institute Brooklyn, New York, one of the best art and design schools in the world.
Their mother, Carmen Simmonds, the daughter of respected counselor and entrepreneur Hilda Bastian England, is a retired public educator of 35 years who served as a CASA advocate for children and earned a Master's Degree in Education from New York University.
Beyond the immediate family, the Simmonds have been known to contribute to V.I. culture and the arts through original scratch band and quelbe groups like the former "Simmonds' Brothers" and now, the academic and cultural contributions of the "Simmonds Sisters" — both of whom also obtained undergraduate and graduate degrees from the University of the Virgin Islands — the only Historically Black and College and University in the territory.