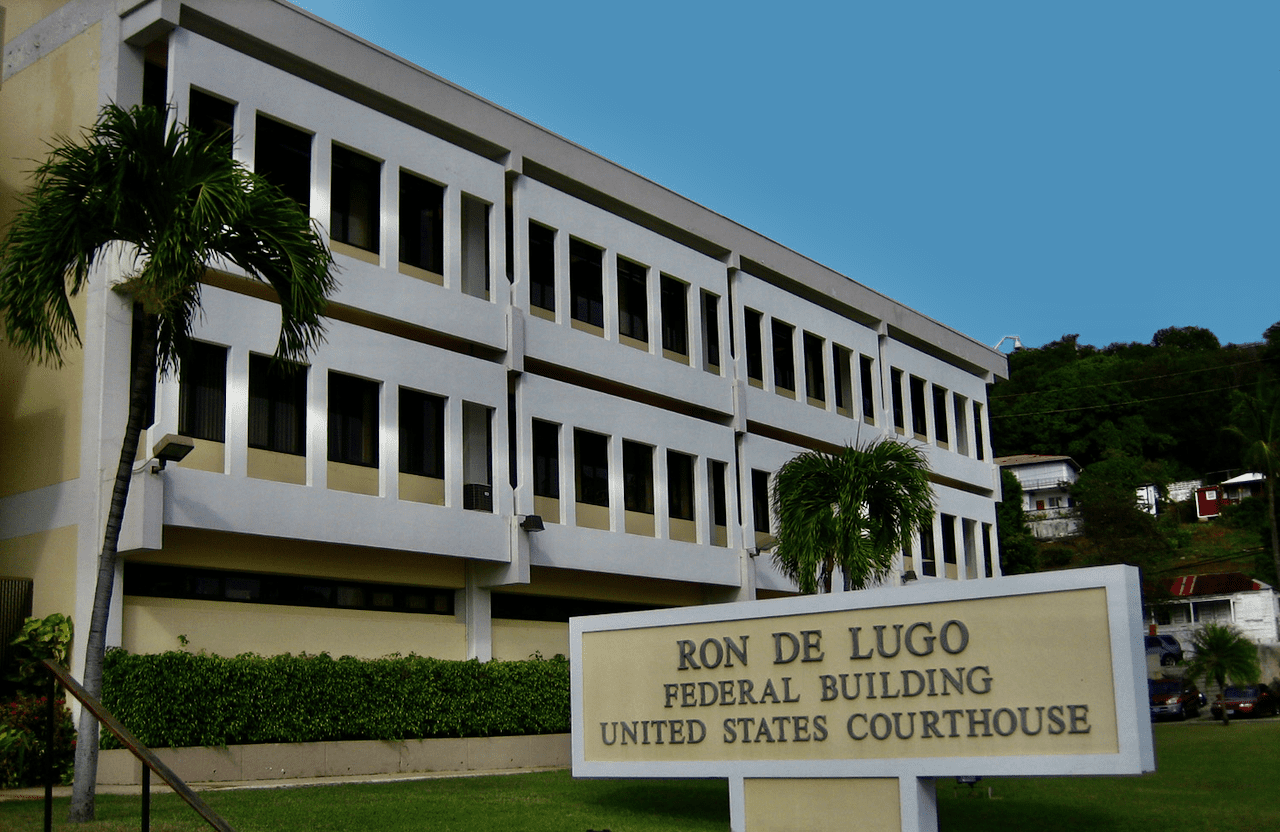 A former high school employee told a federal magistrate that he raped, assaulted, and exploited a dozen students at the Charlotte Amalie High School over the course of 15 years. Defendant Bruce Alfredo Smith, 52, pleaded guilty to 20 criminal counts at a hearing held Wednesday morning in District Court.
U.S. Magistrate Ruth Miller began the hearing with an arraignment on a superseding indictment filed Aug. 23 and then opened a change of plea hearing. While it's common at arraignment for the defendant to plead not guilty, Smith stood and declared himself guilty over and over as Miller read aloud the details of his crimes.
The former CAHS staffer and coach was arrested on Sept. 1, 2021, after witnesses brought allegations of sexual misconduct to Homeland Security Investigations. He has been held at the Metropolitan Detention Center in Puerto Rico since then.
On Wednesday, he entered the courtroom in handcuffs, accompanied by U.S. Marshals.
Before reading the individual offenses listed in the indictment, the magistrate asked Smith if he went over the plea deal with his lawyer and if he agreed that the government could prove the charges.
"Are you pleading guilty, sir, because you are in fact guilty?" Miller asked.
"Yes," he said.
Smith admitted at the magistrate's prompting that at various times between 2006 and 2021, he persuaded, enticed, induced, and coerced 12 male students into performing sex acts with him and posing for images he captured on camera and shared with others.
He also admitted to raping four minors between December 2016 and August 2020. Two of those minors were 16 at the time, court documents said.
In three other instances, between January 2006 and January 2017, Smith admitted to removing students from classrooms for sexual encounters. On one of those occasions, the defendant admitted to choking a student and threatening to use a taser to force the victim to submit.
"During that time the defendant sexually exploited several male students. The defendant engaged them in sexual intercourse and sodomy both on and off the campus at Charlotte Amalie High School. The defendant also showed them sexually explicit images depicting acts of child pornography," Assistant U.S. Attorney Everard Potter said. "He used his position as a hall monitor to entice and exploit several male minors in classrooms and offices, and on one occasion threatened a minor with a taser in order to get him to comply with his sexual desires."
Smith also admitted to other offenses, including transporting minors to locations around St. Thomas for the purpose of sexual activity. He also pleaded guilty to creating images of minors engaged in sex acts and sharing them through electronic means.
A statement released by U.S. Attorney Delia Smith showed how the investigation tied incriminating photos and videos back to Smith.
"On August 11, 2021, federal agents executed a search warrant on Smith's Google and Facebook accounts which revealed a large quantity of sexually explicit materials depicting numerous identifiable minors engaged in sexual activities with Smith. On September 1, 2021, Smith was arrested, and additional search warrants were executed on his home and on areas of the CAHS campus that were identified from images stored in Smith's cell phone," the prosecutor said.
Before that portion of the hearing began, Miller ordered the defendant to sign an agreement for her, as the magistrate, to conduct the change of plea hearing in place of the judge who will sentence him.
Chief District Judge Robert Molloy is expected to perform that duty. No sentencing date was announced on Wednesday. Under the plea deal, Smith could be sent to prison for 30 to 35 years, pay a fine of up to $250,000, and serve up to a lifetime of supervised release.
He is also expected, upon sentencing, to be listed as a registered sex offender.