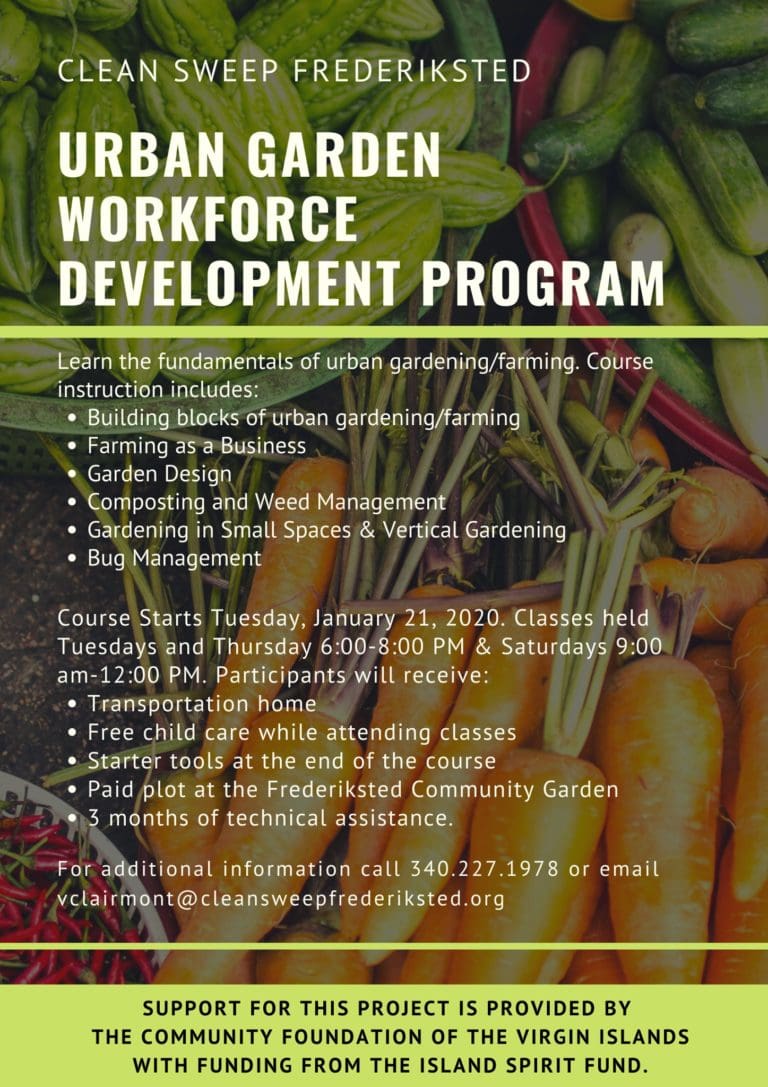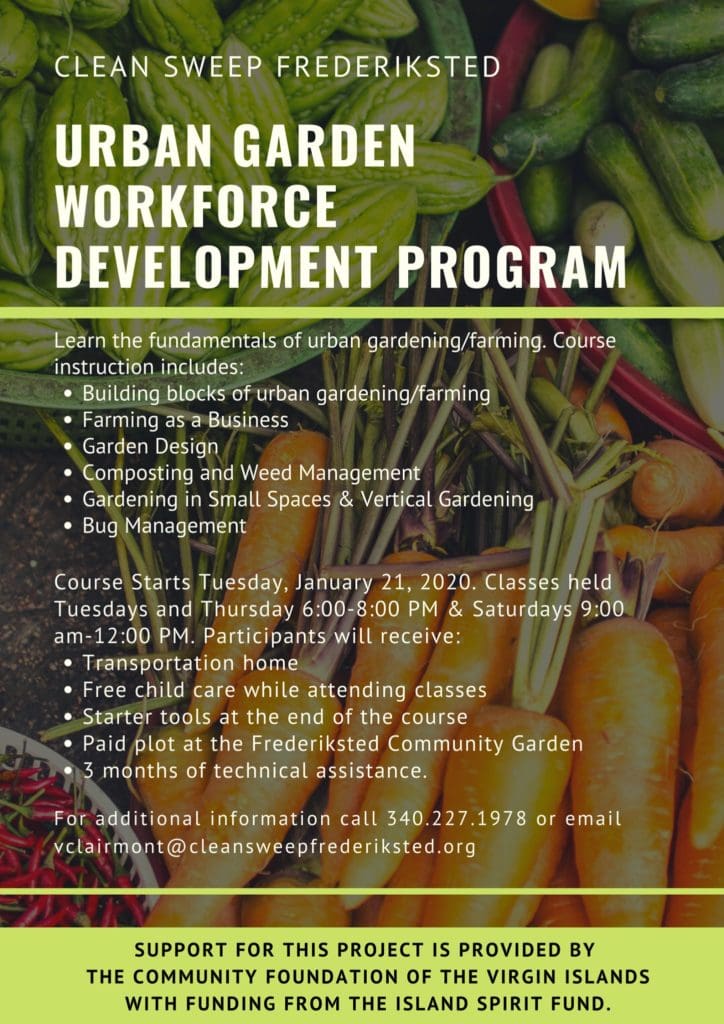 On Jan. 21, Clean Sweep Frederiksted will launch the Urban Garden Workforce Development program, a free program that promises to teach participants the fundamentals of urban gardening and farming.
Clean Sweep Frederiksted is an organization committed to making Frederiksted a wonderful place to live and visit. Founder Virginia Clairmont began this venture with the intention to create a thriving Frederiksted. Clairmont is a native Crucian, born and raised in Frederiksted. Upon her return to St. Croix after living abroad for 28 years, she asked the question "What happened to my community?" Clairmont is committed to creating opportunities to help improve the look, feel and horizon of Frederiksted's future. She has already led countless programs with volunteers cleaning up different areas in town, along with other community engagement and beautification projects including 2019's Seawalls Mural Project in partnership with Clean Sweep to bring awareness to the ocean.
"Frederiksted is a food desert," said Clairmont. It is her desire through the Urban Garden Workforce Development program to plant new seeds that will make a lasting impact on the future of fresh produce and local food access in Frederiksted.
The program is funded by the Island Spirit Fund and the Community Foundation of the Virgin Islands. Its aim is "to serve the disenfranchised and public assistance population with an aim to have the locals invest in their town," said Clairmont. "The program is open to all," she added. "We have made transportation available for rides home for any who may be on public transport and coming from far as well. We want people on east end to come and participate."
Classes will be held multiple days of the week and are completely free to attend. The program has engaged local farmers who are well versed in local and urban gardening to teach the courses. Those interested in participating must register to be part of the program. To register you can attend the first session on Jan. 21, from 6-8 p.m. at the Caribbean Museum Center for the Arts in Frederiksted. Participants that attend at least 85 percent of the program will be given a paid plot at The Frederiksted Community Garden as well as technical support, tools and more. The program also offers free childcare while attending the classes.
For more information call 340-227-1978 or email vclairmont@cleansweepfrederiksted.org.