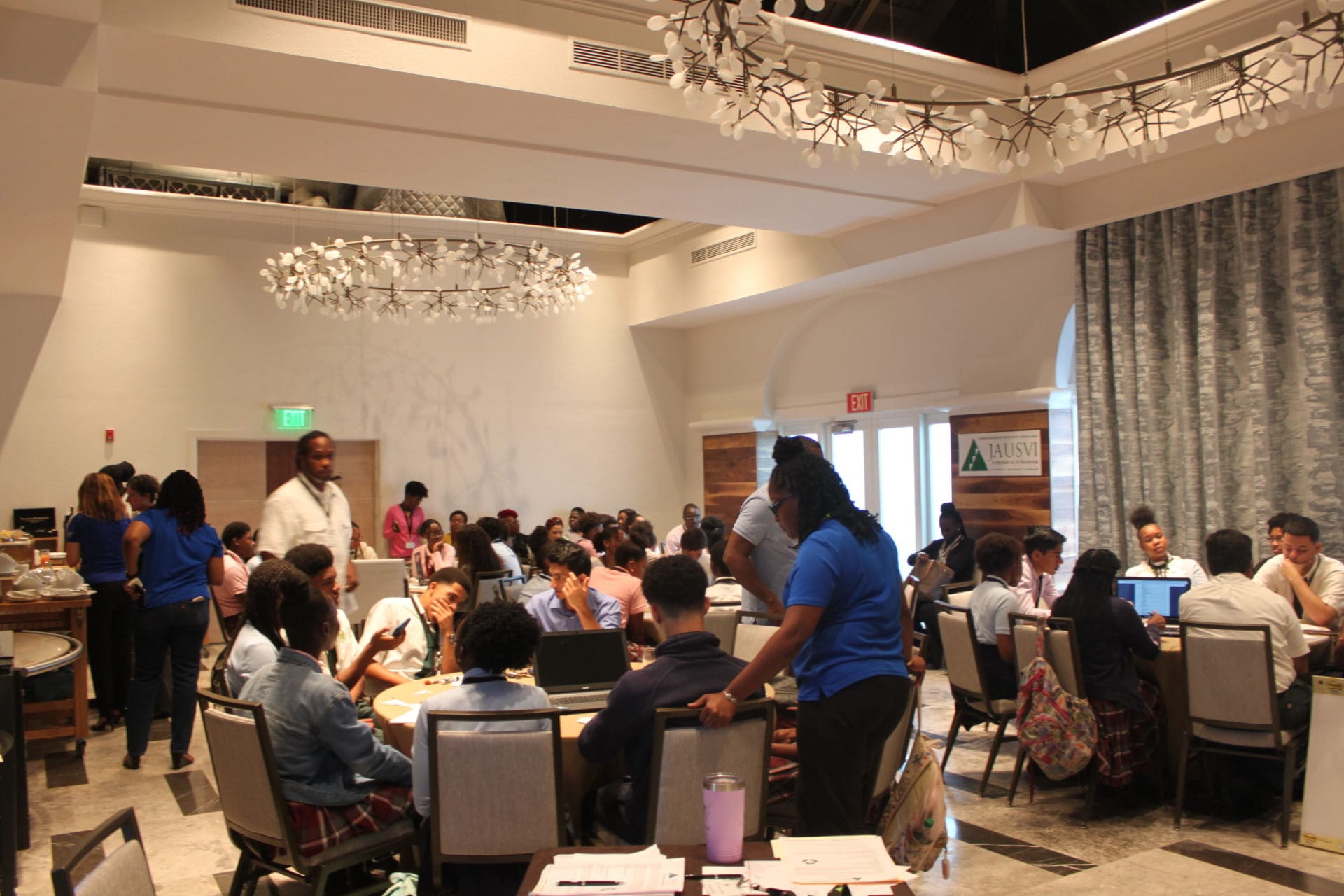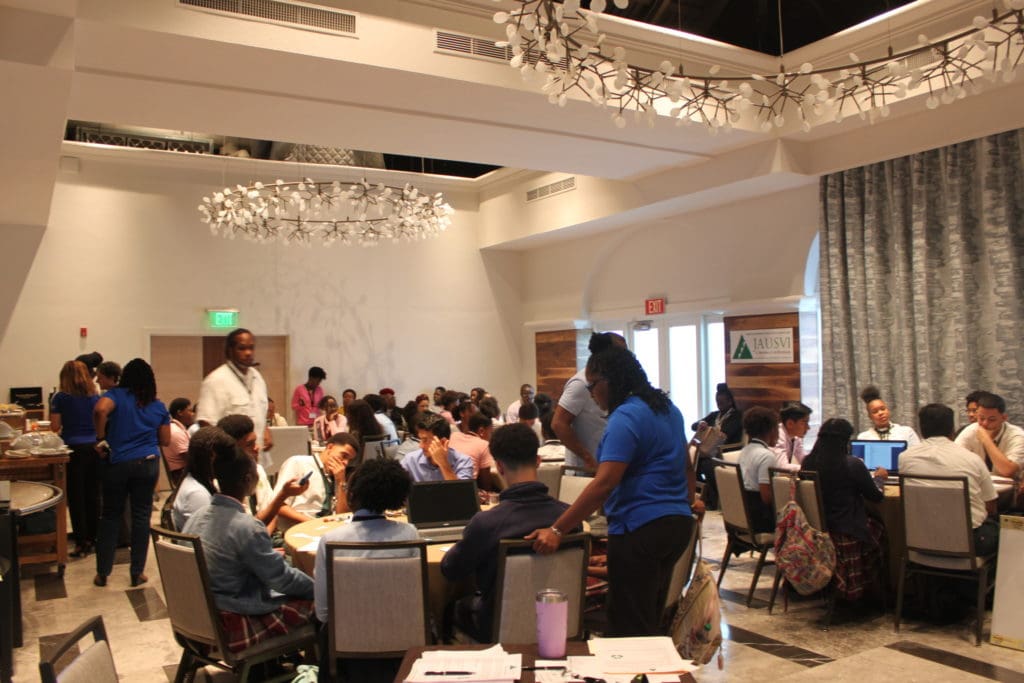 Tucked into a conference room at The Ritz-Carlton on St. Thomas, more than 50 students came together to find innovative solutions to a large problem the Virgin Islands faces: What to do with the territory's waste.
The Junior Achievement Innovation Camp brought together six schools to work out business plans for a solid waste recycling facility that would take materials common in the territory's landfills and convert them into valuable resources.
The students were separated into five groups and each was given a specific material: aluminum, cardboard, glass, paper and plastic. Each group was asked to create a five-minute presentation, and while they brainstormed their ideas mentors were present to assist.
Group presentations were input into provided laptops that JA USVI board member Alice Krall said were donated to the organization.
"The presentations will then be judged out of 100 points, based on a rubric," Krall said. "I can't wait to see what their creative minds will come up with, sometimes the ideas are quite unexpected."
In addition to the overall presentation, the judges looked at the sustainability of product, marketing, financials and the analysis of the student's mock businesses strengths, weaknesses, opportunities and threats.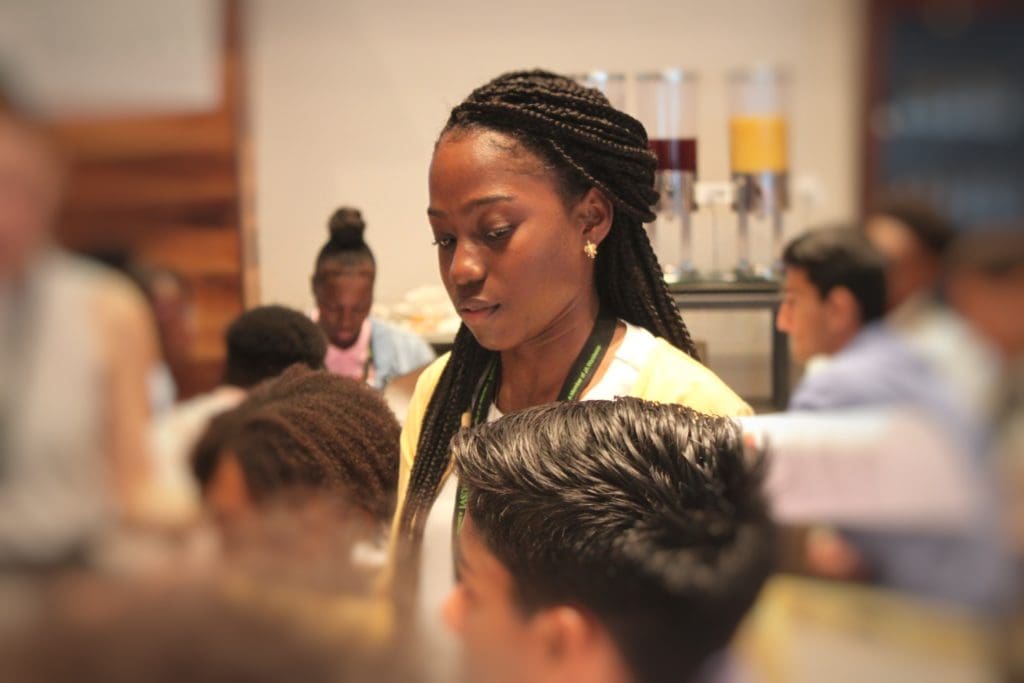 The overall goal was that the ideas students came up with would be opportunities that will have a "positive impact on the environment, promote financial and social benefits, encourage competition and potentially create solid waste recycling related jobs," read the camp's flyer.
The winning group was tasked with the material aluminum and titled their company "Green Thumb Aluminum, LLC." The students' innovative idea was to combine collected aluminum material from landfill and construction sites and repurpose it as manufactured storm shutters.
The original, winning idea was put together by students Deja Smith, Brianna Whyte, Devesh Alvani, Kamaria Wilkinson, Ahmed Muhsen, Ryan Querrad, Rahit Vaswani and Denesha Derima.
JA USVI board member Sadie Clendinen said the students would receive a gift certificate as an award for their achievement and that it wouldn't single out any specific school.
"All the tables have been mixed to ensure students work with other students they may have not otherwise met," Clendinen said.
The six schools, two public schools and four private schools, "are a great representation of the many types of minds it takes to come up with just one solution," Clendinen said.
Krall added that each student was recommended to the camp by school advisors and that the students ranged in age from freshman to senior.
The participating schools were: Charlotte Amalie High School, Ivanna Eudora Kean High School, V.I. Montessori School, Antilles School, Sts. Peter and Paul Catholic School and All Saints Cathedral School.
"It is something we have enjoyed doing and seeing the students excel at. Their ideas are often inspiring during a time when adult minds are often preoccupied with the many other issues the territory faces," Krall said.
The JA USVI held Innovation Camps prior on St. John at Sea Shore Allure and St. Croix at The Buccaneer Hotel. The Ritz-Carlton donated the space for Wednesday's Innovation Camp held on St. Thomas, supplying food, venue and parking.