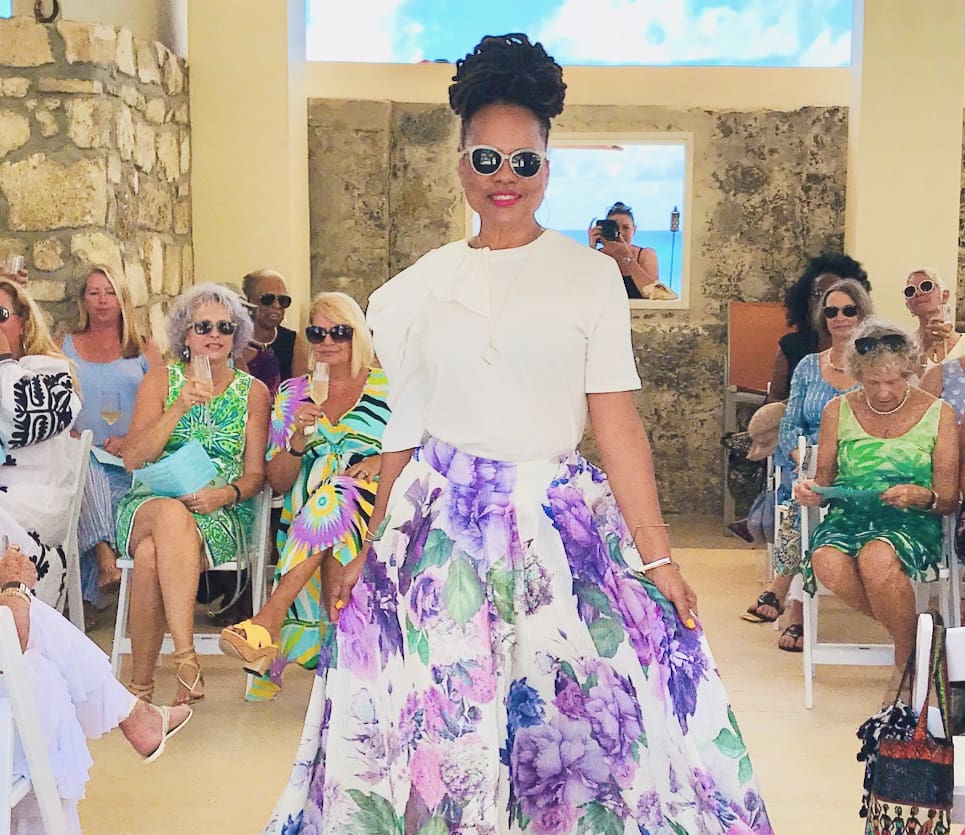 Crucian fashionistas gathered at The Fred in downtown Frederiksted Sunday afternoon. The sunshine of the day mirrored the energy of attendees and professional display by the models as they strutted, pranced, twirled and pivoted down the runway. Every seat was filled at the outdoor venue.
It was the fourth annual Crucian Fashion Fest, a benefit. This year's recipient was the Women's Coalition of St. Croix. The association of boutiques and designers came together to create a showcase of new designs and classics.
"It started very small, four years ago with just Joyia and I," said show organizer Lori Hirons of Island Contessa. "It has really grown and become quite an event. We're thrilled to be at The Fred again. They are great hosts and sponsors and it is a beautiful venue."
Joyia Jones, of Joyia International Jewelry, and Hirons worked together for the first Fest at Cafe Fresco in downtown Christiansted, with the goal of awarding a nonprofit organization the proceeds from the February fashion event.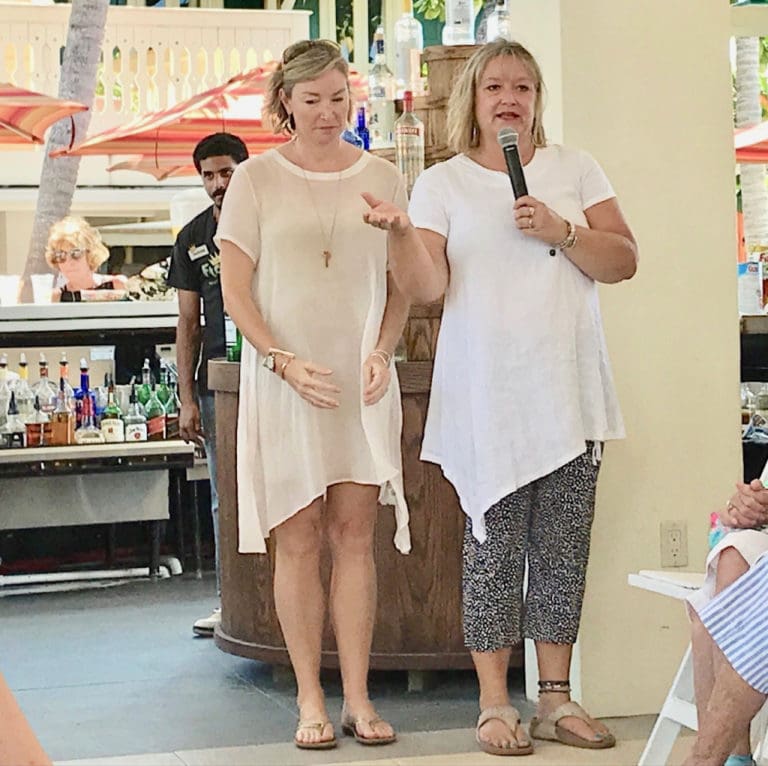 MC Scot Newell kept the energy flowing as he described the models' fashions as they stepped onto the runway, focusing on details in the clothing and jewelry.
Fashionistas were treated to unlimited bubbly and other beverages. An abundance of finger foods were available to satisfy any palate.
"This has been an amazing experience," said Lisa Bhola from Trends on Strand Street in Christiansted. "I was asked to participate in past years. I'm so happy to say this is my first year and one of the fashions modeled was a flowered strapless dress from my store."
"What a delightful Sunday afternoon being here supporting the great work of the Women's Coalition and seeing the fabulous shopping opportunities right here on St. Croix," local educator Sayeeda Carter said.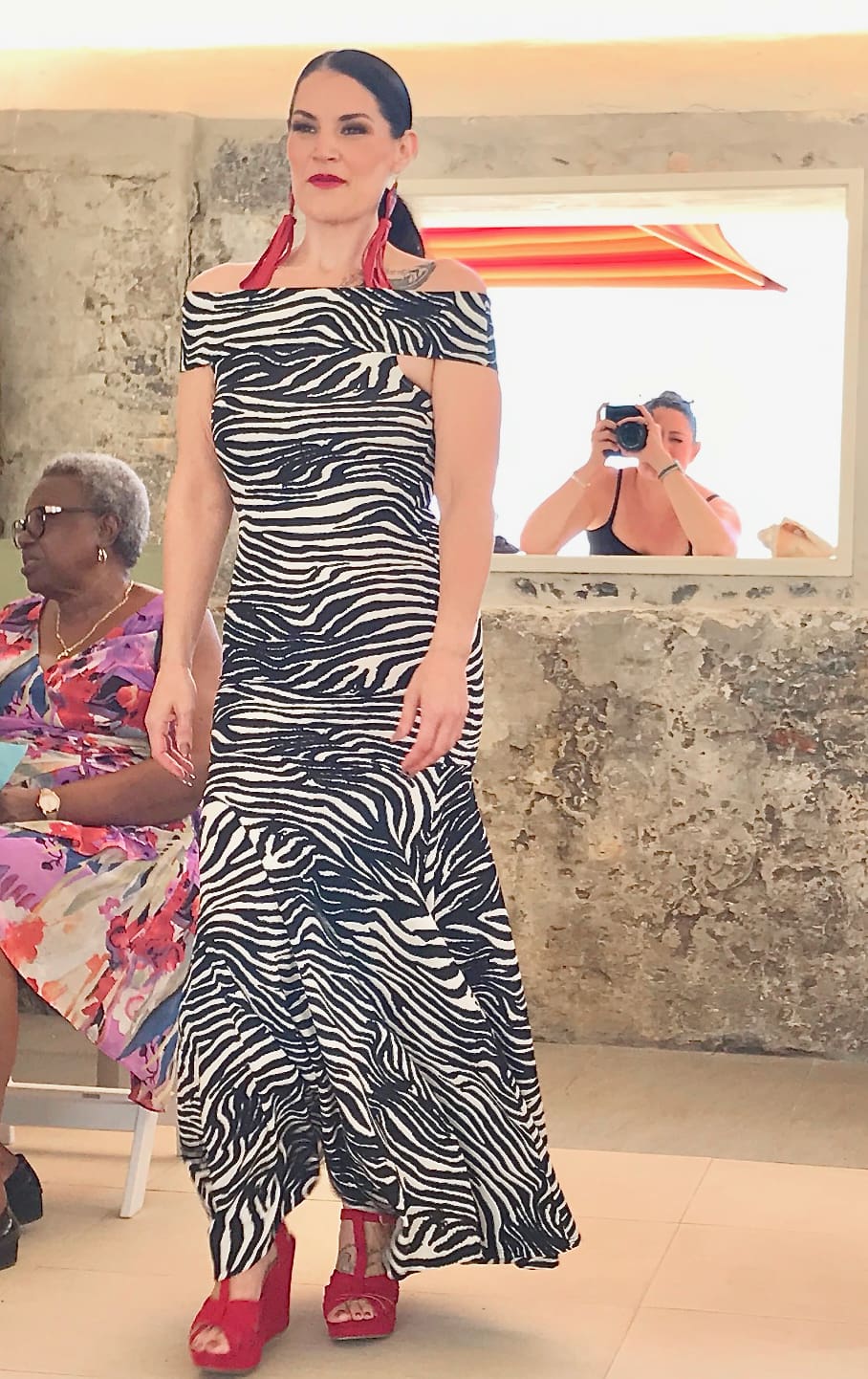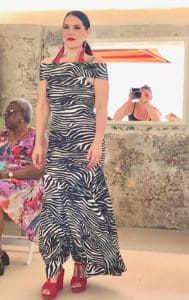 Pam Allen, a retired teacher from Claude O. Markoe Elementary School who now lives in Indiana, returns to the big island annually and shops locally. Allen wore her recent purchase to the festival, a pair of pants that Bhola sold her at Trends.
The hosts of the clothing and jewelry stores offered a comprehensive list of all the fashions that were modeled. All are available for purchase at their stores and some are also available at The Fred boutique.
Khnuma Simmonds, owner of My Girlfriend's Closet on Prince Street in Christiansted participated for the first time with one of her favorites, a zebra print maxi dress from MGC. Simmonds plans to continue next year with her fashions and she will also take the opportunity to support the event as an advocate.
"We celebrate something called 'Girlfriendism' in my store," Simmonds said. "It's women empowering women. Being here today feels like home because I'm surrounded by women who support nonviolence toward women. Statistics show that one in four women, who have reported it, have been victims of violence," Simmonds said.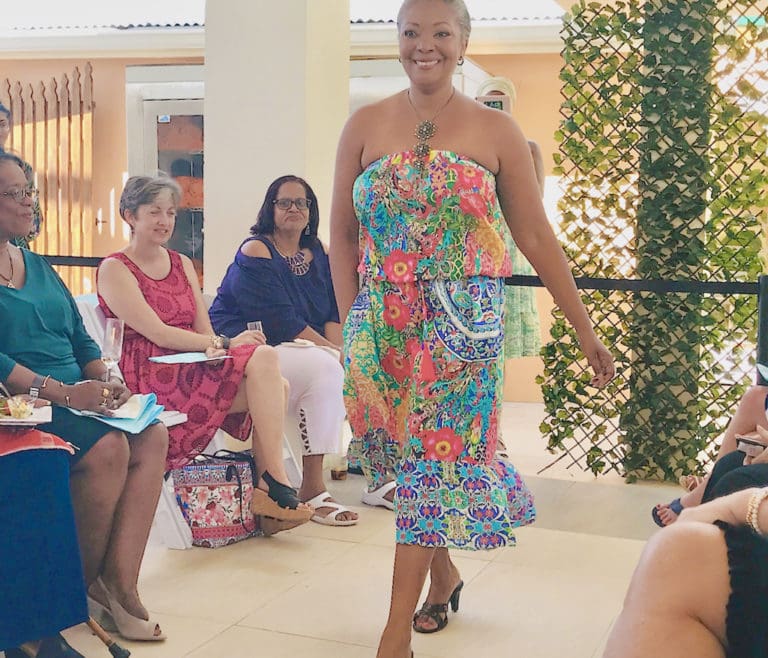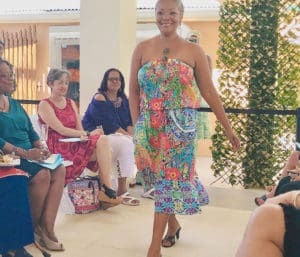 Coalition Executive Director Clema Lewis and co-director Carolyn Forno thanked the organizers, participants, attendees and the sponsors for their help in keeping their mission alive: Supporting and empowering people impacted by violence.
WCSC board member Lisa Moorhead said she loved the show.
"It's great that the proceeds increased for the coalition this year. I loved the participation, seeing all the women out here," she said.
The Live Auction item was a royal print jumper donated by Envii Boutique with WCSC sterling silver earrings and pendant and a sterling silver infinity chain donated by Crucian Gold. The $530 package entertained a bid from several attendees with a gentleman winning the bid for $425.
The association of boutiques and designers – Adorn, Belle Femme, Crucian Gold, Envii Boutique, FantaSea Jewelry, IB Designs, Island Contessa, Joyia Inspirational Jewelry, MGC, Molly's Boutique, Susan Mango and Trends – worked to put together a remarkable show for the attendees, organizers said.
Proceeds from event tickets will be donated to the Women's Coalition.