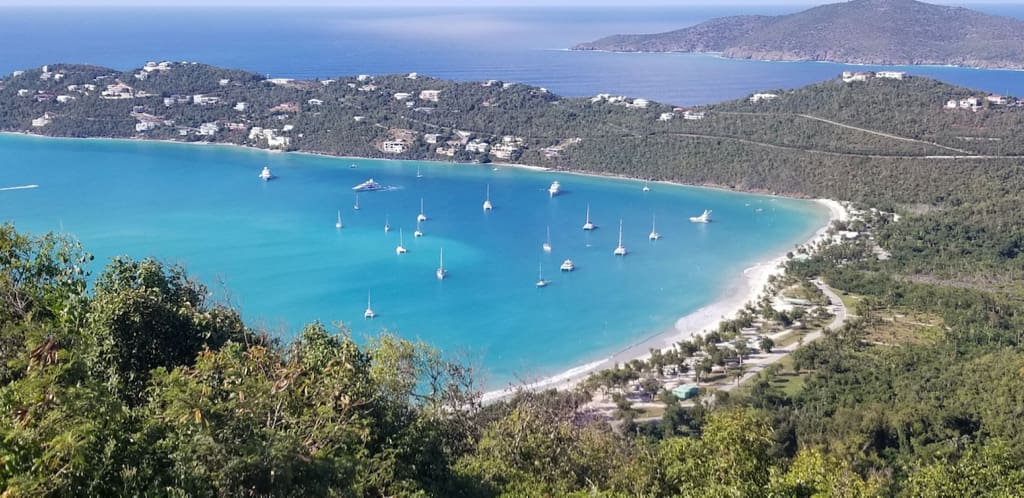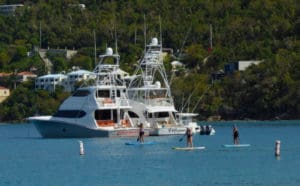 On Sunday, beachgoers and Magens Bay personnel expressed concern about the startling sight of 18 or more yachts moored in the waters adjacent to the most populated beach in the U.S. Virgin Islands.
For the last week, as more and more vessels have arrived, residents took to Facebook to complain about boats' passengers congregating on the beach. Some of the anxieties arose from the unusual sight of that many boats being moored off the milelong shoreline – and not very far off to boot – that locals legitimately feel belongs to them. It was deeded by Swiss industrialist Arthur Fairchild "In perpetuity and without discrimination of any kind by reason of race, color or creed to the people of the Virgin Islands" in 1954.
Rarely are more than two or three sailboats and a few fishing boats found bobbing in the turquoise blue waters. And if a big boat does make its way in, rarely will it be seen there for more than a day or two.
However, in light of the rapidly shifting circumstances arising from the global pandemic declared by World Health Organization on March 11, Gov. Albert Bryan Jr. was forced to institute measures to accommodate them.
"We are the United States and these are U.S. vessels," said Howard Forbes Sr., head of enforcement for the Department of Planning and Natural Resources. DPNR is the lead local agency on issues relating to the territorial waters.
In Bryan's third supplemental COVID-19 order, issued March 30, he extended the time that visiting vessels could stay moored in territorial waters for up to 30 days. He ordered the vessels to obtain a special mooring permit from DPNR, report any health issues faced by passengers or crew to the Health Department and was clear that no additional passengers be allowed to board during the state of emergency which began on March 13 and has been extended to May 12. Passengers are expected to adhere to the laws of the Virgin Islands, he said, and visitors are ordered to shelter in place on board.
On Thursday, three days after the issuance of the third supplemental order, a letter was sent from Government House to members of the V.I. Charter Yacht Association outlining the requirements and providing links to all the necessary documentation and regulations.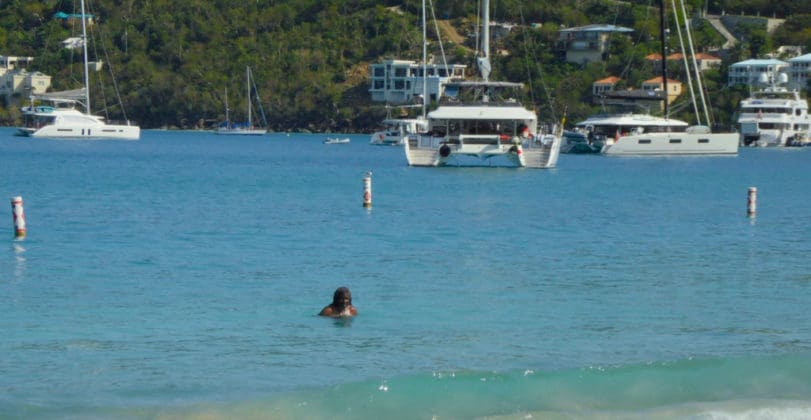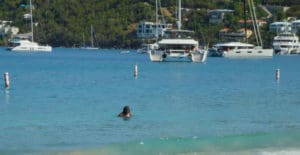 Of particular concern at Magens Bay was where the vessels would dump their raw sewage. At present there are only two pump-out stations on St. Thomas, one at Crown Bay and the other at Yacht Haven Grande, neither of them anywhere near Magens.
Federal law prohibits dumping of waste within three miles of shorelines no matter what.
With the community already on edge due to COVID-19, E-coli made its way into a couple of conversations as well. And the concern could be valid.
On top of the unprecedented number of boats in the bay and no reasonable access to pump-out facilities, DPNR's weekly water quality testing was abandoned last week when the lab that performs testing shut down due to COVID-19 contamination concerns.
When the governor opened up the bay for the extended mooring. Magens Bay General Manager Hubert Braumant was concerned. In fact, he said, "I went through the roof." Since the lab has stopped taking samples, "We don't know what's in the water," Braumant said. Though DPNR Commissioner Jean-Pierre Oriol assured him that the agency would enforce all the rules on the books, Braumant said, "In the same breath he's saying that the department has limited resources and can't be everywhere at the same time."
Oriol did not respond to a request for comment as of publication time.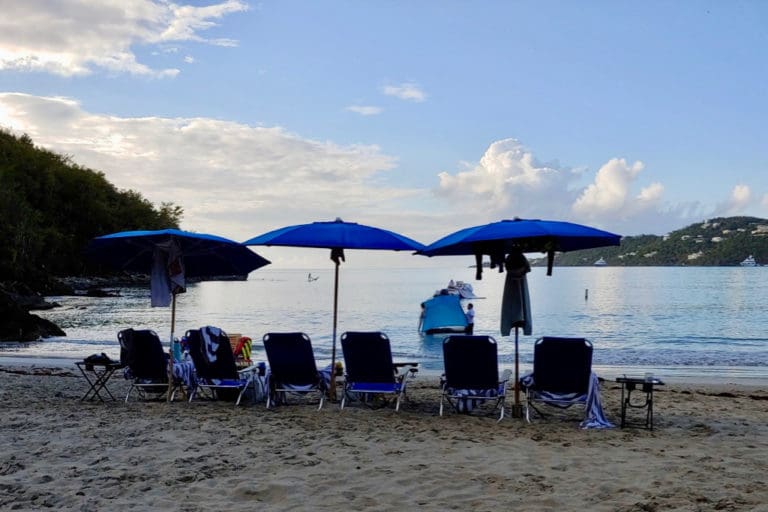 Unlike many of the areas where yachts and sailboats are moored, Magens Bay is thought of as a wildlife sanctuary – often home to dolphins and other large fish as well as a varied seabird population. It is also heavily used by tourists and locals alike.
The bay, bordered on both sides by two long peninsulas, is perhaps one of the deepest bays in the Caribbean. Braumant said, for that reason is it not suitable for large scale, long-term mooring.
"It can't clean itself like other locations," he said.
Forbes said DPNR is trying to get the laboratory to continue with testing but had no definitive time frame for that.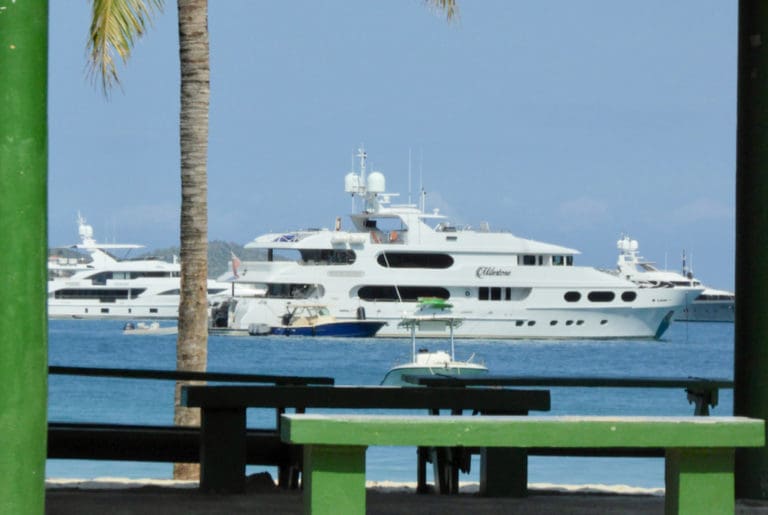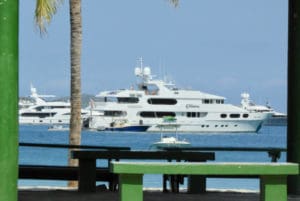 Meanwhile, Carlton Dowe, executive director of the V.I. Port Authority which was designated by Bryan to work closely with DPNR, along with the V.I. Police Department's Marine Unit and the West Indian Co. Ltd., said the mega yachts will soon be gone. The Super Server 4 – a yacht transport vessel, often seen at the beginning and end of high season, is moored in Crown Bay and prepared to hoist the huge vessels aboard and take them away.
But that's going to be only a partial solution.
Forbes said a large group of vessels is currently headed toward St. Croix. where they are expected to moor for at least 10 days, after which they will form a "flotilla" and move on.
As for the remaining mostly sailboats, many of which made their way to U.S. waters after the British Virgin Islands closed their ports, "That's another story," Dowe said.