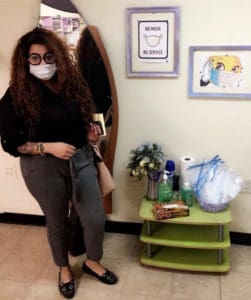 It is almost 10 a.m. and Pamela Cabrera unlocks the door to enter her beauty salon. The calendar is filled with appointments that she has gathered from the weekend. The appointments are her clients who are anxious to get their "quarantine hair" fixed.
Before Cabrera can start her day, she begins to reflect. Her small business has remained closed for almost 2 months because of the COVID-19 pandemic. Just like Cabrera, many non-essential small businesses were forced to close their doors on Friday, March 20. Her business, a quaint little salon located above the Diamond Girl beauty supply store has been there for about eight years. In Cabrera's experience as a beautician the last time her doors were closed for a long period of time was in 2017 for Hurricane Maria.
On Wednesday, April 29, Gov. Albert Bryan Jr. announced that the U.S. Virgin Islands would begin moving towards the first tier of his phased reopening, which relaxes some of the restrictions for non-essential businesses. The new guidelines went into effect Monday. Customers must wear a mask to enter businesses or gatherings. Bars and hotel reservation systems remain closed and restaurants are still only able to provide takeout orders. Indoor/outdoor recreation facilities such as movie theaters and the bowling alleys can open but cannot sell food or drink.
While some non-exempt businesses have decided to reopen, others are remaining closed. Among this group are Caribbean Cinemas and Tropical Ten Bowling on St. Croix. In the governor's COVID-19 update news conference on Monday, the governor said Caribbean Cinemas' management was "developing a protocol at this time and don't anticipate opening before June 1." Meanwhile Tropical Ten Bowling is working on a protocol to keep people safe before it reopens.
In reopening her shop, Cabrera must abide by a list of guidelines. For instance, no more than five customers are permitted to wait on the premises and no more than 10 people in total can be in the establishment at a time.
"On March 20, until Monday, May 4, I had to close my doors. It has affected my business, but I am happy to be open," Cabrera said. Pleased with the governor's decision, Cabrera said she feels safe.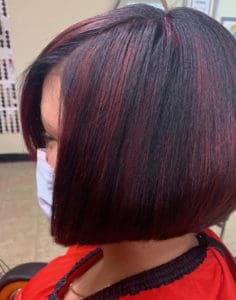 "I agree with the governor's reopening as long as my clients follow my rules," she said. "Being a beautician, it is difficult to maintain a safe distance. I have provided a small sanitization station; I do not allow any walk-ins. To be serviced you must book an appointment ahead of time on my Facebook page and everyone is required to wear a mask."
The new normal for businesses like Cabrera's is a saying she repeated often, "No Mask, No Service."
"The Department of Licensing and Consumers has already been by twice … to make sure that we were following the new guidelines," she said.
She said she is dedicated to making her clients feel safe and following the new guidelines.
There is some anxiety among customers as well.
"Last week, St. Croix saw a spike of cases that created some anxiety," said one customer, who asked to remain anonymous. "I did have some doubts in the governor's decision but seeing the precautions that small businesses are taking to ensure our safety does ease my fears."
Looking forward, Cabrera is optimistic and said she is prepared for whatever may come. For now, her appointment system has been working.
People who know of businesses that violate the "No Mask, No Service" policy can report them to the Department of Licensing and Consumers at 340-713-3522 on St. Croix or 340-714-3522 on St. Thomas.