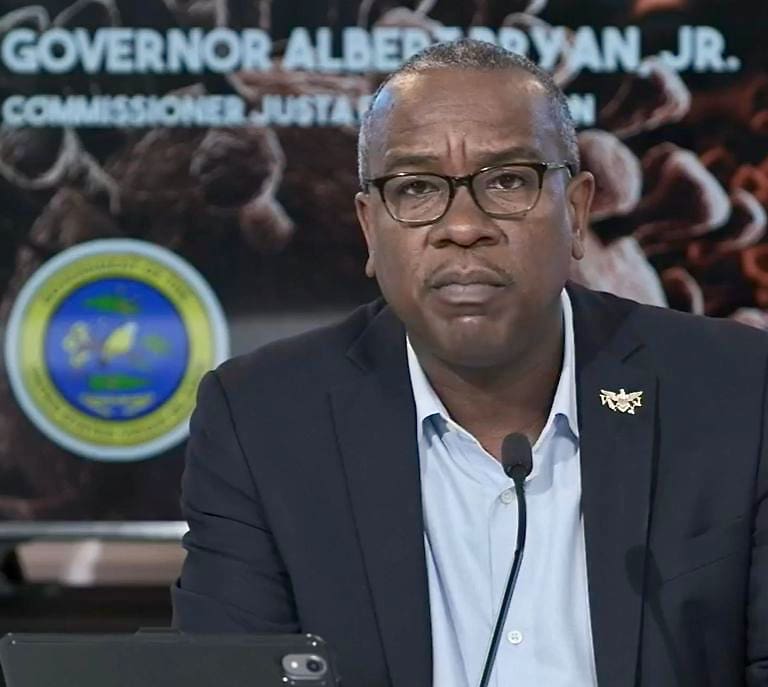 Coming on the heels of back-to-back incidents of gun violence on St. Croix, Gov. Albert Bryan Jr. said during a press conference Thursday that a bill setting up a new Office of Gun Violence Prevention will use a community-based approach to policing local neighborhoods, while another bill will look at proactively treating behavioral health issues that can be linked to criminal activity.
According to V.I. Police officials there have been 20 homicides to date in the territory, most of which involve the use of guns. Along with murders last month in Hospital Ground on St. Thomas, the past week and a half has seen increased activity on St. Croix, with reports of shootings at Mutual Homes Housing Community, Estate Grove and around Plaza Extra West, among others. Three arrests have been made so far on St. Thomas, along with another three – including a minor – for a shooting in Estate Paradise on St. Croix that injured two women.
A $25,000 reward has been issued for information that can lead to additional arrests in the Hospital Ground shootings, along with a $5,000 reward for information on Nijohntea Walker, who is wanted for federal firearms violations and is also known to frequent the Hospital Ground area, according to Police Commissioner Trevor Velinor, who also spoke during Thursday's press briefing.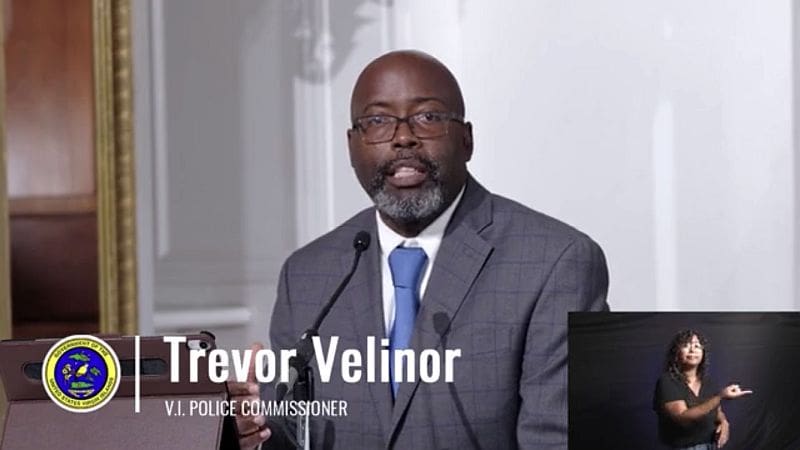 Bryan said that police are fighting the "epidemic" of gun violence alongside COVID-19 and called on the community to band together and help. If the surge was linked to higher levels of unemployment and the need for residents financially impacted by the pandemic to feed their families, the government would know where to "focus" its resources, but Bryan said the "lucrative" lifestyle of the gun-and-drug trade is instead the greater draw.
Encouraging residents to "say something" if they "see something" instead of turning a blind eye, the governor also announced a coordinated effort with Senator Myron Jackson, who has laid the groundwork for legislation setting up a new community-based initiative – the Office of Gun Violence Prevention – that Bryan said his administration would be putting its "full weight" behind. The goal is to hit local neighborhoods and disrupt violence "before it flares up in our streets and help to quell things before wars kick off," the governor said.
"It is not a panacea, but it is a form of community engagement that we have not effectively used in the past," he added. More information will be released in the coming months.
Meanwhile, Bryan said the administration is focused on tackling issues that can contribute to criminal activity, including opportunities for education and workforce development and behavioral health. A bill that would "help our people recover from the behavioral health crisis that many silently suffer from" has also been forwarded to the Senate, and Bryan said the "investments" made now to set up avenues for curbing destructive behavior will "set the path for a safer community for all of us."
The installation of a territorywide camera system, along with the reactivation of Shotspotter technology to analyze bullet patterns and residue will also help to cut criminal activity and increase arrests, he said.