The Federal Bureau of Alcohol, Tobacco and Firearms is offering a $10,000 reward for information on Thursday's murders of 14-year-old Aaron Ashby and his cousin, 29-year-old Rique Ashby.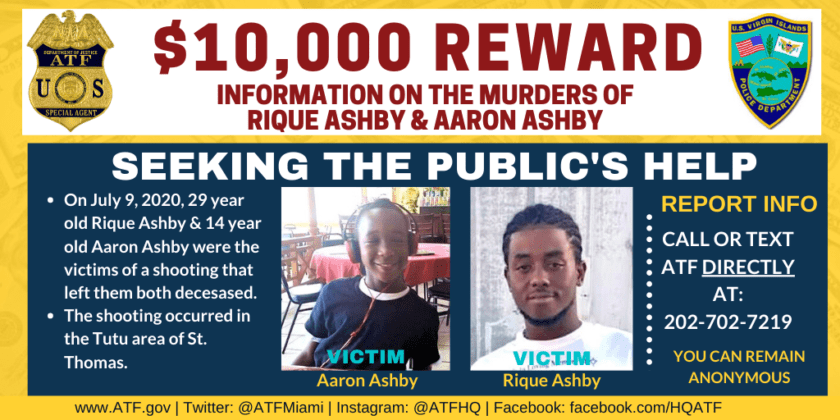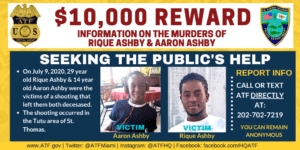 Rique was working with A-9 Trucking, emptying a debris bin in the shuttered Tutu Hi-Rise housing community on Thursday, July 9, when they were shot and killed.
They were the 14th and 15th homicide victims on St. Thomas since the beginning of the year, the 26th and 27th in the territory, according to the Source's homicide list.
According to the V.I. Police Department, at about 12:57 p.m. Thursday, July 9, the 911 emergency call center was notified of shots fired in the former Tutu Hi-Rise housing community, in the vicinity of Building 13. Officers traveled to the area and found two Black males with gunshot wounds.
Emergency medical technicians on the scene concluded that one of the victims had no signs of life. The second was transported from the scene via ambulance to Schneider Regional Medical Center, where he later died.
"This is a horrific incident," said Ann Hanley, acting executive director at the Waste Management Authority. "The young men were operating heavy equipment trying to clean an area of residential solid waste when they were met with a violent end. We are in shock and disbelief that these two hardworking young men are gone."
Anyone with information, and interested in the ATF reward, can call or text ATF directly at 202-702-7219. You can remain anonymous. You can also call 911, the Criminal Investigation Bureau at 340-774-2211 ext. 5569 or the anonymous tip service, Crime Stoppers USVI, at 1-800-222-8477.
Calls to Crime Stoppers that provide information that helps resolve a case can qualify the caller for an anonymous cash reward. That reward is separate from the ATF reward.
Editor's note: According to A-9 Trucking, while Aaron Ashby was present, but he was not working for A-9 Trucking.