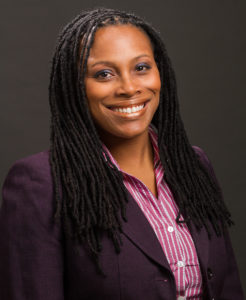 Dr. Marcella Nunez-Smith of St. Thomas has added another achievement to her long list of accomplishments with her election to the National Academy of Medicine, the Yale School of Medicine announced.
Nunez-Smith — associate dean for health equity research, C.N.H. Long Professor of Medicine and Epidemiology, and professor of internal medicine, public health and management at Yale — is among 100 new NAM members who were selected for their important contributions to health, medicine and science, said Dr. Nancy J. Brown, Jean and David W. Wallace Dean of Medicine and C.N.H. Long Professor of Internal Medicine at Yale.
The National Academy of Medicine is one of three academies that make up the National Academies of Sciences, Engineering, and Medicine in the United States, according to the organization's website. Operating under the 1863 Congressional charter of the National Academy of Sciences, the academies are private, nonprofit institutions that work outside of government to provide objective advice on matters of science, technology and health, it states.
The new post adds to a long list of accomplishments by Nunez-Smith, a 1992 graduate of All Saints Cathedral School on St. Thomas who since January has served as chair of President Joe Biden's COVID-19 Health Equity Task Force and senior advisor to the White House COVID-19 Response Team.
In 2011 she established the Eastern Caribbean Health Outcomes Research Network (ECHORN), a research collaborative spanning four Eastern Caribbean islands that supports chronic disease research projects and works to enhance health outcomes research and leadership capacity in the region.
Over the past year, as the COVID-19 pandemic brought national attention to the health and healthcare disparities experienced in marginalized populations, she received National Institutes of Health funding to leverage ECHORN to improve the COVID-19 testing cascade in Puerto Rico and the U.S. Virgin Islands, according to a Yale University press release that announced her appointment as a Long Professor in June.
Her research focuses on promoting health and health care equity for structurally marginalized populations, with a focus on centering community engagement, supporting health care workforce diversity and development, developing patient-reported measurements of health care quality, and identifying regional strategies to reduce the global burden of non-communicable diseases, according to the Yale news release.
Nunez-Smith is founding director of the Equity Research and Innovation Center, deputy director for health equity research and workforce development at the Yale Center for Clinical Investigation, director of the Pozen-Commonwealth Fund Fellowship in Health Equity Leadership, and director of the Center for Community Engagement and Health Equity at Yale Cancer Center and Smilow Cancer Hospital.
In an interview in January with the New York Times, Nunez-Smith recounted how high blood pressure that could have been treated led to a stroke that left her father, Moleto "Bishop" Smith, partly paralyzed and with slurred speech when he was only in his 40s — and spurred her work in medicine.
"He was a champion and a fighter," Nunez-Smith told the New York Times. "But my memories are of a father who had to live life with this daily reminder of how we had failed in terms of our health care. I don't want another little girl out there to have her father suffer a stroke that is debilitating and life-altering in that way."
Nunez-Smith is the daughter of Maxine Nunez, longtime University of the Virgin Islands professor also associated with Yale, and sister of Moleto A. Smith Jr., executive director of the St. Thomas East End Medical Center.