Community leaders and some public officials are expressing concern this week about how much St. John residents know about four proposed plans for the redevelopment of Caneel Bay Resort. Other leaders – including Gov. Albert Bryan Jr. and National Park Superintendent Nigel Fields – say they are arranging public meetings this weekend to make sure as many people as wish to hear details about the proposals and have their say.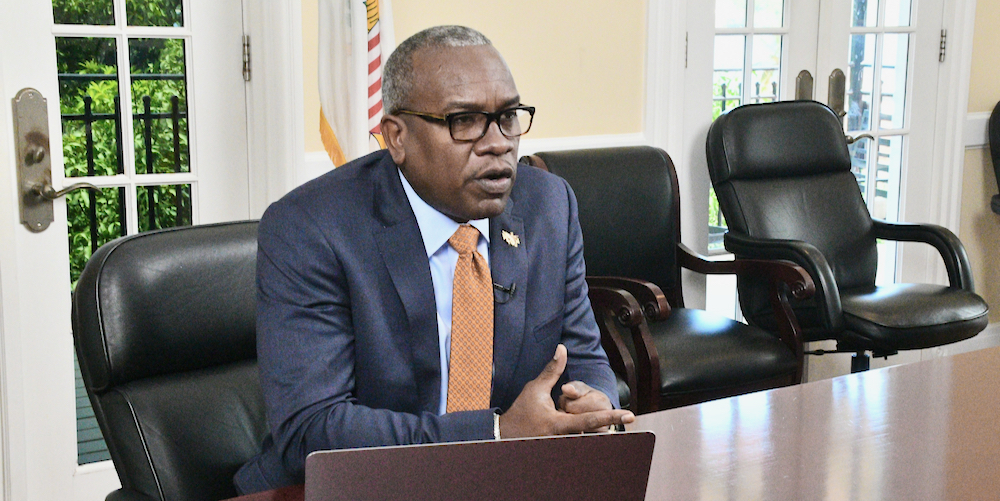 This community outreach drive is being held during a public comment period which ends March 4. At a public meeting held on the subject Wednesday, Senator-At-Large Steven Payne said a letter prepared by local nonprofits was shared with his staff and is now on its way to the U.S. Department of Interior, asking for more time.
As of Friday, going into the weekend round of meetings and talks, a spokesperson for the V.I. Delegate to Congress said the extension until March 4 has already been achieved.
Caneel Bay Resort – one of the oldest vacation destinations in the territory – operated under an agreement with the Virgin Islands National Park from the late 1950s until 2017. The property is currently subject to the terms of a Retained Use Estate lease established in 1983, set to expire Sept. 23, 2023.
For several years, developers and park officials, along with Virgin Islands leaders, have been talking about what's next for Caneel. Along the way, catastrophic storm damage caused by Hurricanes Irma and Maria in Sept. 2017 wrecked the property; operations ceased, and hundreds of resort workers lost their jobs.
Now four alternative proposals put out by the National Park Service have been crafted and are making their way into public view. But officials involved in the process agree that more must be done to increase awareness among Virgin Islanders.
"This proposal is from (the) national park. The National Park Service should have met with the community, got the input from the community, and then come forth to the community and let us have different settings, different meetings, different workshops, and then we vote on which proposal we're going to utilize," Senator-At-Large Payne said.
Other lawmakers and staff members attended a meeting held Wednesday evening in Cruz Bay Park, including Sen. Milton Potter, former Senator Athniel "Bobby" Thomas, and representatives for Senators Janelle Sarauw and Marvin Blyden.
Payne told those gathered that some nonprofits have received copies of the alternative plans and have read through them, later expressing concern. After the meeting, he said groups expressing concern include the St. John Community Foundation, Friends of the Virgin Islands National Park, and the St. John Historical Society.
Some of the concerns pointed to proposals to create a mid-range overnight hotel near the popular Hawksnest Beach. If that plan were adopted, it would include restricting public access to Hawksnest at certain times of the day. Other proposals that drew concern call for restricting public access to north shore beaches within Caneel's property line, where previous policies allowed the public to enter the resort and access beaches and mingle with guests over land.
In a recorded message posted to social media, Gov. Bryan expressed the importance of public participation in formulating the plan. The governor stressed that St. Johnians, Virgin Islanders, and all American citizens have the right to have an interest in Caneel's future.
"What I think should happen to the property doesn't matter. What really matters is what we, as a community, want to see happen with that property. And the fact that Virgin Islanders must make their voice heard," Bryan said.
Along with the recorded message, Government House is inviting the public to attend a listening session taking place in person and online by way of Zoom on Sunday. The session is scheduled to begin at 3 p.m. at the Cleone Creque Legislative Annex Conference Room in Cruz Bay. Those attending virtually are directed to use this link: https://us06web.zoom.us/j/89057095730. An international web link is also available at https://us06web.zoom.us/u/kycAeHBHw.
"Governor Albert Bryan Jr. will host a listening session for residents of the St. John community to express their viewpoints about the future development of the Caneel Bay property, and their comments will be transcribed and forwarded to the National Park Service," said Government House Communications Director Richard Motta.
Delegate Plaskett has also been urging the public to find out more about the proposals. Spokesperson Tionne Scotland said the delegate has made recent appearances on local radio talk shows, encouraging greater participation.
About a dozen residents attended the Wednesday evening meeting held in Cruz Bay Park. Residents heard about an ongoing signature drive asking officials at the Interior Department to extend the public comment period in hopes of promoting greater community involvement. Payne told meeting participants the goal of gathering 1,000 signatures is close at hand.
Park Superintendent Nigel Fields represents the National Park Service locally and heads up the Virgin Islands National Park on St. John. In recent weeks, his office has hosted outreach sessions with St. John clergy members. This weekend, Fields said he is working with one island church to gather parishioners living in the Cruz Bay and Coral Bay communities to share details of the proposals on Sunday.
Plans for that event are still being finalized, the superintendent said, but he commended the governor and the senator-at-large for their efforts at raising awareness.
"All of these things are helpful, and we very much appreciate all of the efforts to bring the community together," he said.