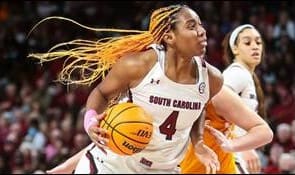 On April 26, South Carolina star power forward and U.S. Virgin Islander Aliyah Boston announced she has signed a name, image and likeness deal with Under Armour. Signing this deal is a huge step in her career as this could be her highest-profile deal yet. Prior to signing this contract, Boston signed her first deal with the local company ProSolar. Name, image and likeness deals have become the vehicle by which college athletes get paid.
This partnership with Under Armour gives Boston the opportunity to give back to her community in the Virgin Islands. Boston and Under Armour are working together to host the first-ever Under Armour Next Women's Basketball Camp in St. Thomas.
"I want to see women's basketball be embraced, covered, and valued as much as men's basketball. I hope to help achieve that change by continuing to dominate the court and using my voice to encourage the next generation to play," Boston said in a statement.
Earlier this month, Aliyah Boston led the South Carolina Gamecocks to a 49-64 victory over the UConn Huskies in the National Championship. This and being named the Naismith Player of the Year as well as the Naismith Defensive Player of the Year, are just a few of the St. Thomas native's many accomplishments.
Aliyah Boston and Under Armour also plan to market the 2022 version of the Under Armour Breakthru 3 Women's Basketball Shoe along with the basketball camp.
Aliyah Boston's mother, Cleone Boston, responded to the signing of this contract with a tweet saying, "Giving God the Glory".
The South Carolina Gamecocks have worked with Under Armour previously and have an NIL deal selling custom shirts.