A campaign to get Virgin Islanders interested in growing their own food awarded a group of home farmers enrolled in the 2022 Plant-A-Seed Challenge. Prizes and certificates were handed out at a Saturday morning get-together held at St. Thomas' Tillett Gardens.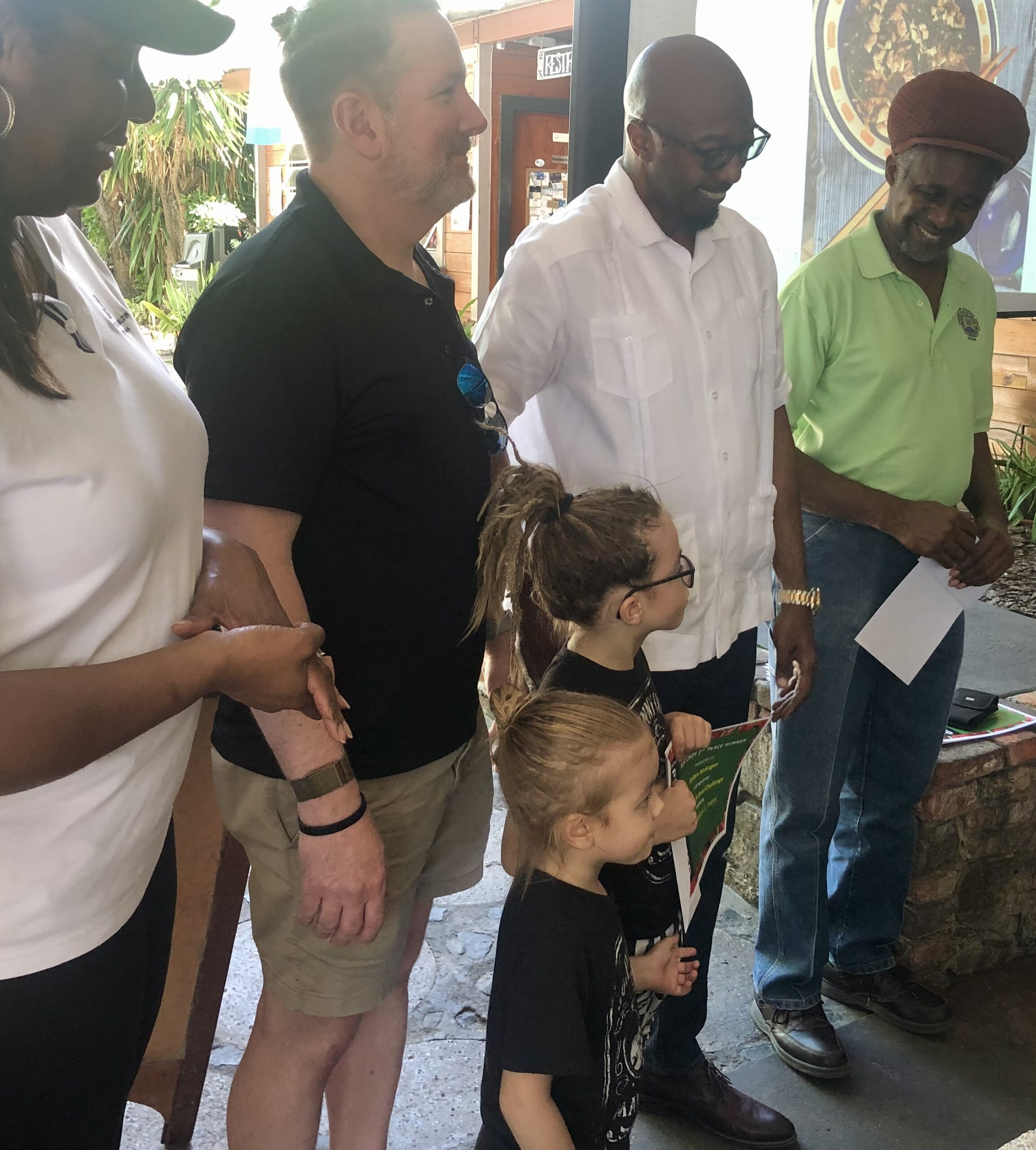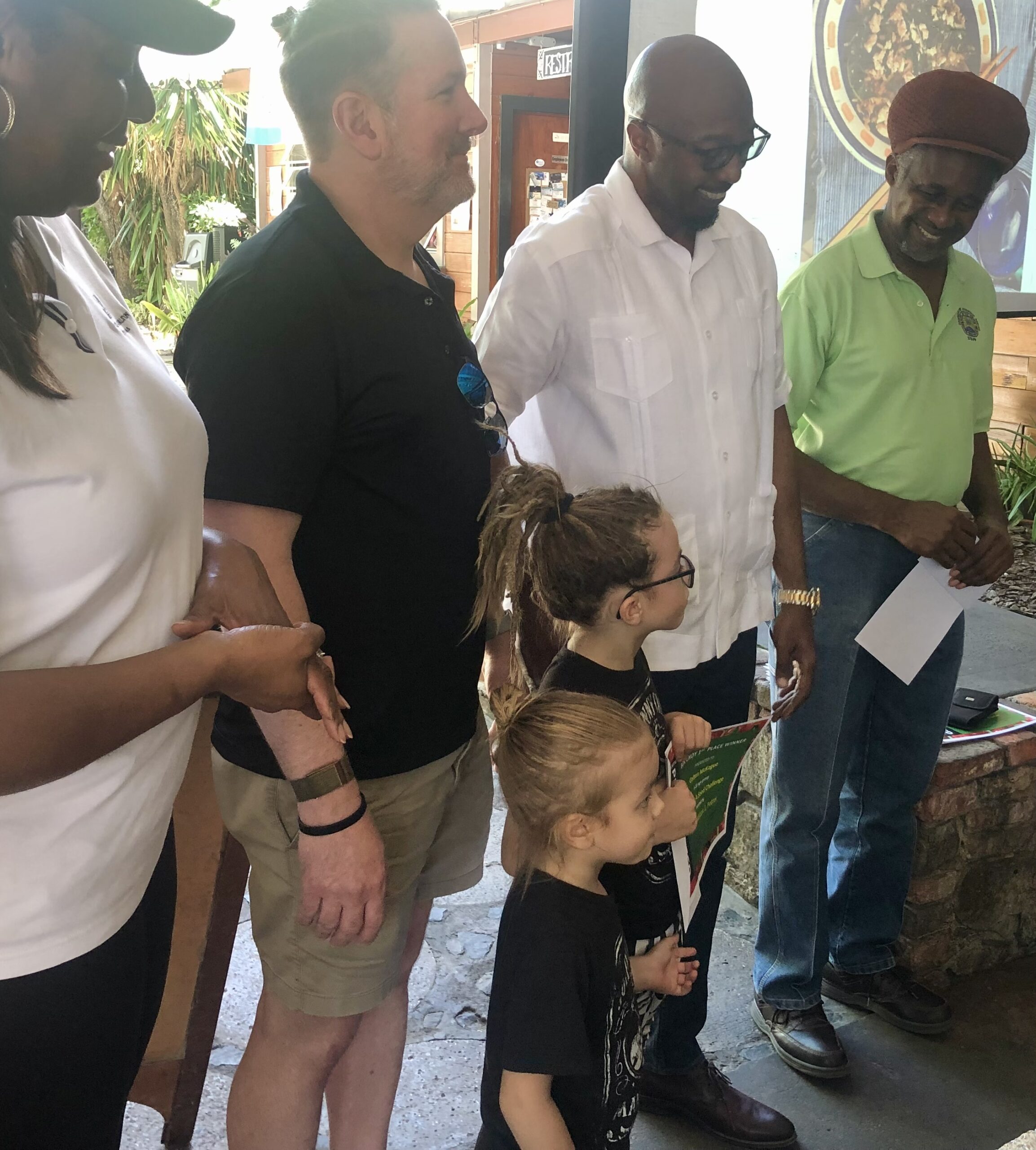 Last year, organizers awarded young farmers aged 5-17; this year, they added a category for seniors aged 60 plus. Participants tried their hands at growing one of two competition crops — bok choy or cherry tomatoes.
There were some who tried both. One winner in the 60+ category added an uncommon growing technique. Home farmer Lee Balcom told UVI Cooperative Extension Director Louis Petersen he grew the tomatoes upside down from the bottom of a suspended pot. In the top of the same pot, he grew bok choy.
He won for that, too. "I've been growing cherry tomatoes for many years, mostly for my kids, so they would grow up liking to eat healthy. And then cherry tomatoes are sweet, so they like that," said Balcom.
There was also a dual crop winner among the younger set. Six-year-old Colton McKague, nestled into a seat at the Whiskey Business Restaurant at Tillett, munching from the fruit buffet. When his name was called for the top prize, he sprinted to the front of the gathering, followed by little brother Cabe.
"I'm the mom of Colton, who won first place in both categories; we are so thankful for that," said his mother, Vanessa McKague. "Hopefully next year — maybe — Cabe will be ready to grow some cherry tomatoes and bok choy."
Second- and third-place winners were also named in farmer categories for youth ages 5-10 and 14-18. When the challenge began in March, Petersen said there was a slot for youth ages 11-13, but those who signed up did not make it through all the requirements.
One of the requirements was to log their progress in journals; some journals were either missing entries or were not turned in, Petersen said. Other students reported that their crops met with fates unknown while left in school classrooms over the summer.
"Whether you were one of the older ones or the younger ones, the idea was to initiate the practice of record keeping; the idea of record keeping, data collection, and the idea of agriculture as a business," Petersen said.
Success levels also varied among other participants. Some journal entries listed drought as the cause of plant death. A couple of certificates were awarded in the 60+ to those who tried and said they'd try again.
Contest promoter Sen. Milton Potter said the idea behind Plant-A-Seed is to change mindsets and give more Virgin Islanders a chance to see themselves as capable home gardeners.
"I think everything starts with believing. I believe that we can do way more than we think we can in the area of agriculture and agriculture production in the Virgin Islands," Potter said. "I think people are of the mindset of going to the supermarket to purchase stuff. … We may not be able to produce 100 percent or 60 percent, but surely we can produce 20 percent."
Contest sponsors for the 2022 Plant-A-Seed Challenge included the Fruit Bowl, the Ritz-Carlton Resort, Armstrong Ice Cream, Cost-U-Less of St. Thomas and St. Croix, Banco Popular, MSI and Sea Chest, SmartNet, East End Lumber, and the V.I. Agriculture Department. Business owners and sponsor representatives joined the Saturday morning gathering at Tillett.
Ritz-Carlton Finance Director Carol Baker-Robinson said her organization favors initiatives that allow individuals to support themselves. "The Plant-A-Seed Challenge gives individuals the opportunity to raise fruits and vegetables which, as we know, are very expensive in the Virgin Islands and very healthy," Baker-Robinson said.
When approached to support the cause, the resort finance director called the decision "a no-brainer."
Petersen said a similar awards ceremony is in the planning stage for St. Croix, where interested residents reached out to Potter after hearing about Plant-A-Seed. Home farmers from the big island also took part in the 2022 challenge, he said.