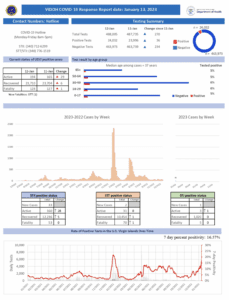 The territory has recorded its 128th death related to COVID-19 — a 90-year-old man on St. Thomas— the V.I. Health Department reported Friday.
The latest death comes as virus numbers are climbing on St. Croix less than a week after the conclusion of the Crucian Christmas Festival that saw thousands of revelers participate in J'ouvert and the adult and children's parades, among other activities.
Gov. Albert Bryan Jr. is among those who have tested positive, though he was reported to be suffering only mild symptoms, Government House announced on Monday.
According to the latest figures from the Health Department, there were 194 active cases territorywide on Friday, with 160 of those on St. Croix, 31 on St. Thomas, and three on St. John.
The seven-day positivity rate — meaning the number of people who test positive out of the total number tested — is 16.57 percent. According to the World Health Organization, that number should ideally be five percent or lower to avoid implementing measures such as masking and social distancing.
The Health Department on Friday continued to encourage the public to become fully vaccinated and boosted as the best way to avoid serious consequences from the virus.
Free COVID-19 and flu vaccines are available for adults at the territory's community health clinics at the Charles Harwood Complex on St. Croix and the Schneider Regional Medical Center on St. Thomas, and both shots can be administered at the same time, department officials have said. Those who need boosters should bring their vaccination card and a photo ID.
For adults:
• On St. Croix – The Community Health Clinics have moved from the Charles Harwood
Memorial Complex site to the second floor of #35 Castle Coakley Unit 5, formerly known
as the Old Caribe Home Center Building. Vaccines for both COVID-19 and Influenza will
be available Monday-Thursday, 9:00 a.m. to 3:00 p.m. No appointment is needed for either
vaccine.
• On St. Thomas: vaccines are available in the Community Health Clinic on the second floor
of the Schneider Regional Medical Center. Monday–Thursday, 9:00 a.m. to 12 noon and
1:30 p.m. to 3:30 p.m. Anyone wanting a FLU vaccine on St. Thomas is asked to call 340-
774-7477 to arrange an appointment.
• On St. John – Vaccines are available during the Wednesday weekly testing event in the
VIPA gravel lot from 12:00 noon to 3:00 p.m.
For Children:
• COVID-19 and FLU vaccines for children aged six months or older in both districts are
available through the Maternal Child Health Clinics (MCH). Please make an appointment
by calling 340-244-0016 on St. Croix, 340-777-8804 ext. 2600 on St. Thomas, and 340-
776-6400 on St. John.
Anyone seeking a COVID-19 booster is reminded to bring both their Covid-19 vaccine card and a photo identification card with them.
COVID-19 testing is available Monday through Friday from 9:30 to 10 a.m. at the Charles Harwood parking lot on St. Croix; on Monday, Tuesday, Thursday and Friday from 9:30 to 10:30 a.m. at the loading dock at Schneider Regional Medical Center on St. Thomas; and on Wednesdays from noon to 3 p.m. at the V.I. Port Authority gravel lot on St. John.
Residents are also urged to remember to follow all precautionary measures by practicing social distancing around those outside of your household, wearing a mask in crowded public areas, washing your hands often with soap and warm water, and cleaning frequently used areas thoroughly, the Health Department said.