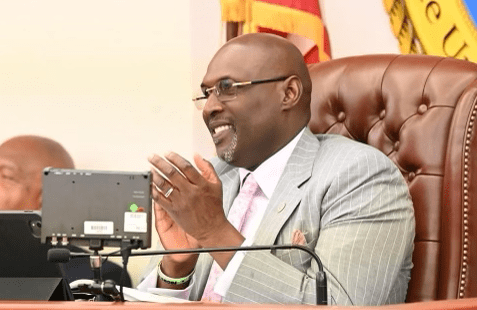 While calling Gov. Albert Bryan Jr.'s fifth State of the Territory Address on Monday night generally "upbeat" and "optimistic," senators weighing in afterward on the content of the speech said certain sections were substantive, the priorities laid out over the next four years were critical, but more details were needed in areas such as healthcare, education and agriculture, among others, along with defined timelines for the projects outlined.
On a positive note, all said they were looking forward to partnering with the administration over the next two years, bringing the extra support that Bryan said he needed during his upcoming second term.
"The one good thing I could say about the governor's speech tonight was that he was very optimistic, and I'm an optimist. And I also like the fact that he talked about a unified approach. It tells me that he is open to receiving suggestions, recommendations," Sen. Marise James said.
Delegate Stacey Plaskett said she, too, is looking forward to being a partner with the administration, but on a national level. With a split Congress — Republicans in the House and Democrats in the Senate — getting major legislation passed in the years ahead may be difficult, but the focus can be put on strengthening the local government's relationship with the Biden administration and ensuring that the billions of dollars in federal funding awarded to the territory is not just obligated, but appropriated and drawn down so they can make an impact, Plaskett said.
In related comments, many senators said they wondered how Bryan's team would spend $1 billion in federal housing funds — and more allotted for recovery — before federal timelines run out. The billion-dollar price tag was mentioned in the portion of the speech that touched on housing repairs and rehabilitation.
"I wanted him to go into greater specificity into the projects and efforts — where are we with the hospitals, and the health centers, with the Kimelman Cancer Center, with the schools," Sen. Milton Potter said. "But we also have a number of educational structures that are in need of major work, so I would have liked to receive a bigger picture of where we are in the step-by-step recovery plan."
Educational maintenance was also a priority for Sen. Donna Frett-Gregory, who said that looking at how to spend the federal funding available for education should align with plans for student achievement. The governor was right when he said that Education Department assets include a range of buildings and efforts to strategically plan out the maintenance of schools, along with school construction, should center on creating spaces that set students up for success, she said.
Several senators, however, were struck by Bryan's plan to send to the Senate legislation that unifies and modernizes local historic preservation laws, as well as addresses abandoned and derelict properties. The idea is to create a process for properties to be placed into conservatorship by order of the court. These court-ordered conservatorships would temporarily transfer control of the property to a public or non-profit entity for the purpose of restoring the property to functional viability.
The immediate reaction for many was that a clearly defined process that does not threaten the ownership of the properties — in short, that doesn't take them away from the families who own them — needs to be put in place first.
"I don't support taking nobody's property from them," Sen. Franklin Johnson said after the speech was delivered.
Johnson, like Senator-at-Large Angel Bolques, said he was also looking to hear more about agricultural and food security initiatives that could bolster economic development efforts within the territory. "Any time the ships and the trucks stop coming, we're in big problems," which Johnson said was highlighted during the peak of the global pandemic.
Sections on economic development, crime and the stability of the V.I. Water and Power Authority were well delivered, many said, though Sen. Dwayne DeGraff said highlighting the efforts of the V.I. Police Department to reduce gun violence should have also been paired with plans to appoint a new V.I. attorney general, along with staffing that can ensure arrests move to successful prosecution and conviction. Currently, the Justice Department is headed by an interim attorney general, after the removal of former Attorney General Denise George last month.
Senate President Novelle Francis said that absent from the speech was also plans for the Port Hamilton refinery on St. Croix — formerly Limetree Bay — which is a large economic driver for the district.
"Obviously that is a large concern — whether or not we're going to open or not open, whether or not they're going to be able to meet the safety needs or start refining. I think that was a topic he could have broached," Francis said, adding that otherwise, the speech was comprehensive. Finding additional money for road repairs is also something Francis said he looks forward to partnering with the administration on, along with looking into solving the mounting concerns over the availability — and cost — of interisland travel.
The subject of hospital rehabilitation also brought a mix of relief and disbelief. The territory's health care system has been limping along since the twin-disaster hurricanes Irma and Maria struck in September 2017.
Reacting to the speech, Sen. Ray Fonseca said he was glad to hear about funds to fix the Gov. Juan Luis Hospital because the modular units brought in after the hurricanes were ready for replacement, though he and Sen. Carla Joseph added they wanted to hear more about fixing elder care and the availability of more senior living and assisted living facilities. Francis added that putting in a plan to properly staff JFL North once it is open should also be a priority.