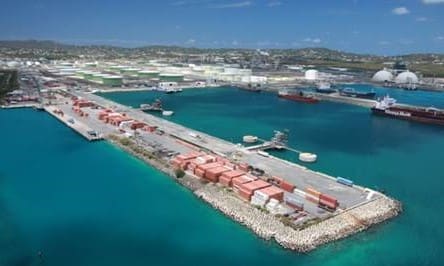 The U.S. Coast Guard set Port Condition X-Ray at 2 p.m. Tuesday for all maritime ports in Puerto Rico and the U.S. Virgin Islands following a tropical storm warning for what has been dubbed Potential Tropical Cyclone 9.
According to the Coast Guard news release, the storm may arrive in the territory by Wednesday afternoon, bringing the possibility of sustained gale-force winds of more than 39 mph.
The Coast Guard strongly cautioned the maritime community to remain vigilant to weather forecasts and take the necessary precautions, as this Potential Tropical Cyclone 9 has the possibility to strengthen and develop into a tropical storm as it approaches the area.
During Port Condition X-Ray, port facilities are currently open to all commercial traffic, and all transfer operations may continue while X-Ray remains in effect.
The Coast Guard reminded mariners that there are no safe havens in these facilities, and ports are safest when the inventory of vessels is at a minimum. All ocean-going commercial vessels greater than 500 gross tons should make plans to depart the port, any vessels wishing to remain in port are required to submit an application to the Captain of the Port if and when Port Condition Yankee goes into effect.
Vessels desiring to remain in port must immediately contact the COTP to receive permission and are required to submit a safe mooring plan in writing. Vessels bound for the U.S. Virgin Islands or Puerto Rico unable to depart 24 hours before threatening winds making landfall are advised to seek an alternate destination.
Pleasure craft owners are advised to seek safe harbor, the Coast Guard said. Maritime and port facilities are reminded to review and update their heavy weather response plans and make any additional preparations needed to adequately prepare in case of potential impacts on the area.
As of Tuesday afternoon, the Coast Guard Captain of the Port San Juan anticipated setting Port Condition Yankee at 8 p.m. on Tuesday for the U.S. Virgin Islands and Puerto Rico. These dates and times are subject to change based on the forecast.
If and when Port Condition Yankee is set, meaning sustained gale-force winds are expected within 24 hours, vessel movement will be restricted, and all movements must be approved by the Captain of the Port.
The Coast Guard urged the public to monitor the progress and strength of the storm through local television, radio and internet. Boaters can monitor its progress on VHF radio channel 16. Information can also be obtained on small craft advisories and warnings on VHF radio channel 16.