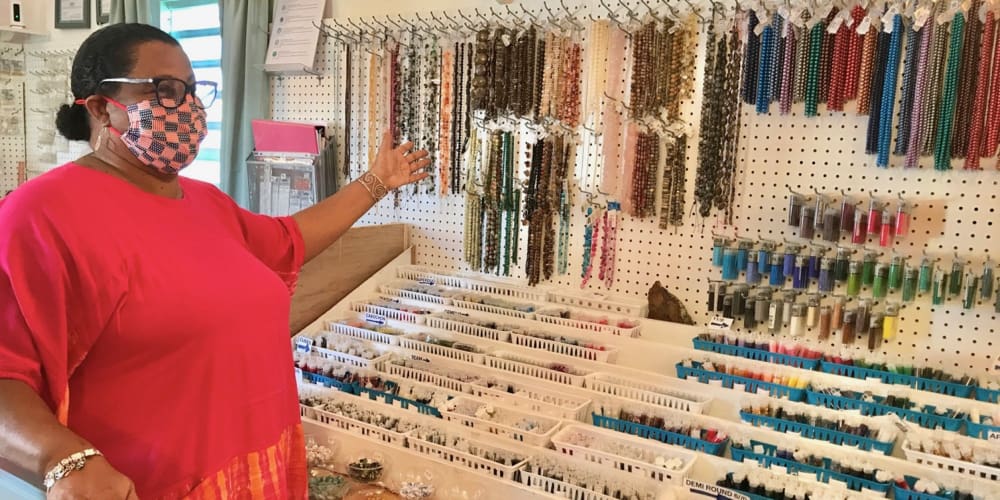 In the bright yellow building in the Richmond Courtyard in Christiansted, Bead on a Wire gets folks started making bracelets, pendants, necklaces and other gems, and during the COVID-19 pandemic has adjusted its offerings with public health protocols in mind.
Bead on a Wire is offering private classes, observing the use of masks and social distancing. Supplies can be purchased for those participants who opt to make their jewelry at home.
Vanessa Harvey Hinds gives instructions in jewelry making Wednesday through Saturday mornings through the afternoons at the fully stocked bead store, the only one of its kind on St. Croix.
She offers classes in beading, wire wrapping, jewelry stamping, stringing and all kinds of jewelry making.
Hinds grew up on St. Croix, joined the U.S. Air Force in 1979 and traveled the world before returning home after 13 and a half years. During her military stint, Hinds worked in pottery as "a way of relaxing, creating and getting in touch with nature."
"My mother was very artsy – sewing, crocheting – doing all kinds of stuff," she said. "I did a lot too, but it was much later when my interests turned to jewelry making."
Hinds and her sister traveled to a Rock Club in Tampa, Florida, to learn jewelry making. The owner/teacher offered Hinds a one-week scholarship to jewelry school to learn to teach wire wrapping. The classes were daily, 8 a.m. to 5 p.m. with room and board, and Hinds would be obligated to go back to Tampa to teach for a year if she took the offer.
Hinds taught for a year and found she had a knack for it. "I was in the right place at the right time."
"My husband, Raymond Hinds, and I own the Richmond property. After Hurricane Maria, we came home to work on damages to the property. There were no beads here on St. Croix, not very much. I decided to open a bead store, and with my husband's agreement, I got working on it right away before he could change his mind."
Hinds' husband and her brother, James Benn, laid gravel in the courtyard, placed stepping stones and filled planters with local flowers and Bead on a Wire opened its doors in June 2018 with a stocked inventory.
"I love teaching and I love to see when someone 'gets it' and completes a jewelry piece," Hinds said. "This keeps me sane."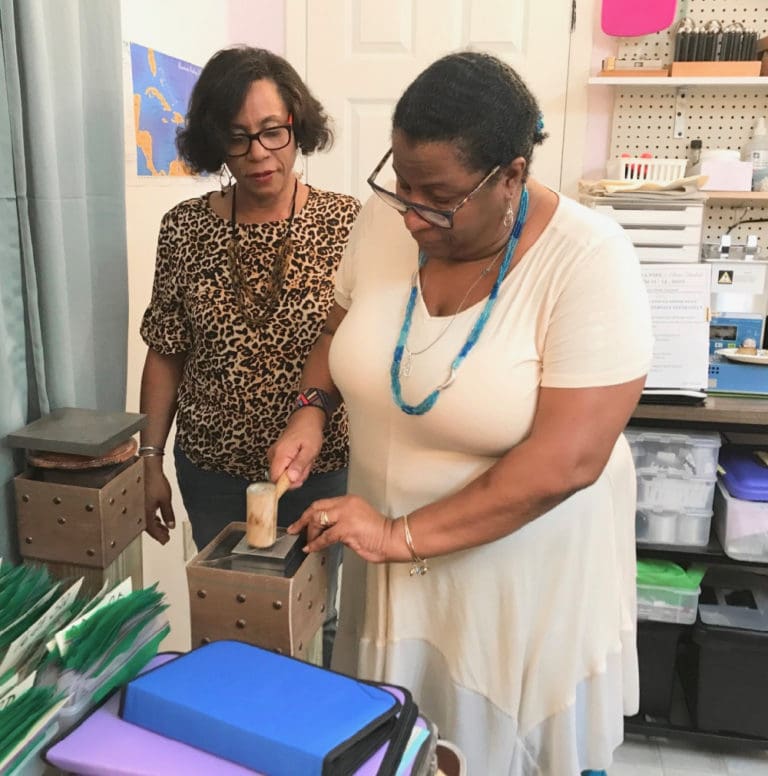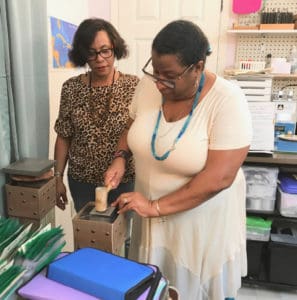 Hinds offers a variety of classes: a series of six classes in a row; the basic wire technique of 1, 2 and 3 classes in wire wrapping; bead clinics; open beading classes; and more.
"I do parties – an evening of jewelry making. It's a lot of fun," she said.
Hinds also taught at the Rising Stars Steel Pan Orchestra Summer Program. She taught jewelry making to 20 St. Croix Central High School teachers – a Christmas gift from the Central High School principal.
The shelves at Bead on a Wire are filled with beads of all colors and sizes and copper, sterling silver and 14K gold filled wire in multiple gauges for use in classes, for purchase and use in other activities.
Depending on students' goals, they can take different levels of beading classes, such as crocheting wire with beads, using a chain stitch or a chain and single crochet, Hinds said.
"Each person's jewelry comes out looking different, although each may be working on the same design. One may use different color or size beads and each has a different 'hand' that might work tighter or looser, giving a considerable variety to the completed piece. Yet, they're all beautiful."
Prior to the COVID-19 pandemic, Hinds taught regularly throughout the week. At her Crafts & Sip class, eight students gathered for instruction in making a wire sugar mill pendant. The frame of the mill was a heavy gauge wire with a thinner gauge wire used to fill the inside of the mill.
When the frame was formed, the thinner wire was wrapped back and forth horizontally to fill the frame. When the frame was filled, the wire was wrapped vertically and randomly to create the look of stones. A bale at the top of the mill was created as a loop for the pendant to hang on a neckpiece.
Several students completed the pendant, while others opted to finish theirs at home:
– Brenda Shank has taken three classes in basic wiring at Bead on a Wire. "I love making jewelry," Shank said as she posed with her newly crafted sugar mill pendant.
– Rosie Mackay likes the idea of making jewelry she can wear. "I've made a necklace, a bracelet and tonight I'm making this pendant in sterling silver."
– Venetia Velazquez is a returning student who is always happy when she's making jewelry, she said.
Bead on a Wire stocks everything needed to make jewelry: tools, seed beads, semi-precious gemstone beads, Swarovski crystals and pearls, base and precious metal wire, string supplies and more.
Jewelry making is relaxing, Hinds said.
"It's a respite for the mind. It's art therapy for those struggling with chronic pain, stress or depression. It's a release," she said she's observed in her classes.
Regular classes at Bead on a Wire will resume after the pandemic, she said.
Bead on a Wire is at 130 Estate Richmond, Christiansted. The business is online and can be reached by phone at 340-718-2323 or email at Beads340@gmail.com.