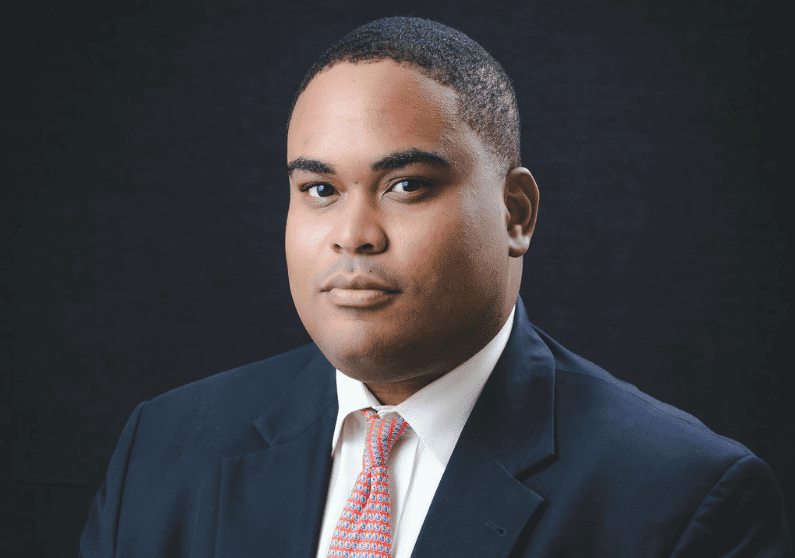 The St. Croix Chamber of Commerce this week selected Akeel St. Jean as chairman of the board, a position he will hold for two years.
St. Jean is a 2007 graduate of St. Croix Educational Complex. Since then, he has attended college and law school and put his education to work.
St. Jean now has extensive business experience and legal background. After earning a law degree from the University of Maryland School of Law, he clerked for a judge
on the Maryland Court of Appeals and, after returning home, he clerked for the Honorable
Robert Molloy.
He volunteers as a coach for the moot court team at Complex and serves on the board of
the V.I. Bar Association, also a volunteer position.
St. Jean is an attorney with McChain, Hamm and St. Jean, LLP on St. Croix. The firm's work
involves helping businesses obtain licenses, form LLCs and mergers, set up bylaws and
employment agreements – all consistent with Virgin Islands law. He is outside general
counsel to dozens of businesses, including Fortune 500 corporations, doing business in
the territory.
As a student, his interest in law began at an early age. While in high school, he won the
moot court competition for the Educational Complex and later he was a moot court finalist
during law school. Moot court is a "mock" court during which law students argue hypothetical cases. Now, he coaches the team at Complex.
"I always felt I could contribute to the economic growth of the territory. I became more
interested in businesses, how they work, how I could use whatever skills I have to grow
businesses," he told the Source. "That's fascinating as well, as you can see how the
economy works from the corporate side."
St. Jean has definite ideas on how to help St. Croix businesses via the Chamber of
Commerce, starting with making it easier to set up a business and get a license. The
system is not user-friendly when it involves five or six agencies just to get a business
license, he said.
"We want to be open for business. We want businesses to come down and thrive and start
hiring employees and contributing. And, if somebody has to wait a couple of months to get a license, that's a significant delay," he said.
The new chairman wants to attract small businesses to become Chamber members when
they see what the Chamber can do for them, in the way of new opportunities.
He sees his role primarily as an advocate and wants the organization to focus on legislation and regulation. He especially wants to improve the communication between finance entities and small businesses, so members see the benefits of belonging to the Chamber.
St. Jean said he works his day job as well as about six hours a week coaching, and more
time volunteering with the bar association. It all takes a "whole lot of time" and keeps his
schedule "pretty packed," he said.
St. Jean feels he has had a good education and excellent opportunities. Now, he feels he
has a responsibility to pay it forward.
"I'm a young Virgin Islander who wants to try and help improve the territory any way I can.
That's what I'm trying to do – work with the Chamber to grow businesses and hire folks, create a culture where businesses can thrive and young Virgin Islanders can come back home," he said.