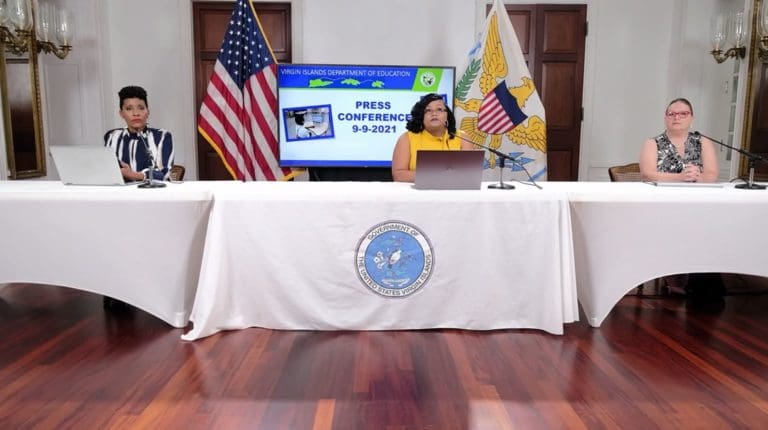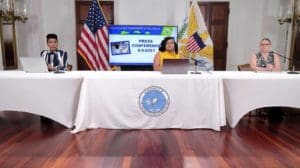 Education Commissioner Racquel Berry-Benjamin at a press conference held Thursday at the Government House reminded parents to please keep their children at home if they are exposed to or have symptoms of COVID-19.
"Yesterday, Sept. 8, the department made the decision to close two of its school campuses to in-person learning, Pearl B. Larsen Pre-K-8 on St. Croix and Ulla F. Muller Elementary School on St. Thomas, due to cases of COVID-19 at the schools. All students at the schools will revert to virtual learning for the remainder of the week," said Berry-Benjamin.
"We want to remind parents to remember to do the little things because they matter. Be very vigilant, check temperatures, and of course if they have COVID positive within the household to not take that child or children to school. That is the best precautionary measure we can take in the household and of course getting vaccinated is the ultimate precautionary measure at this time."
Reverting to virtual learning for the schools affected comes after in-person learning began on Tuesday for pre-K to third-grade students. There is no official date announced for when students will be allowed back to their classrooms. For now, they will continue virtually.
"I must say in this health pandemic the quality of our public education offering is dependent on the quality of the health and vigilance of our community," said Berry-Benjamin.
"We must be reminded not to let down our guard with this deadly virus. With the closures of our schools from in-person learning in one day, let this serve as a reminder to continue practicing safety protocols such as wearing a mask, washing hands frequently, sanitizing, socially distancing from others, and most importantly remaining at home if you're sick."
The Department of Education has been working with the guidance and support of the Department of Health and has been following COVID-19 protocols for its schools and offices. Berry-Benjamin said that these protocols have been activated at all schools across the territory. Moving between virtual learning and in-person learning is a part of their COVID-19 protocol.
"Many of our parents want their children in school. This has been observed by the number of students that have come to our campus this week. All of us at the V.I. Department of Education wants to keep our campuses open. Please help us to keep our students and each other safe so that we can continue to provide in-person classes to our vast student population," said Berry-Benjamin.
"To knowingly expose others to COVID-19 is punishable by fines and imprisonment. The COVID-19 vaccine is available to all V.I. residents ages 12 and up."
Health Commissioner Justa Encarnacion commended the work that the Department of Education has been doing and reassured them that the Health Department will continue its efforts.
"The Department of Health continues to provide support to the Department of Education and their staff to ensure safe education in school. We will continue to ensure that we educate and, upon mitigation efforts, work hand in hand, reeducate when necessary. I go back to say, in order for us to be successful we need your help," said Encarnacion, addressing the listening public.
Encarnacion said that to date, there have been 732 COVID cases in ages 5-18 in the territory, and the youngest COVID patient has been one month old.
Berry-Benjamin also reminded school staff if they feel sick to stay at home. If an employee has undergone COVID-19 testing, they should remain quarantined until negative COVID-19 test results are received. If an employee tests positive for COVID-19, they should seek further guidance from the Health Department or a healthcare provider.
"Employees of the V.I. the Department of Education, we are charged with championing this crisis while securing the education of future generations," said Berry-Benjamin.
"I believe that we are the right people at the right time to lead our students and families through this challenging time. And ask that you remain encouraged and know that every action you take, large or small, is making a difference. There's only one way through this pandemic and that is together."
Visit www.covid19usvi.com/vaccines for more information regarding vaccines and to schedule an appointment to receive the free COVID-19 vaccine.