Former Education Commissioner Racquel Berry-Benjamin delivered an upbeat and heartfelt farewell address to staff and students in a video posted to YouTube early Tuesday morning.
Gov. Albert Bryan Jr. issued a statement Monday night saying that he had accepted the commissioner's resignation, effective immediately. While praising her efforts at guiding the shift to virtual learning during the pandemic, the official communication was short on details, including what prompted Berry-Benjamin's seemingly sudden departure.
Both Government House and Berry-Benjamin declined to comment further when contacted by the Source, but in her nine-minute video, the commissioner thanked staff and students for rising to the challenges of the pandemic and detailed her accomplishments since Bryan appointed her to the post in 2019.
"Magnificent Monday, VIDE family," a smiling Benjamin-Berry began her video address as music swelled in the background. "It has truly been the honor of my professional life to serve you in this capacity. If circumstances were different, I would be right here with you, continuing this challenging but immensely rewarding journey that began in 2019."
Reiterating her philosophy that employees are the No. 1 asset of any company, Berry-Benjamin listed the many ways that she sought to acknowledge their hard work and boost morale, including creating a variety of programs to recognize staff.
"When you feel valued and appreciated, you show up and show out for our students, and that's our job, to give our students 110 percent every day. When students achieve, we all achieve," said Berry-Benjamin.
The former commissioner said she was proud of how both employees and students met the challenges of COVID-19 head-on while still contending with the fallout of the twin Category 5 hurricanes of September 2017.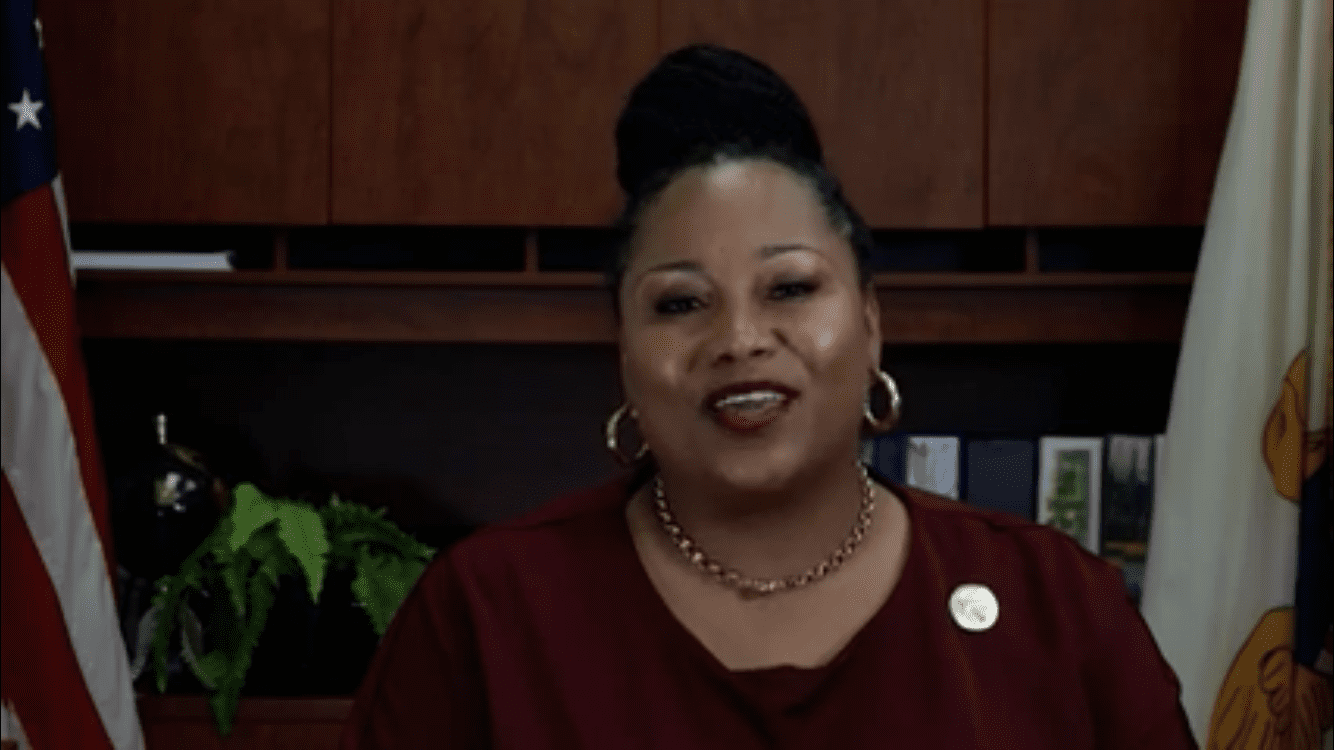 "Almost overnight, our department was thrust into my vision of transforming into a more modern, 21st-century teaching and learning institution. While there were undoubtedly some growing pains, we embraced our new role, and today, we are thriving in this environment. Our educators and students have become skilled at utilizing new technology and modern innovative methods for teaching and learning," said Berry-Benjamin.
The pandemic was not without its hurdles, she acknowledged. Those included issues with the timely delivery of laptops and internet connectivity early in the pandemic, disagreements over hybrid graduation rules that were unpopular with some parents and students, and ongoing concerns over the physical condition of the territory's schools.
"Yes, I had to make some tough and often unpopular decisions during my tenure as we responded to COVID-19, but it set our department apart as a leader among our peers in the region and in many places," said Berry-Benjamin.
She touted initiatives to showcase student achievement, including the Youth Culture Bearer of the Month highlighting youth efforts to preserve USVI history and culture, and a cross-district collaboration that has enabled St. Thomas and St. John students to enroll in the aviation academy at the St. Croix Career and Technical Education Center.
"I am very proud of the progress made in our school facilities, given the age and physical condition of the buildings due to longstanding deferred maintenance issues that pre-dated my leadership," said Berry-Benjamin.
During her three-and-a-half-year tenure, "groundbreaking work was accomplished with the development of the educational facility master plan, which will guide the new construction and modernization of the territory's public schools for years to come," said Berry-Benjamin.
She cited the demolition of the Arthur A. Richards Junior High School and noted that plans are well underway for the demolition of the Evelyn M. Williams Elementary School on St. Croix and the Charlotte Amalie High School on St. Thomas. Additionally, the department has modernized its first school, the former Raphael O. Wheatley Skill Center, which is now the CAHS Annex — "something that had not been done in decades," she said.
Next up will be the former Gladys A. Abraham Elementary School, which will be repurposed to house the Raphael O. Wheatley Skill Center and Adult Education on St. Thomas, said Berry-Benjamin.
On the academic front, "the department's robust use of data continues to inform our decisions. As we utilized our standardized assessment in 2021 and 2022 to measure students' academic performance, it was clear the impact of the pandemic had taken its toll," she said.
"The department dug deep and conducted analyses to determine the loss. Results were shared with each school leader to plan ways to address academic loss. Our data has been the catalyst for our transformation and a major overhaul so students can have access to other important educational experiences that will support their social and emotional needs," said Berry-Benjamin.
School and district leaders have engaged on a national level as well, said Berry-Benjamin, with participation in Learning 2025 — an initiative of the School Superintendents Association to promote equity-focused education — the National Alliance of Black Student Educators, and the Successful Practices Network. In fact, school leaders from across the territory will be attending the Learning 2025 conference in Washington, D.C., this summer, she said.
"This gives us a seat at the table for the latest developments and discussions around transforming education nationwide," said Berry-Benjamin.
Aligning with the department's strategic direction and the goals of Learning 2025, school leaders will work with their teams to craft school plans that are student-centered, cater to the needs of the whole child, and provide them with the tools to be co-authors of their own learning, said Berry-Benjamin.
"The future of the Virgin Islands is truly bright. I wish to sincerely thank the department's dedicated senior leaders who have stood with me and my dedicated office staff. To our teachers, principals, school nurses and school support staff, and all the hard-working men and women of the VIDE, you are the backbone of this department. Indeed, you are the biggest, baddest, brightest team around. The quality of education our children receive is directly tied to your ability to make tough decisions and stand by them," said Berry-Benjamin as she wrapped up her address.
"Remember to always lead with love and with the best interest of our students in mind. This is a sure recipe for success," she said.
"Students, never give up and continue to cultivate your love of reading and learning. Parents, continue to be equal partners in the educational process and seek out ways to get involved in your child's education. Community, lend the support to the educational achievement. Remember, education is everyone's responsibility," said Berry-Benjamin, who thanked Bryan and Lt. Gov. Tregenza Roach for the opportunity to serve the territory's children and families.