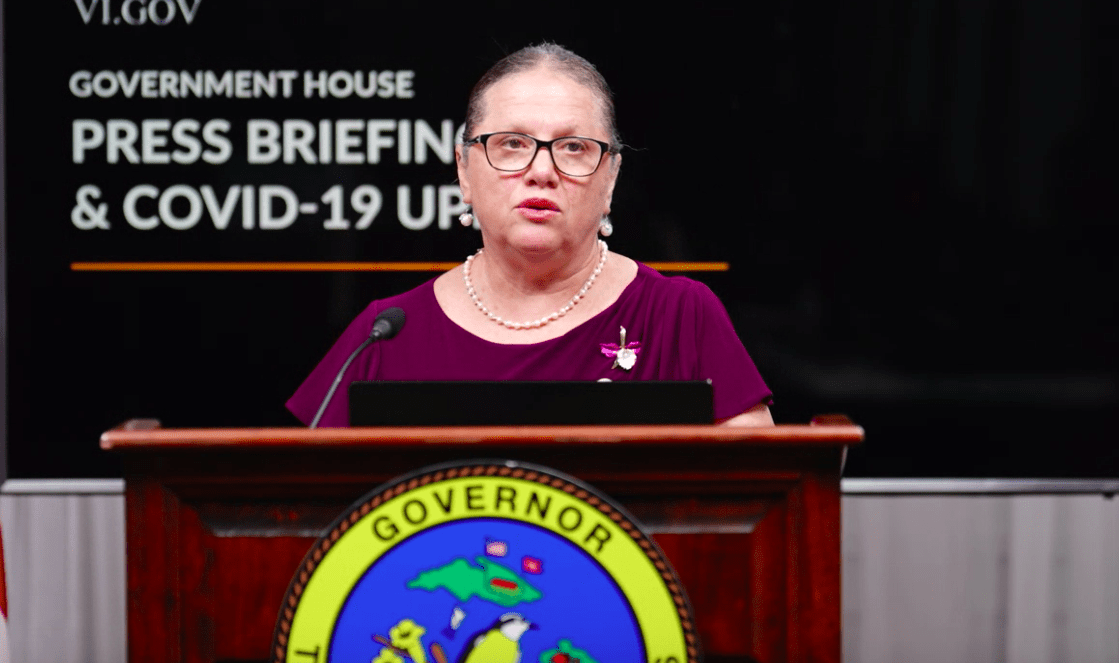 The Virgin Islands continue to reduce the number of COVID cases with a 2.1 percentage rate, Health Commissioner Justa Encarnacion reported Monday during the weekly Government House press briefing.
There are 17 infections in the territory, with 11 on St. Thomas, four on St. Croix and St. John has two cases. Two people are hospitalized on St. Thomas, she said.
Since the federal funding for testing ran out two weeks ago, the Health Department has not conducted testing. Encarnacion said they still plan to return to free testing, but people must go to a private provider or clinic until then to find out if they have the infection.
Vaccines are still given at no cost to the patient. Encarnacion pointed out that the bivalent vaccine is the best protection against the current strain of COVID.
On St. Croix, the vaccine is available on the second floor of the former Caribe Home Center, Monday through Thursday, from 9 a.m. to 3 p.m. On St. Thomas, shots are given from 9 a.m. to noon, Monday through Thursday at the Schneider Regional Community Health Center. St. John residents can access the vaccine at the Port Authority gravel lot on Wednesdays from 1 – 4 p.m.
Encarnacion stressed that people who continue to feel sick after a home test should get tested by a professional. If they test positive again, they are eligible for the treatment, free of charge.
"As we enter the Easter camping season, we must be reminded that COVID is still with us, as is the flu. We have to be very careful. Protecting your family should be part of the planning for these activities. Continue to wash your hands often, using hand sanitizers and feel comfortable wearing a mask, especially those with a compromised immune system," the commissioner advised.
Encarnacion also announced that demolition of the Charles Harwood Medical facility will begin in two weeks and the public will receive more information soon.
Also, public health week will be observed from April 3 to April 9 throughout the territory, with free screenings and family fun events.
Government House Communications Director Richard Motta ended the briefing with information about Gov. Albert Bryan Jr. traveling to Taiwan this week to meet with government officials and business people. He will also participate in opening an Invest VI trade office – subsidized by the Taiwanese government.
Motta also announced there were seniors who have not received the ARRA stipend check and advised them to send their name and mailing address to SSI@OMB.vi.gov before April 7. After that, the checks will expire and be voided. Those without email access can call their island administrators at 340-773-1404(STX), 340-776-6485 (STT) or 340-693-4350 (STJ). Do not email and call he said.