Crucian artist Lucien Downes and his father Lucien Downes Sr. came together as a team to help beautify the St. Croix Sunny Isle Shopping Center.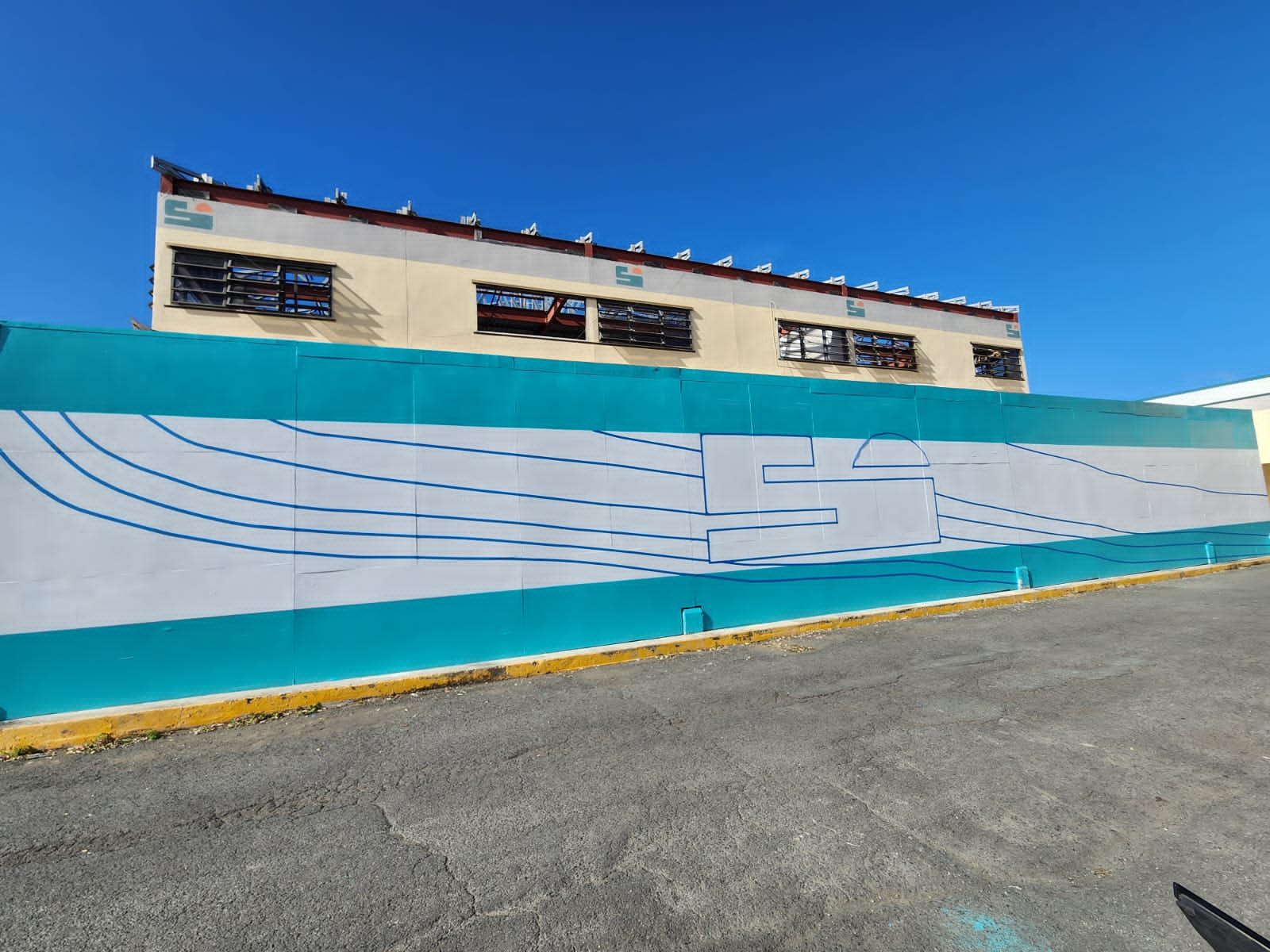 This is not the first mural for Downes, but it is the largest he's done so far, he said, measuring at 13 feet high by 72 feet long. It is the first mural for Downes Sr. and he loved working with his son, he said.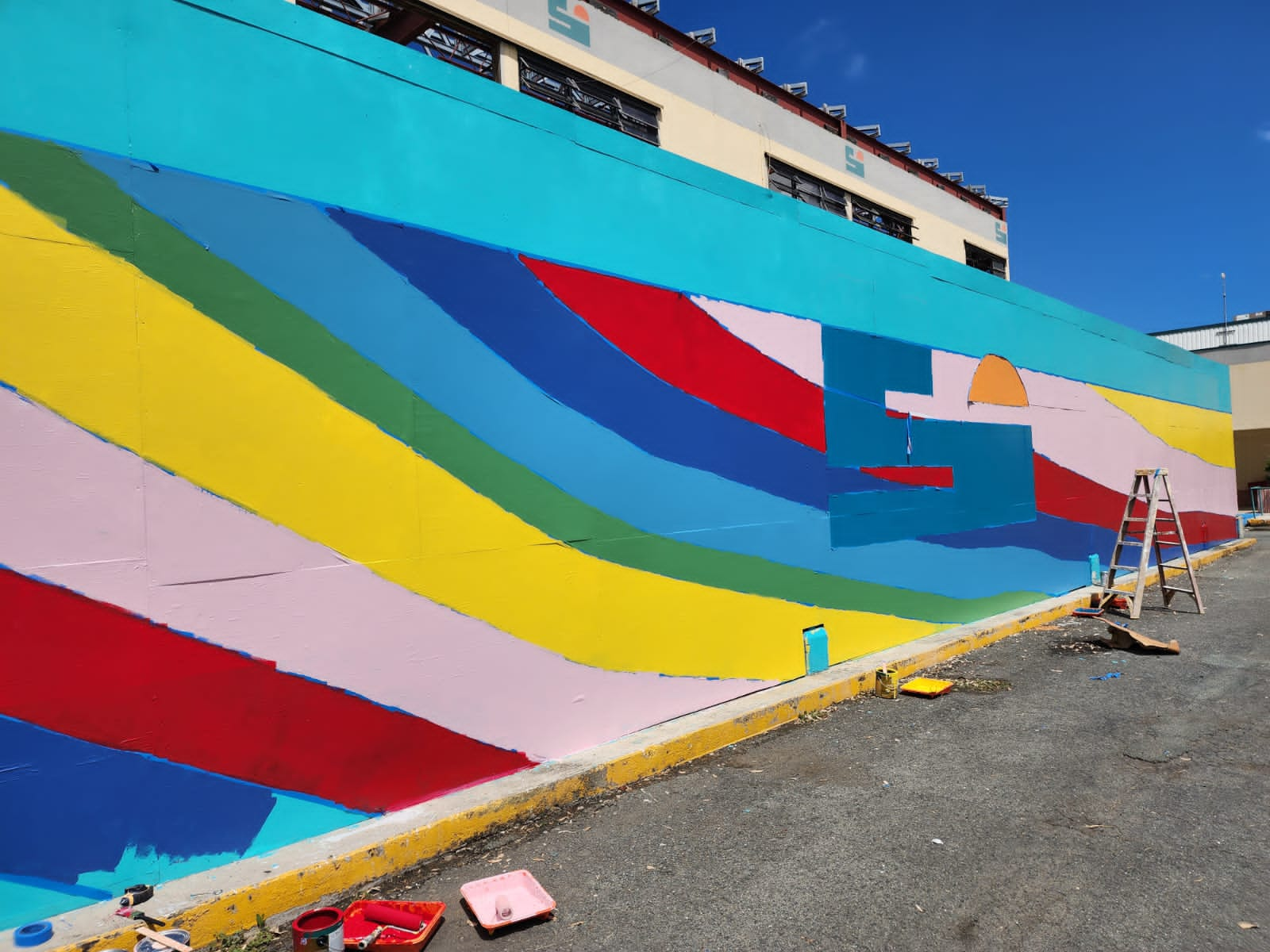 Most folks know Downes as a contemporary artist using a variety of mixed media in his cultural art pieces. His work is highly praised and sought after. He has added another aspect of his talent outside the gallery walls – as a muralist – available for the community to view the beauty of his public art.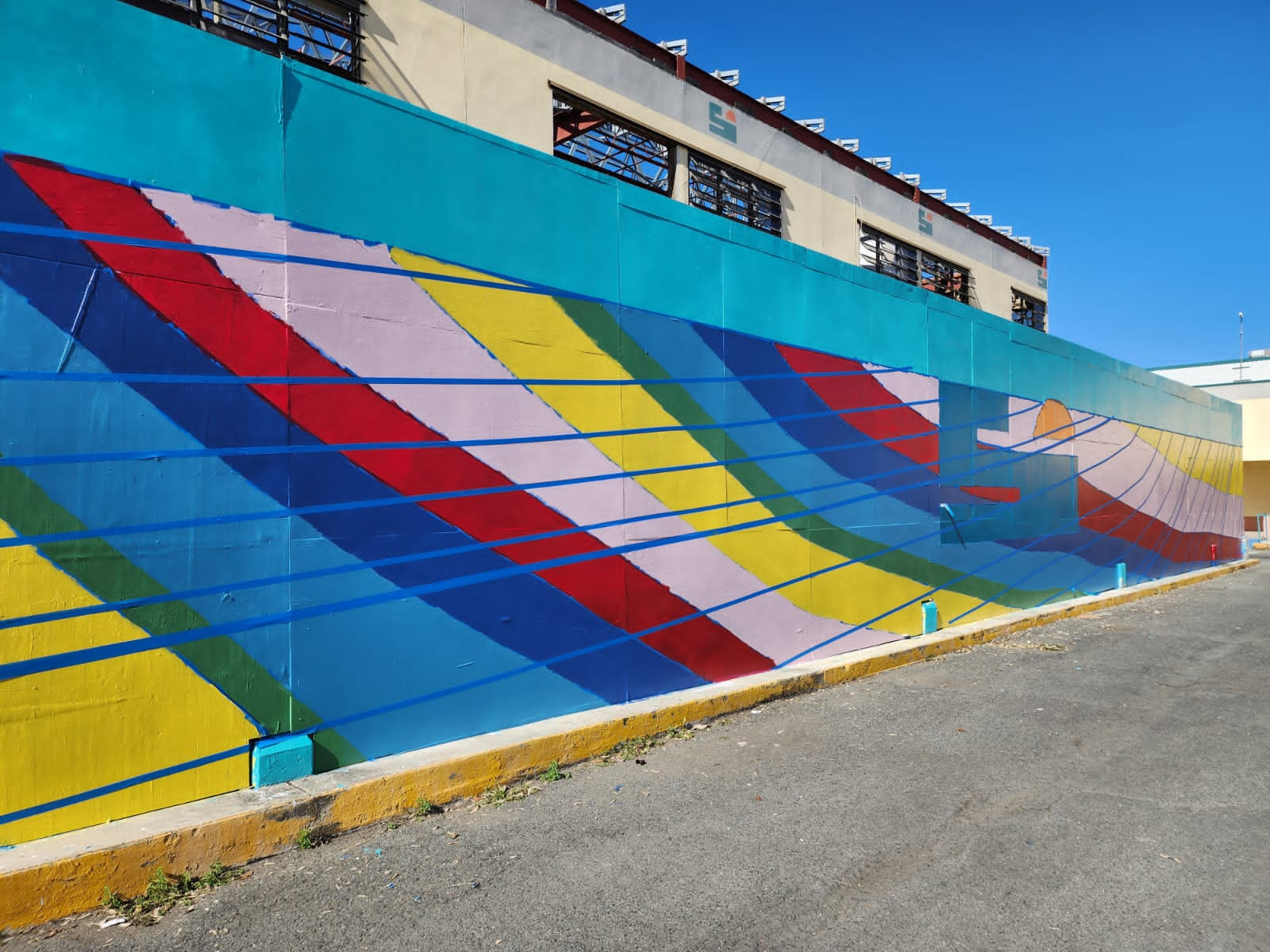 Downes has been painting murals on St.Croix for several years. The Stanley [TSK] and Bradley Christian Quadrille mural on the corner of Company and King Cross Sts. in Christiansted is an eye-catching scene, whether walking or driving through town. The Mutiny Vodka Distillery in Sion Farms boasts another of Downes' artistic murals inside the facility. Freedom City shares the wealth with his public art mural in the Frederiksted Health Clinic Billboard Project. At the northern side of downtown Frederiksted, across from KFC, look for the mural project Downes did with local kids.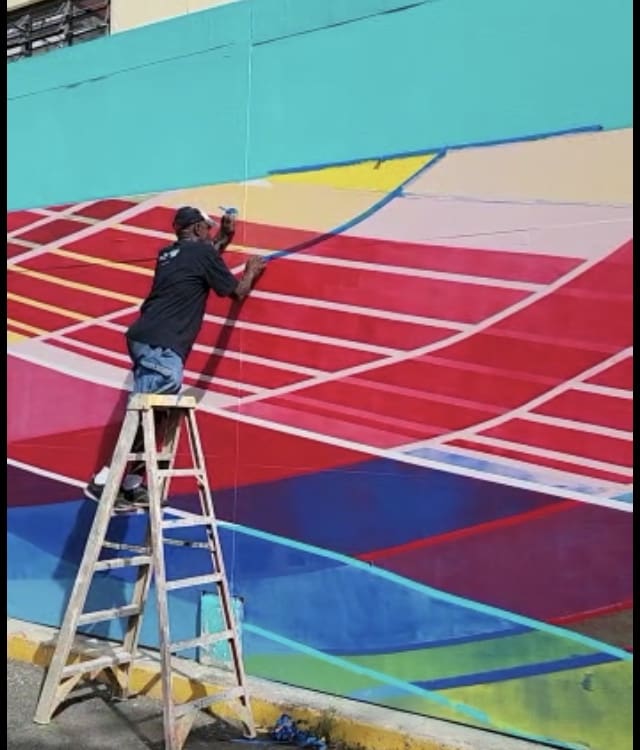 Downes said he likes painting murals. "I think it beautifies the community, especially if it's a reflection of ideas that are ingrained in our culture. I think it's important to keep the community in mind when one does these kinds of projects so people who use these pathways on a daily basis are not offended. It's less about what I want to paint but more about how it will make people feel when they view it.
Asking Downes about public art and fine art drew this answer: "I think art is art and it has many forms. I think that this particular mural [Madras at Sunny Isle Shopping Center] has a fine art 'feel' to it, especially because of its layering and the intricacies of the line work." 
This was an enormous project, and having my dad working with me as a team was encouraging, Downes said. Both father and son look forward to working together in the future.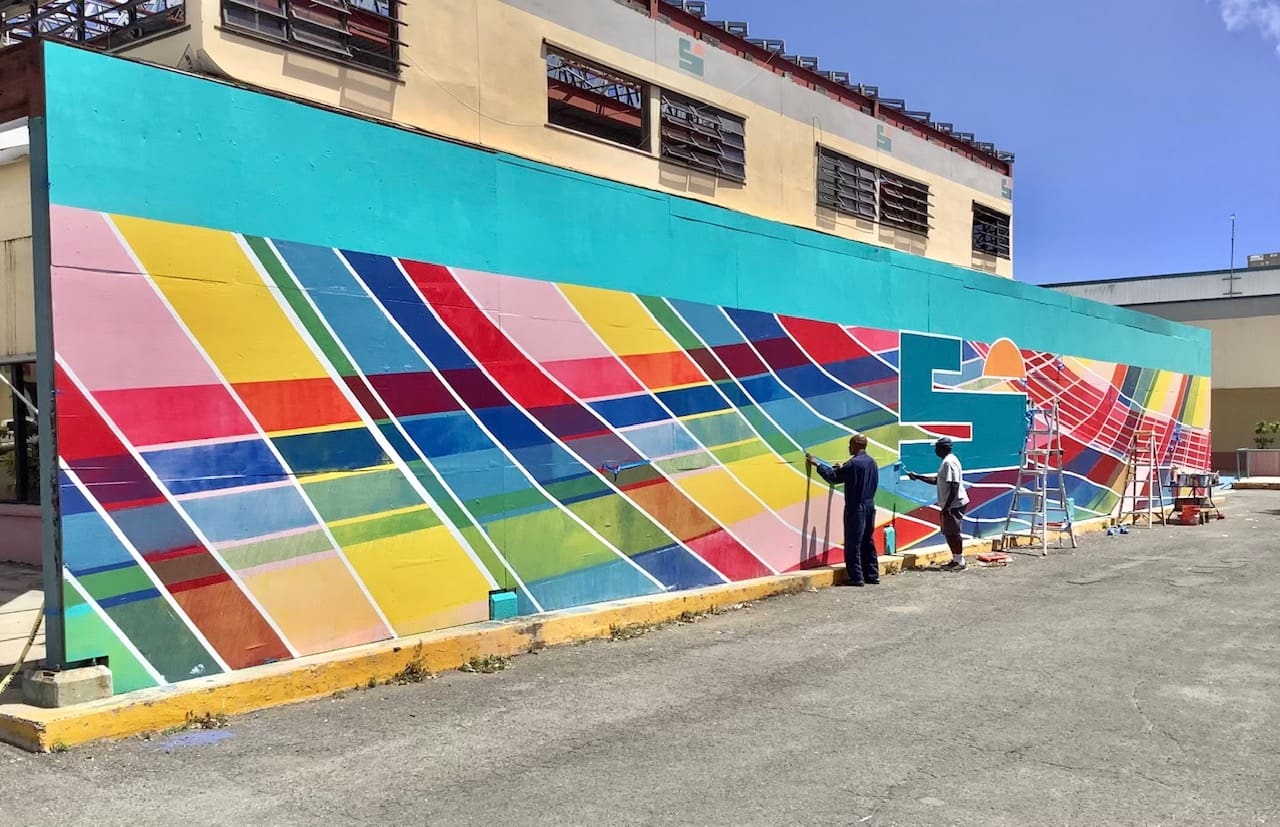 Downes Sr. is a native of Trinidad and migrated to St.Croix in 1969. He worked at several positions with a tenure of about 40 years at HOVENSA. His piping and instrument diagram drawings, while employed at the refinery, unwittingly prepared him for the mural painting project with his son. "I would love to work with him again and I'll be right there with him if needed," Downes Sr. said.
Sunny Isle Shopping Center Maintenance Manager Benson Ward II has been working with his team to upgrade and maintain Sunny Isle. "We want to keep it vibrant and fresh – keep it clean," Ward said.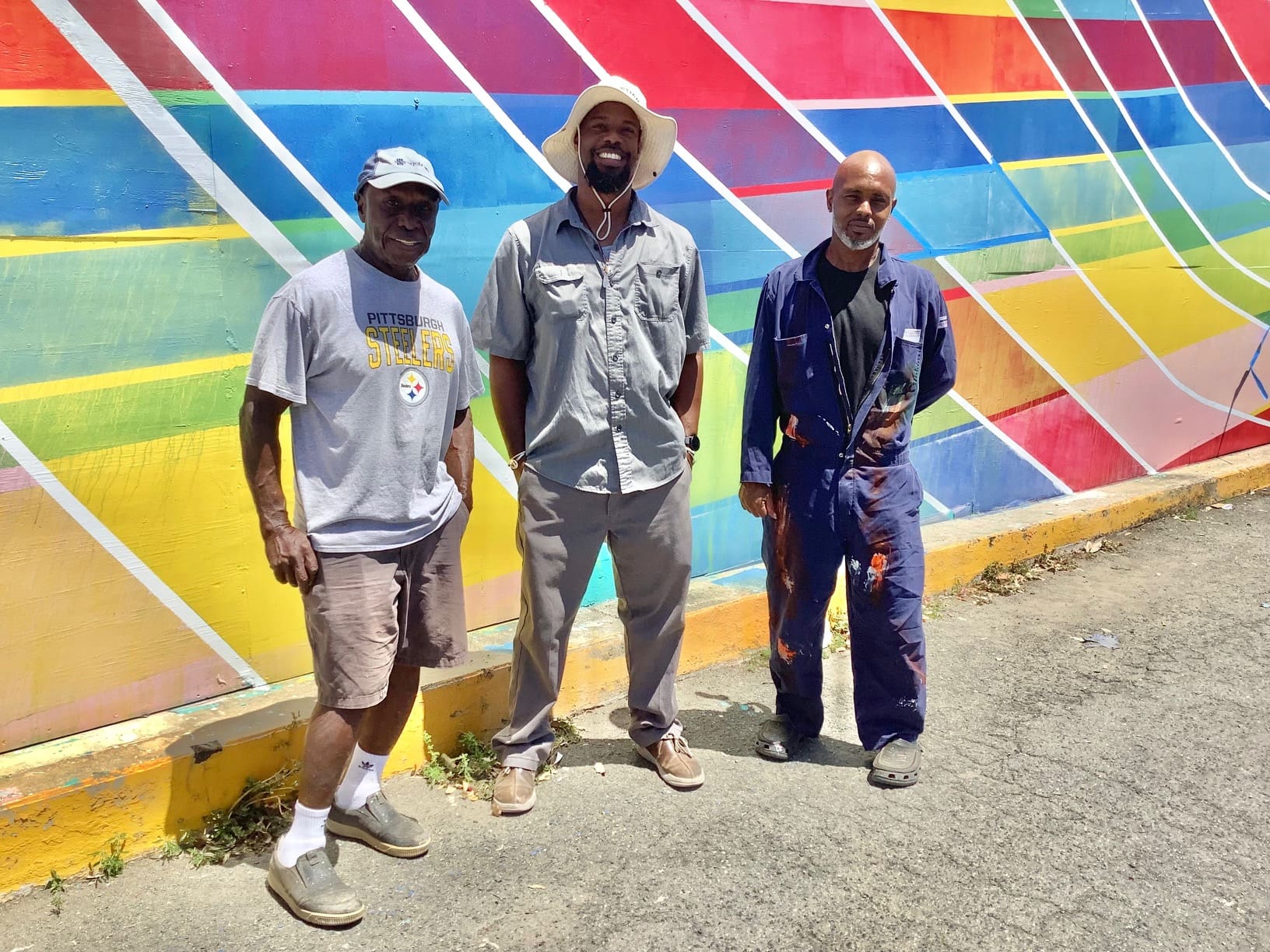 There was damage from Hurricane Maria to the Business Center building located to the west of the K-Mart store. 
"It was in terrible disrepair. We were getting ready to begin the renovations, so we erected a large panel of boards in front to camouflage the eyesore, but the boards were not enough," Ward said.  
"The ladies in the office and I talked about what might work. I thought about my friend Lucien Downes who is an accomplished artist, so I approached him about working on a mural. My idea was to give it a Sunny Isle flair with a cultural twist, nothing commercial…something that represents our community."
Downes came back with his concepts of painting the U.S. Virgin Islands Madras with it fully encompassing the boards measuring 13 feet high by 72 feet long and the Sunny Isle Shopping Center logo emblazoned on it. It was ambitious, yet doable – everyone agreed, Ward said.
"I gave the team three different designs from which to choose. Ward and the team made their decision, sent it to Puerto Rico for approval and we were to start work in January," Downes said.
The boards had to be resealed because they were affected by the rainy weather. This slowed down the initial start time, Downes shared.
"This is a huge project. It's the first time working with my dad. This is hard," Downes said. "We're painting a mural and creating madras with the transparent layers. I finally found a method that worked. It's been a two-week process and a great experience. You can see it from the road, which is in line with Ward's idea for the shopping center," he said.
Ward said, "People can drive by and say, 'That looks good.' A lot of elderly folks come here [Sunny Isle] and make it a part of their daily routine. It's a community center. We want to keep that kind of vibrancy here."
Downes is a prolific artist whose work has been shown locally and internationally. He has mentored emerging artists, curated numerous exhibits, and works tirelessly to keep art alive and well in the U.S. Virgin Islands.
The community is encouraged to walk by, drive by, and engage in the beauty and the vastness of this work of public art created for the public through the consciousness of the Sunny Isle Shopping Center team and the creativity of father and son Lucien Downes Sr. and Lucien Downes.
For more information:
sunnyisleshoppingcenter.com
luciendownesart.com