On June 17, the Kiwanis Club will host a golf scramble and silent auction at the Reef Golf Course on St. Croix. The goal is to raise money for a playground at Claude O. Markoe Elementary School in Frederiksted. The pre-k through sixth-grade students at the school do not have a playground.
Registration for the four-person scramble at the Reef Golf Course is at 8 a.m. Tee off time is 9 a.m. Registrations can be dropped off at the Reef Golf Course or mailed to the Kiwanis Club of St. Croix, c/o Steve Pendergrass, P.O. Box 25928, Christiansted, VI 00824. Monday is the closing date for entries.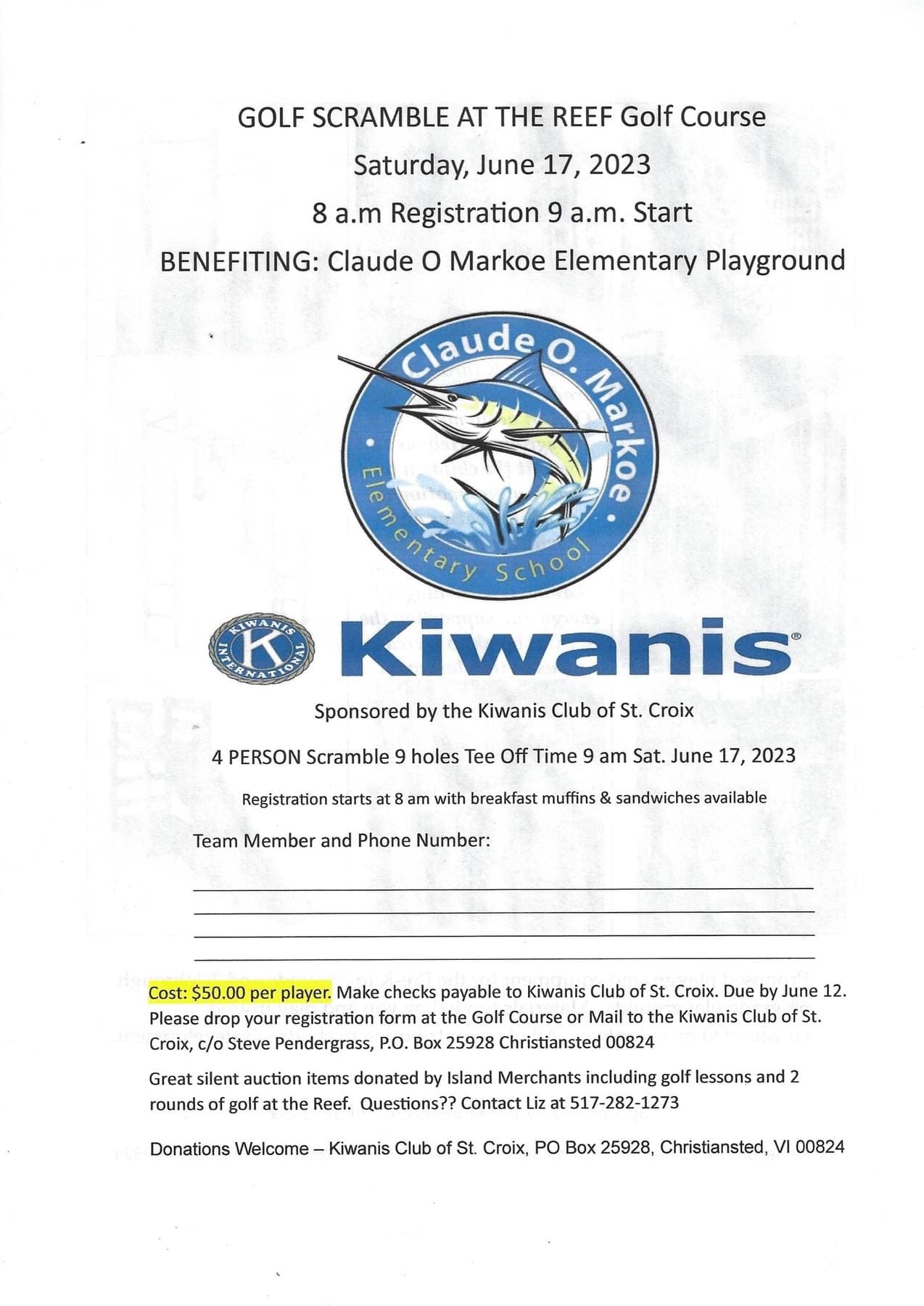 According to Liz Wilson, president of Kiwanis Club of St. Croix, "We are excited about the community participation and interest in this project. We have received many silent auction donations from the Island Merchants, rounds of golf, horseback riding, a generator, cosmetic certificates and meal certificates. Besides raising funds, we look forward to community members helping us when we are ready to build the playground. Help us to benefit the children to develop the emotional, social, creative and physical skills they will need as adults as well as having fun, burning off energy and supporting the mental break needed to increase focus in the classroom."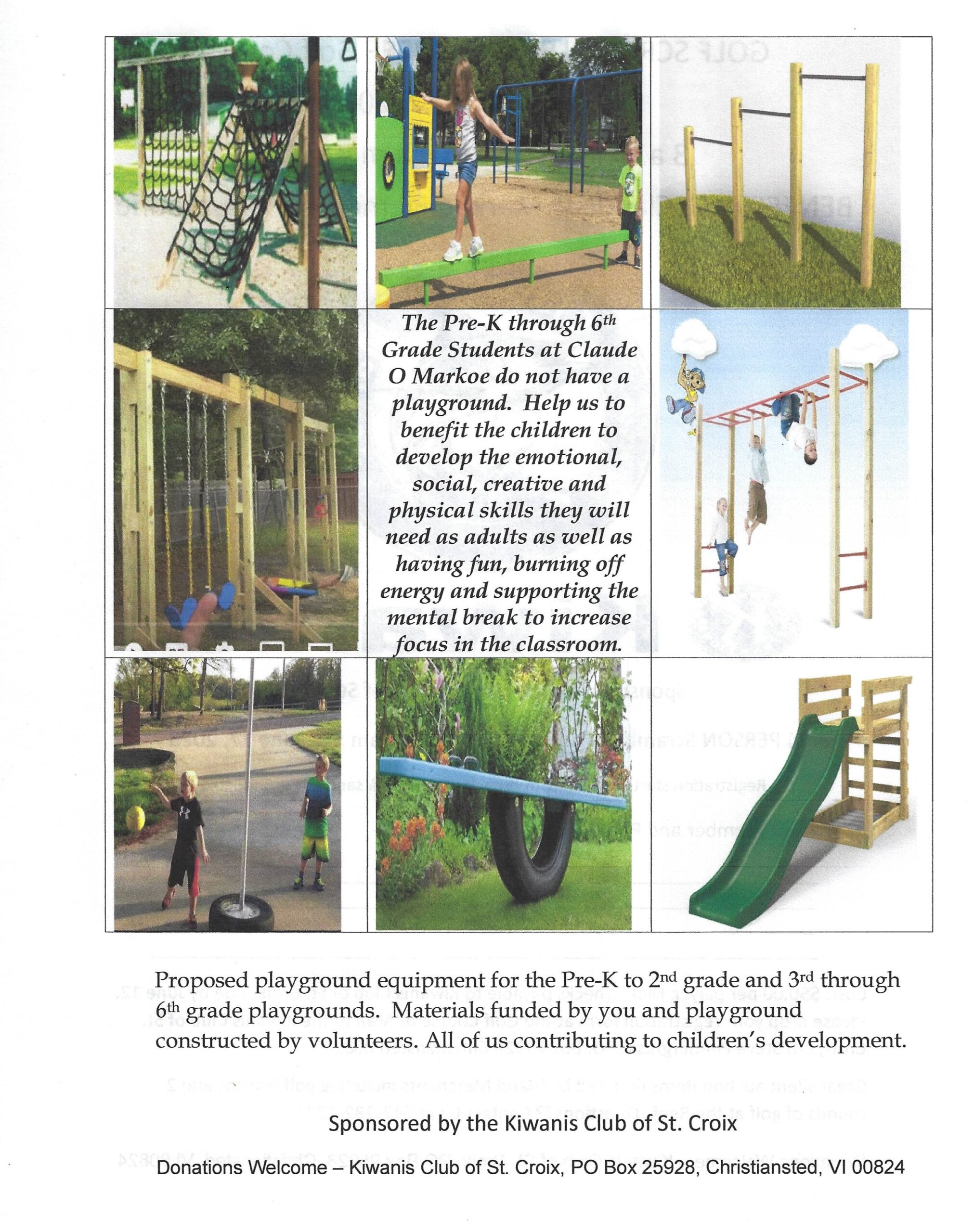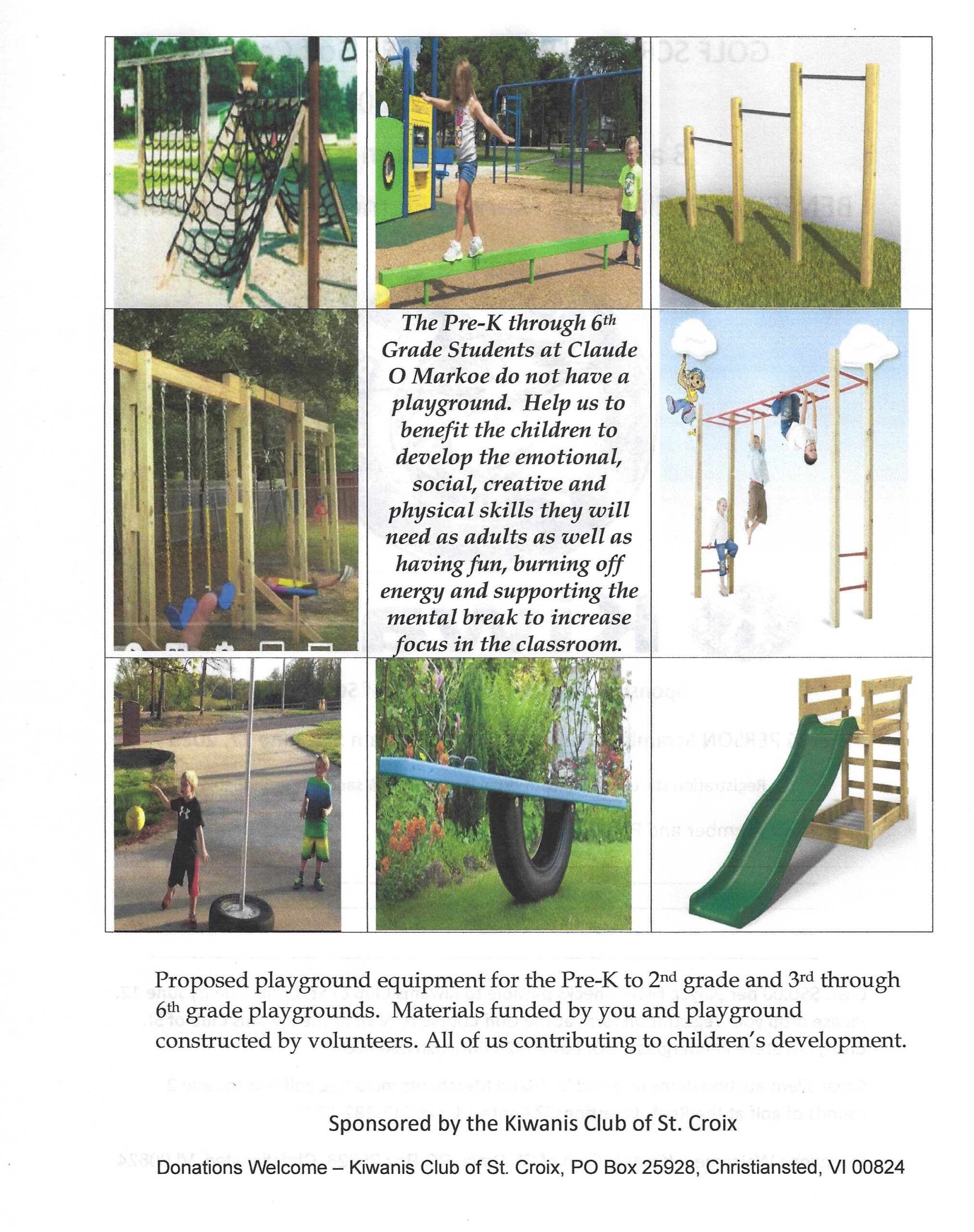 To register as a team, sponsor a hole, make a donation or learn more about Kiwanis, contact Liz Wilson at 340-208-0130.
The Kiwanis organized as a club on St. Croix in January 2023. The local club is headed by Wilson, president of Kiwanis Club of St. Croix and past governor of the Michigan District Kiwanis. The goal of Kiwanis Club of St. Croix is to raise funds to improve the quality of life and engage in activities with children.
"The main focus is the Claude O. Markoe School. They don't have a playground at that school and we are hoping to raise funds to get their playground built. We are looking to do some bingo in the community to raise some money for the playground. We are looking for ideas from the community for fundraising and, again, collaborating with other organizations. The playgrounds right now are our main focus. Once we help Claude O. Markoe, we hope to move on to some of the other schools to supplement their playgrounds or replace things that are antiquated and aren't safe for the children," Wilson said.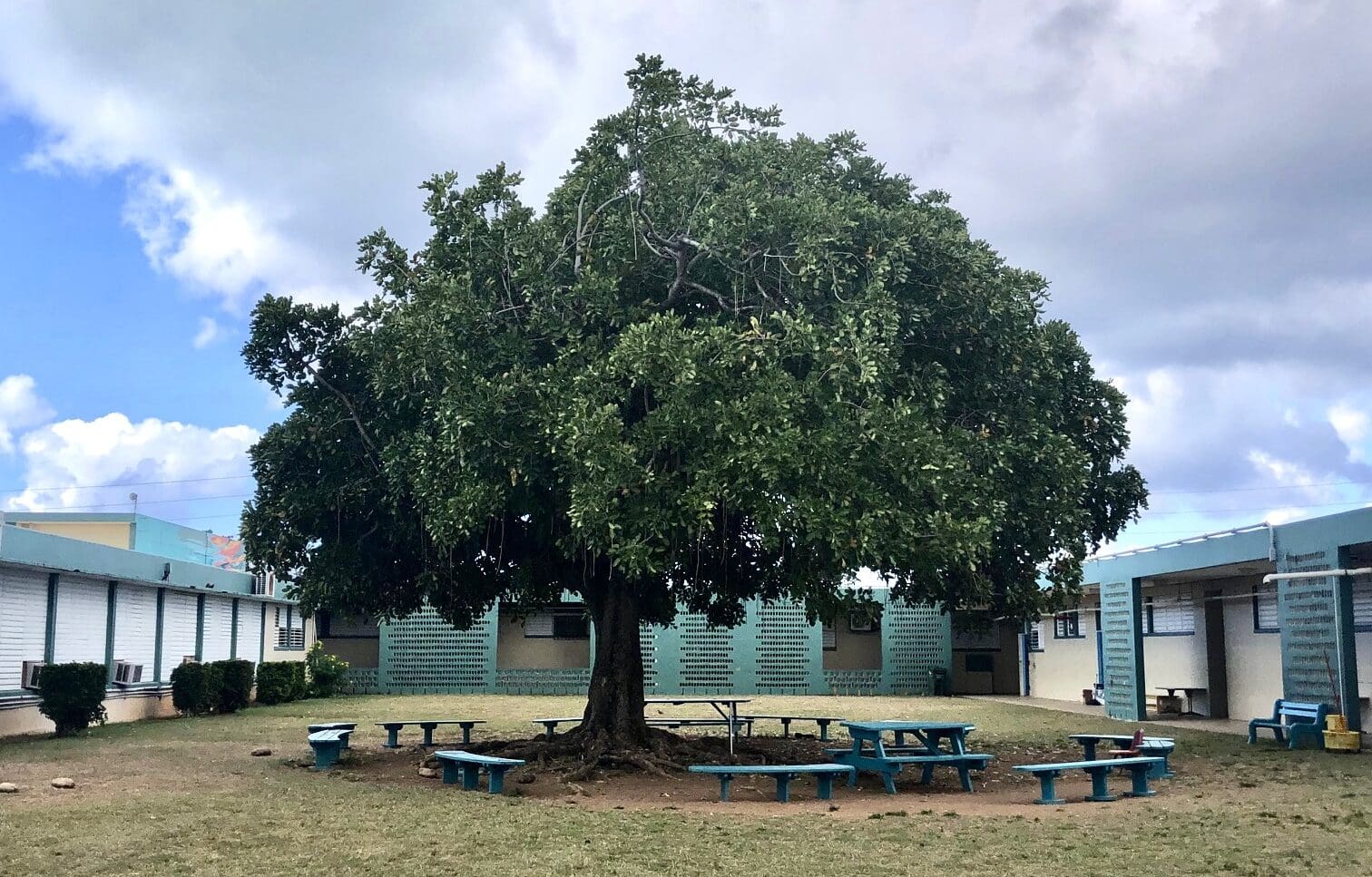 Kiwanis International is a global community of clubs, members and partners dedicated to improving the lives of children one community at a time.
Established in 1915, Kiwanis International is a worldwide volunteer organization that has locations in 85 nations and geographic areas with over 500,000 adult and youth members. The Kiwanis family of clubs give over 19 million hours of service to communities across the globe yearly.
Annual dues are $120 but are prorated for the month in which a new member joins. Corporate memberships are also available. Local meetings vary with both lunchtime and evening hours.
As a message to the people of St. Croix, Wilson said, "I would love to have your input on what types of things we can help the community with. We are in the process of going through a needs analysis and meeting the different people and businesses throughout the communities. And they've given us some great suggestions on what kind of help our communities need. And I appreciate that. We have a Facebook page that is under Kiwanis Club of St. Croix. There is information that you can get there. It has my information actually and you can contact me directly. I look forward to finding out more about the community's needs.  So yes, please contact us, we'd love to hear from you."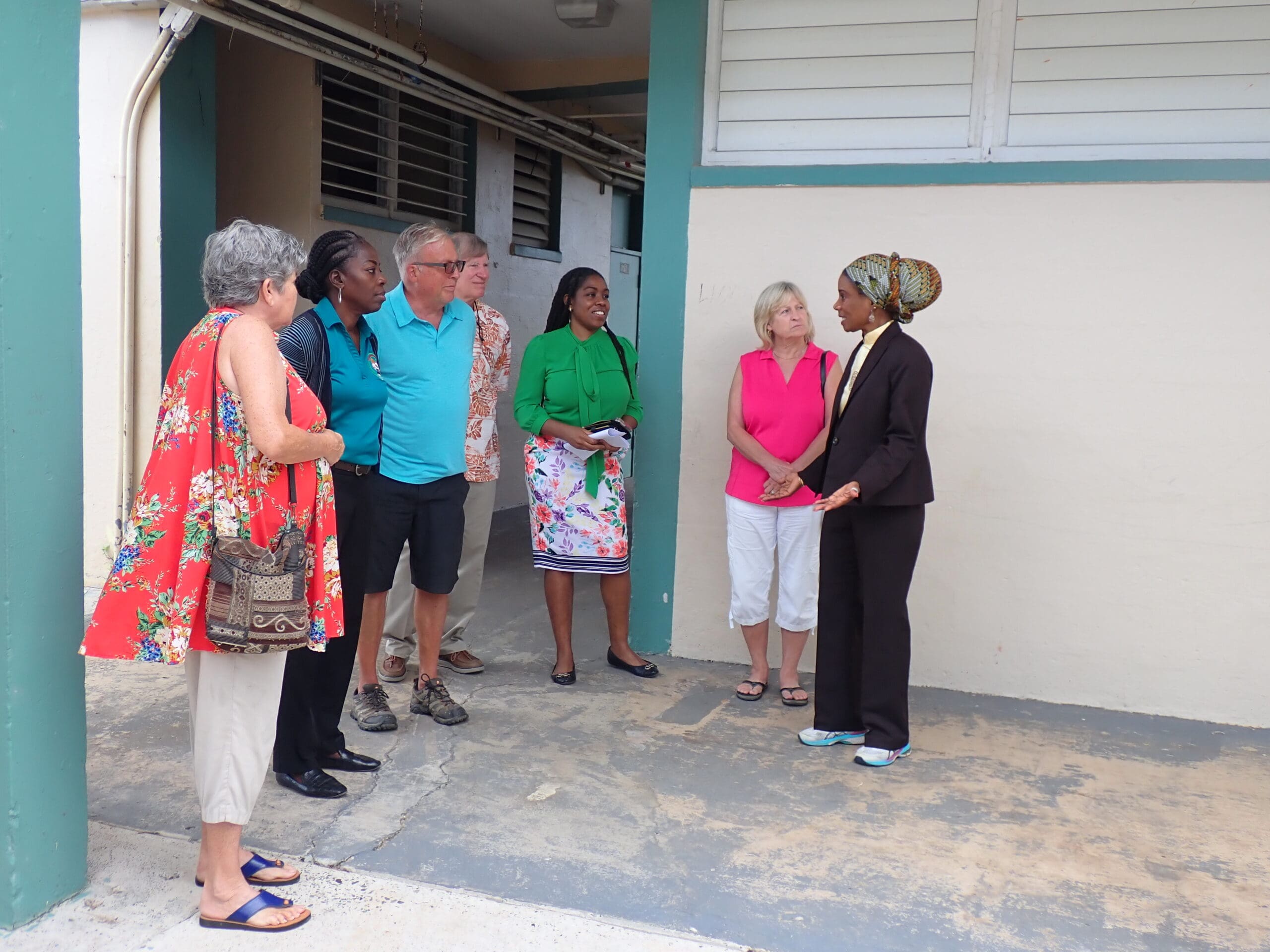 For more information:
Liz Wilson at 517-282-1273 or kiwanislizstcroix@aol.com
https://www.facebook.com/StCroixViKiwanis