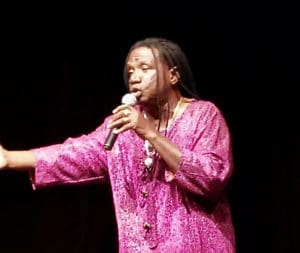 Calypsonian Samuel "Mighty Pat" Ferdinand has released two new songs, "I Can't Breathe," in solidarity with the Black Lives Matter protests to end police brutality, and "Coronavirus," to encourage reflection of the global and local COVID-19 pandemic.
Pat said he wrote the lyrics to "I Can't Breathe" two years ago.
"Because the words related so closely to the murder of George Floyd, I added the phrase, 'I can't breathe' to the song and released it with 'Coronavirus' and now both songs have a copyright," the singer said.
Born in Conaree Village on St. Kitts, Pat has been singing and performing since he was a very young boy. Although recognized as a Calypsonian, the versatile Pat has crossed over several genres, including reggae, ballads, blues, gospel and rap.
Pat completed school on St. Kitts at age 15 and served in the St. Kitts and Nevis Defense Force for three years. His father was employed by Hess Oil Co. and the family migrated to St. Croix. Pat joined them in 1972.
"I Can't Breathe"
St. Croix was the musical steppingstone for Pat, and he worked as a singer with many bands, including Jack Caesar and the Highlights and King Derby in competitions, yet continuing his focus on writing lyrics.
In 1972, he wrote "Come on, Patsy Darling," and the song played on the radio for 10 years, Pat said.
Pat said he had the opportunity to perform with some of "the greats," such as Sparrow, Kichener, Lord Nelson, Swallow, King Short Shirt, Duke Baron, Steel Pulse, Third World, Prince Galloway, King Spade, Generic, Dr. Liburd and many others.
"Coronavirus"
By 1982, Pat and his brother began to travel, and they earned a living performing musically. Traveling by bus, they endured one incident involving a white police officer.
"We were pulled from the bus by the officer who demanded our driver licenses for an identity check. He made a call to St. Croix to further the check. Both of us wore locs, and it was later that we realized we were being stereotyped as Jamaicans," Pat said. They were told that Jamaicans were given a "bad rap" in the states.
"The white bus driver came to our rescue, and we were allowed to return to our seats on the bus," he said.
Pat performed in London, Birmingham and Manchester, England. He also performed in New York, Texas, Florida, Nebraska, North and South Carolina, New Mexico and Mexico.
According to the V.I. Source archives, Pat has won multiple calypso competitions since the 1980s on St. Croix and St. Thomas. He was Crucian Festival's first runner-up in 2001, won the V.I. Carnival Calypso Monarch title twice in the 1990s and took first runner-up honors at the St. Thomas event in 2000. For his 2002 Crucian Festival victory, Pat received $3,500 along with the title and trophy.
Pat won his 13th Calypso crown in 2006, with his initial song "Congratulations" and his second song, "Parenthood," a strong lyrical rendition on child molestation. In 2019, Pat came back to capture the second runner-up title in the Calypso Monarch competition.
"I consider myself a Caribbean man living on St. Croix, and I am committed to keeping this Caribbean art form alive with the guidance of Jah. I give thanks to God and my parents."
"I Can't Breathe" is the theme song on Dr. Yates' Graspmatics show, which airs on WSTX 970 AM 9 a.m. Mondays and 4:30 pm. Thursdays.