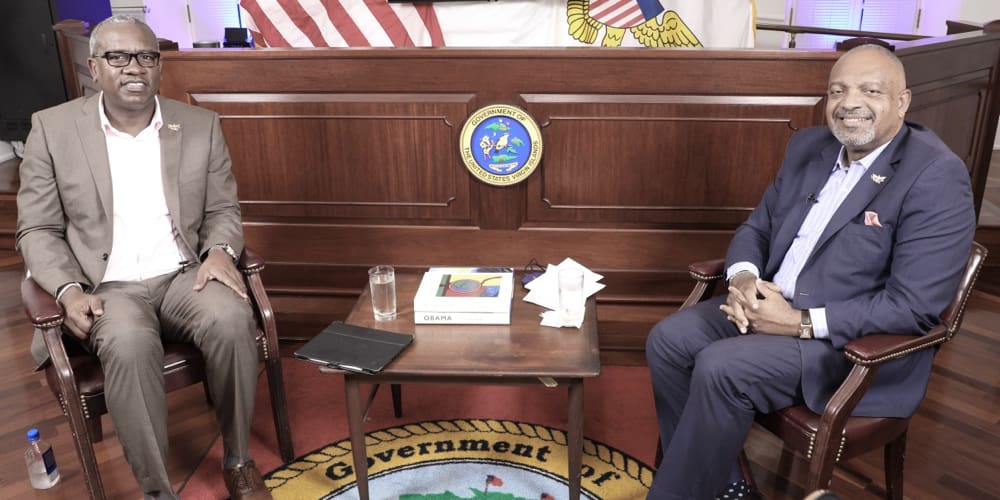 The territory will need to add 5,000 new individuals to the workforce to complete the millions of dollars in disaster recovery work, according to a RAND Corporation study commissioned by the Federal Emergency Management Agency, Gov. Albert Bryan Jr. said as he and Lt. Gov. Tregenza Roach reflected on the state of the territory Thursday evening as they appeared on the Press Box.
Press Box is a series of casual interviews with Bryan/Roach Administration officials that streams live on the Government House Facebook page, where previous episodes can also be viewed.
Their wide-ranging conversation – touching on COVID-19, telehealth, and the Government Employees' Retirement System – came on the heels of Monday's annual State of the Territory address, where Bryan outlined his administration's accomplishments and its goals for the coming year, funded in part by millions in disaster recovery and pandemic relief dollars.
Many of the projects – the Paul E. Joseph Stadium and Fresh Ministries Aquaponics Center on St. Croix, and the Veterans Drive expansion and Crown Bay Cargo Terminal expansion on St. Thomas, for example – "point to human capital and the human capital needs of the territory," said Roach.
"I think it's a push and pull," said Bryan, citing the RAND study that showed the U.S. Virgin Islands will need to add 5,000 new individuals to its workforce. There is a need to push young people toward jobs related to the recovery – such as carpentry, masonry, construction management and plumbing — but also to attract talent from abroad, Bryan said.
That doesn't mean just Virgin Islanders living on the mainland, either, said Bryan, who said he expects another migration of people from the Eastern Caribbean, as happened in the 1960s and '70s when many arrived from down island to fill jobs connected to the tourism and industrial booms – Roach's parents among them.
A $10 million Skills for Today apprenticeship program Bryan announced in his address Monday night will train 625 individuals over two years in partnership with the Labor Department and the private sector, paying them a decent salary while they learn skills that should spin-off into permanent jobs, he said.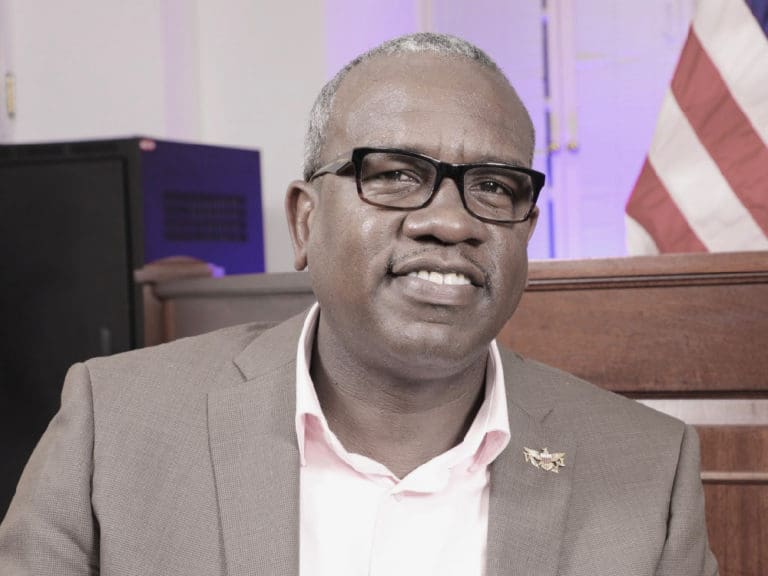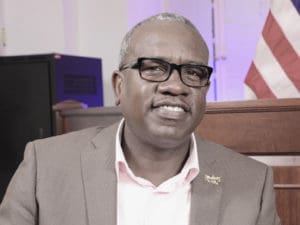 "One of the things that I found when I was at Labor is, yeah, people want to train, but they've got to eat. They can't go to school all day, they already have lives, they already have children, maybe they have a spouse to support. This program actually pays you while you train. … What we're doing, essentially, is paying for a business to have an employee to train, and more than likely they will keep you," said Bryan, who was Labor commissioner in Gov. John de Jongh's administration.
Labor's Skills for Tomorrow program, which was interrupted by COVID-19, has another $5 million for jobs training, and another $5 million is available through the Workforce Investment Program, Bryan said.
"In addition to that we also have $69 million that was given to Education, and $16 million of money that was given to the Governor's Office, to do all kinds of things in response to COVID, and training and education is one of those things. Some governors are taking that money and actually putting it towards paying for skills courses at the university or skill training centers," said Bryan. "So, a lot, a lot, a lot of opportunity out there if you really want to have at it."
Aiding in that endeavor will be the transformation of Gladys A. Abraham Elementary into the new home of the Raphael O. Wheatley Skills Center, offering St. Thomas students a modern vocational school, Bryan said. There also is a government program that mandates companies that receive contracts to build or renovate public housing communities to hire Section 8 or low-income people, Bryan said.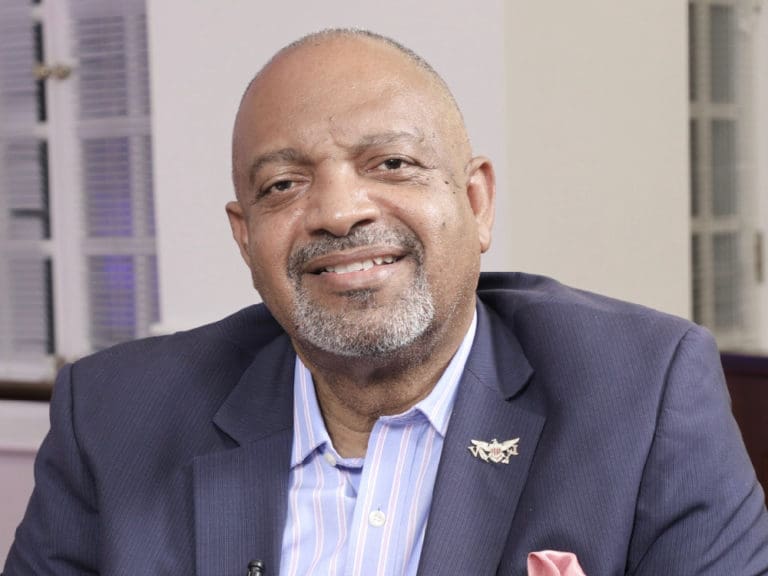 "What I would like to underscore is that we should really try our utmost to make sure that the people that want to be connected with these jobs, that their entry is facilitated," said Roach. "You hear so much frustration from people – they call this place, they went on this website, their application was rejected, they couldn't complete the form online. So I think the challenge will be on us to make sure that we have a process that is very customer friendly."
Also fundamental to success is a solid K-12 education, which has been transformed by COVID-19, Roach noted. While children in kindergarten through third grade are due to return to their physical classrooms next month, older students will remain in a virtual environment for now.
"One of the questions people have posed … is how to move from virtual to a hybrid of having some children come in," said Roach. "It really is a paradox, because we're moving closer and closer to a virtual world, so in one sense we are preparing children for the world that they are going to live in. … On the other hand, you have the psychology of child development … based on the social and physical interaction with their peers," he said.
"The world has changed," Bryan said, citing an $8 million broadband expansion project to ensure free bandwidth at schools and in other public spaces, and legislation by Senate President Donna Frett-Gregory to allow the Education Department to offer virtual classes from beyond the Virgin Islands.
"If you want to learn Chinese, and there's no teacher available in the Virgin Islands, you could take the class in Florida virtually," said Bryan. "Think about what that means in education. That if you live in Kirwin Terrace, you don't have to go to Gladys Abraham, you could go to Tutu school. For that matter, you could go to Claude O. Markoe in St. Croix, virtually."
Teachers could instruct 40 or 50 students virtually, with aides in the classrooms to assist, said Bryan. "My vision for the future of education on a whole is, every class every day would be taped. … If you don't understand that physics lesson today, you could go back, watch that class online and learn it again from the teacher. It multiplies the effect of the teacher in the classroom," he said.
"We can engage Virgin Islanders who are living in Atlanta to teach classes in the Virgin Islands. Some people love home, they just don't want to live home," said Bryan.