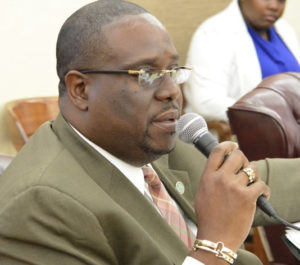 After being hospitalized on Oct. 30 for blood clots in his leg and lungs, Sen. Kenneth L. Gittens' condition is improving, and he looks forward to resuming his duties, his office said in a news release issued Friday.
Gittens remains in stable condition at Juan F. Luis Hospital on St. Croix following the diagnosis of the blood clots one week ago.
Gittens sought medical attention on Oct. 30 after feeling unwell and experiencing pain for several days.
According to the Centers for Disease Control and Prevention, an estimated 900,000 Americans are affected each year by blood clots, resulting in nearly 100,000 deaths.
"A blood clot in the deep vein (also known as a deep vein thrombosis [DVT]) typically occurs in the lower leg, thigh, pelvis, or arm. When a DVT is left untreated, a part of the clot can break off and travel to the lungs, causing a blockage called a pulmonary embolism (PE). A PE can be deadly by preventing blood from reaching the lungs," according to the CDC.
A blood clot may cause no symptoms, but often a person will experience pain and swelling in the affected limb, or difficulty breathing, chest pain, an irregular heartbeat, and coughing up blood if the lungs are affected, according to the CDC.
Preventative measures include improving blood flow in your legs when sitting for long periods of time, following bed rest, or when traveling for more than four hours by moving your legs as much as possible and exercising your calf muscles, according to the CDC.
The CDC recommends that people get up and walk around every 2–3 hours if they are able; do seated leg stretches by raising and lowering their heels while keeping their toes on the floor; raising and lowering their toes while keeping their heels on the floor; and tightening and releasing their leg muscles.
"I am very grateful for all the well wishes from the community and to the staff here at JFL for their continued efforts," Gittens said in Friday's statement.
"I am under the doctor's care and still following directives to rest. However, I am very anxious to get back to work and remain in good spirits. Again, thanks to all for your prayers and messages," Gittens said.