The V.I. Waste Management Authority plans to have a half-dozen more convenience centers within the next couple of years.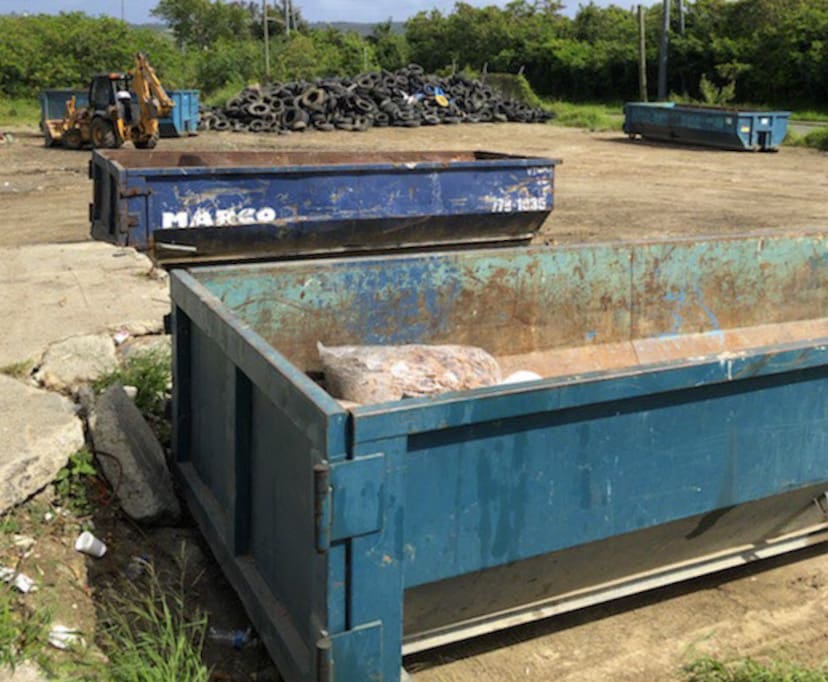 Engineer Alex Bruning speaking at a public hearing Friday, said the centers are part of a plan to divert materials from the territory's landfills. The Anguilla Landfill on St. Croix and the Bovoni Landfill on St. Thomas have been cited for environmental infractions for decades, and Anguilla has been ordered closed. The new convenience centers will be like the Peter's Rest Convenience Center on St. Croix and the Mandahl Center on St. Thomas.
Three of the six proposed sites are presently used as bin sites – Concordia, Cotton Valley, and Mon Bijou. Bruning said those sites would be "drastically improved" by becoming convenience centers.
Federal grant money will be used to build the centers, and to comply with the grant, the projects must be in areas that are zoned Public. So, Waste Management was presenting its case for zoning changes Wednesday to the Department of Planning Resources.
Recommendations from DPNR and comments at the hearing will be forwarded to the Senate, which makes a final determination on zoning changes.
Of the six sites, only the one in Estate Smith Bay, just east of Margaritaville, received much protest. The small parcel of land for the site was given to WMA by Margaritaville. Most of the concern arose from Jean Wallace, whose home is adjacent to the lot. She said her backdoor was just 12 inches from the property border, where she believes WMA plans to build a fence. She also said the lot where the convenience center is proposed is the only place where she can park her car. Concerns were also raised about rodents, odors, and pollution. Bruning said WMA convenience centers are kept very clean, and those problems are not anticipated.
Convenience centers, according to an earlier Authority press release, are "facilities that provide one or more portable waste containers which are used for the collection of solid waste for transport to a solid waste disposal site." Bruning said, although little is being recycled now, the centers would get residents in the habit of sorting trash for the future, in which he believes most everything will be recycled. WMA is presently trying to form a private-public partnership in the territory to facilitate recycling.
In 2016, WMA officials said it expected to construct approximately four convenience centers on St. Croix, two on St. John, four or five on St. Thomas, and one on Water Island. At that time, the average estimated cost of building the centers was approximately $1 million.
The first convenience center in the territory opened in Peter's Rest on St. Croix in 2013. The second at Mandahl opened in 2016. The other plots WMA presented for zoning changes for convenience centers were Parcel No. 6 Estate Susannaberg, No. 17A Cruz Bay Quarter, St. John; and Parcel C Estate Nazareth, No. 1 Red Hook, Quarter, St. Thomas.