Plaza Extra East donated two solar panels Wednesday to the V.I. Police Department to replace those that were vandalized May 22-23. Police use the panels to power surveillance cameras around the territory.
This camera is located on the Frederiksted waterfront. Seen in the above video of the donation video are St. Croix Assistant Police Commissioner Sidney Elskoe, Plaza Extra owner Yusuf Yusuf and St. Croix Police Chief Sean Santos.
The system features two solar panels at the base of a long pole fitted at the top with three cameras, but the solar panels were smashed before the equipment could be used.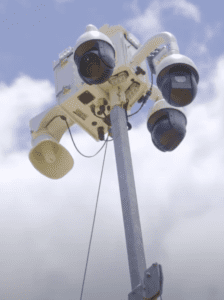 "We were just on the verge of activating this piece of equipment to protect our community," Deputy Chief of Police Uston Cornelius Cornelius said Monday. "Ladies and gentlemen, we are asking you, please don't damage the equipment we are purchasing to protect you."
Anyone with information about the security camera vandalism is urged to call 911, 340-778-2211, 340-773-2530, 340-778-4950, or Crime Stoppers V.I. at 1-800-222-8477 (TIPS).