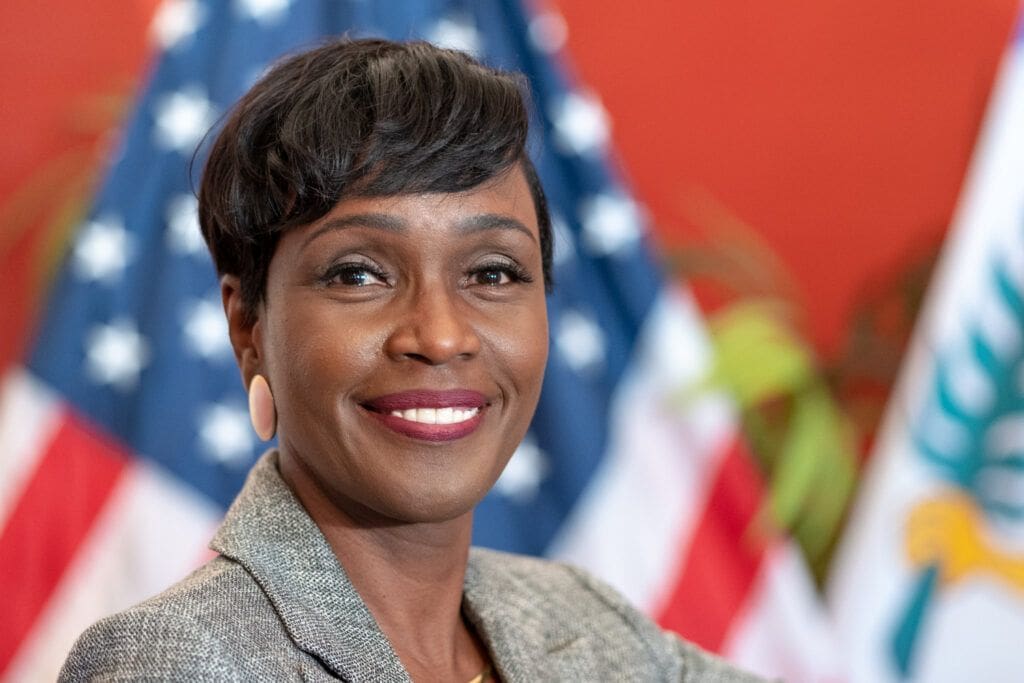 Government House has confirmed that Attorney General Denise George has been "relieved of her duties" but in a short statement Sunday night declined to say why.
"I relieved Denise George of her duties as attorney general this weekend," Gov. Albert Bryan Jr. said. "I thank her for her service to the people of the territory during the past four years as attorney general and wish her the best in her future endeavors. Assistant Attorney General Carol Thomas-Jacobs will serve as acting attorney general."
The termination comes less than a week after George filed suit against JPMorgan Chase Bank in Manhattan federal court, alleging the company facilitated Jeffrey Epstein's sex-trafficking scheme in the U.S. Virgin Islands.
The 30-page suit, filed last Tuesday and heavily redacted in parts, claims JPMorgan turned a blind eye to evidence of human trafficking over more than a decade of doing business with Epstein because of his wealth and the deals and clients he brought and promised to bring to the bank.
A month prior, the V.I. government settled a civil suit also filed by George against the Epstein estate for $105 million — believed to be the largest monetary settlement in the history of the territory.
Epstein companies and non-profit organizations that had accounts with JPMorgan included the 2013 Butterfly Trust; Coatue Enterprises LLC; the C.O.U.Q. Foundation; Enhanced Education; Financial Trust Company, Inc.; HBRK Associates, Inc.; Hyperion Air, Inc; JEGE, Inc.; JEGE, LLC; NES, LLC; Plan D, LLC; Southern Financial, LLC; and Southern Trust Company, according to the suit.
The Southern Trust Company was central to the V.I. government's suit against the Epstein estate, which settled the matter while not admitting any wrongdoing.
Under the territory's Economic Development Commission, Southern Trust received a 10-year package of economic incentives starting in 2013 that included a 90 percent exemption from income taxes and 100 percent exemptions from gross receipts, excise, and withholding taxes in the Virgin Islands.
However, it was little more than a shell company for Epstein's sex-trafficking scheme, George alleged in a second amended complaint filed in the government's case against the estate just hours before a settlement was announced Nov. 30.
As part of its settlement with the V.I. government, the estate will refund some $80 million it reaped from those tax benefits.
George is a native Virgin Islander who attended the All Saints Cathedral School and graduated from the Charlotte Amalie High School. She received her Juris Doctor degree from Howard University Law School in 1984 and began her legal career as a territorial law clerk for Judge Verne A. Hodge and Judge Ive Arlington Swan, according to a biography on the Justice Department's website.
For several years, she practiced general civil litigation and family law in her private law firm, "Law Offices of Denise George-Counts."
George served as an assistant attorney general and trial attorney in the criminal, civil, family, juvenile, white collar and public corruption divisions of the Justice Department for more than 18 years. In 2016, she accepted a position as senior staff attorney at the V.I. Port Authority, a position she held until her nomination as Attorney General in 2019.
Attempts to reach George for comment were unsuccessful.