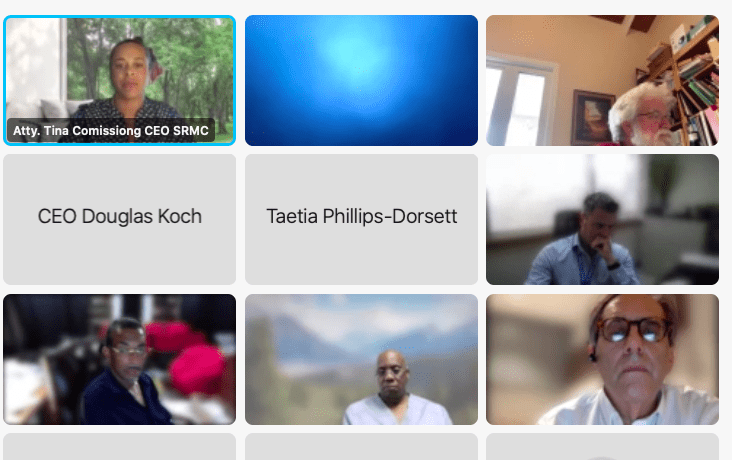 In addition to approving more than $5 million for so-called long-lead items for the Charlotte Kimmelman Cancer Institute on St. Thomas, the Territorial Hospital Board appropriated $3 million for additional work at Juan F. Luis North Wednesday night at the monthly board meeting.
While waiting for responses to the request for proposal for the reconstruction of the Kimmelman Institute, certain special equipment will be ordered from Varian Medical Systems. Treatment planning software, a CT scanner and a linear accelerator are among the items that will be built specifically for the St. Thomas cancer hospital. Five-year service contracts are included in the purchases.
"It takes some time, so we want these items when the building is finished," Christopher Finch, board chair, told the Source.
FEMA will cover $4,250,304 of the $6.9 million bill for CKCI, while the remainder will be covered by the operating budget. Additionally, a 30-day extension was granted to J. Benton Construction, LLC, to complete demolition of CKCI at no additional cost.
The board also approved a supplemental contract with LEMARTEC, USVI, for additional work on JFL's CMU building, not to exceed $3,242,353. Finch said the work includes extending utilities, relocating the oxygen bulk storage and revising the generator pad. Water lines will be installed for the critical administration building, along with fire suppression and wastewater systems.
"Much of our challenge is working on a tight campus and being mindful that when JFL is demolished and rebuilt, we need all systems to be independent and clear of the construction zone," Finch said.
During the executive session, the board also ratified collective bargaining agreements – signed by the governor – with two of three medical unions awaiting contracts. Registered nurses, advanced practice registered nurses and certified registered nurse anesthetists are covered while the nursing supervisors' agreement is being finalized, Finch said.
The board changed the COVID-19 vaccine policy and removed a mandate for testing unvaccinated employees. They also talked about the vaccine mandate but did not make any decisions, but are waiting for the Centers for Medicare and Medicaid Services' new policy. Both hospitals will review their mask mandate and provide data to the board about possible revisions.
Contracts with Pafford Medical Services were also discussed. Staff and vehicles from Pafford have been supplementing hospital services since the 2017 hurricanes. The St. Croix hospital will now craft its own contract with Pafford and the St. Thomas facility will discontinue its contract and recruit through another travel agency.
Finch said the board talked about the future of dialysis services at JFL, and all agreed "it (dialysis) is always a role for the hospital," and the goal is to move the service from the portable trailers "as fast as we possibly can."
JFL continues to negotiate with Dr. Warren Gardiner and the Kidney Center, he said and did not discuss the Virgin Islands Healthcare Foundation's Dialysis Center, which is not completely built.
"We hope to work hand in hand with them," when they open," Finch said.
Future research and discussion will be conducted about a permanent dialysis solution with the rebuilding of the hospital. Finch said it may be less costly to build a separate clinic for dialysis than incorporate it into the new hospital."
"In some respects, a hospital setting is the most expensive setting. Like if you build a building right next door, it might be more cost-effective, in terms of requirements, et cetera," Finch said.
During the meeting's regular session, the board approved appointments of medical personnel to both hospitals and several rules and regulations for JFL's staff, including the performance improvement program and a fire response plan.
Chief Executive Officers Doug Koch and Tina Comissiong gave brief status reports. Both hospitals are celebrating Nurses and Hospitals Week with employee recognition events.
Comissiong reported that Schneider Regional Medical Center has established new pay rates for some positions and LPNs are being recruited for all units. The hospital is resuming interventional cardiac services, the cardio-pulmonary rehab program and opened the behavioral health unit staffed with a psychiatrist, psychologist and others.
Koch named several new administrators for JFL and said they are overhauling the human resources process, the quality of care standards and physician compensation. Physicians and nurses recruitment continues, he said.
On April 23, JFL North began receiving new patients. Koch reported the number of surgeries in April equaled the monthly number before the move and a new procedure for removing fibroids has been performed four times – "the first time in the Caribbean."
Attending the virtual meeting were board members Finch, Dr. Jerry Smith, Jenifer O'Neal, Dr. Frank Odlum, Greta Hary-Hyndman, Fay John-Baptiste, Justa Encarnacion and Dr. Albert Titus.