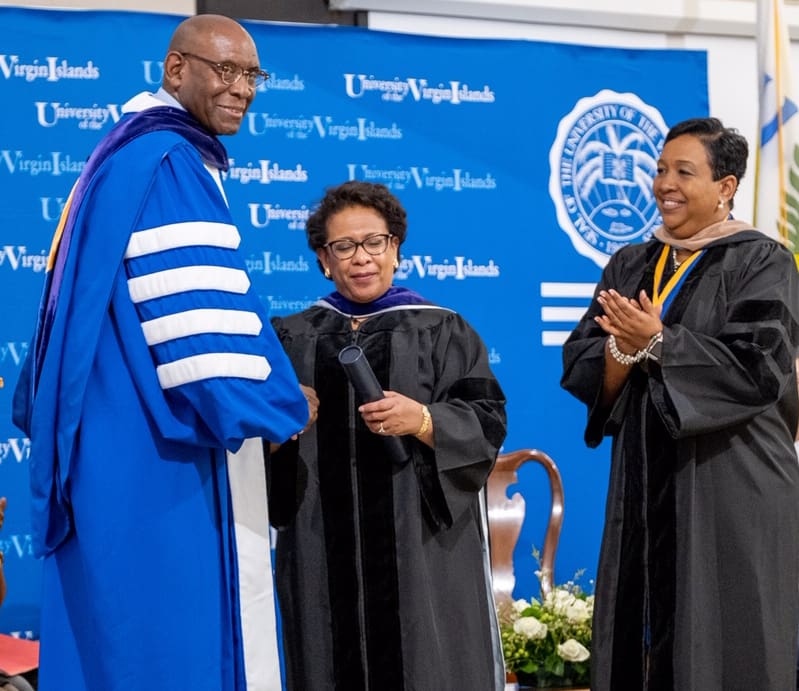 Former U.S. Attorney General Loretta Lynch told students at the University of the Virgin Islands to follow their hearts when pursuing their futures.
Lynch spoke to a packed audience in the Great Hall on UVI's St. Croix campus last week for the Student Convocation Program.
Lynch was the first African American female Attorney General of the United States, nominated by President Barack Obama in November 2014, confirmed by the U.S. Senate in April 2015, and serving as the 83rd AG of the U.S. until January 2017.
UVI President David Hall, Provost Camille McKayle, Vice Chair Oron Roebuck, students, professors and members of the community listened intently as Lynch told them of her journey and likened it to the journey they will face.
"We look to you for your energy, your dedication," she said. "We are on the cutting edge of how we balance our country, the cutting edge of our rapidly growing economy. These times can be daunting, and you might ask yourself, 'How will I find my place, my career?'"
Always be willing to step off the path, she told them.
"Explore as many things as possible that touch your heart. You will receive guidance and suggestions from parents, teachers, counselors and siblings, but you must follow your heart. Sometimes it's just the universe assisting you in your aspirations, so you must listen," she said.
Lynch said when starting out she had not envisioned the path she ended up following.
"I wanted to be a journalist," she said. "After an internship with CBS, I knew I wouldn't be producing award-winning journals, so I stepped off the path."
Lynch became a media lawyer, interested in the First Amendment and was on the cutting edge of those papers. She learned a lot and began to ask herself, "What was I giving back, what was I generating?"
She delved into public services while exploring many routes. It was a way forward for her, she said. She explored many things, until she became exhausted, literally.
As Lynch recuperated from her bout with total physical exhaustion, she decided to make changes. She was not honoring what was given to her she said. She listened and opened her heart to the universe and took the opportunity to follow her heart.
"It was never my goal to make a particular impact," Lynch said. "It was never about the title. There are people you will touch and that will make the difference."
Lynch recalled her upbringing in Greensboro, N.C. She carries the wisdom of her parents Lorraine and Lorenzo Lynch, with her throughout her life.
"They influenced me greatly," Lynch told the audience.
Her mother was a school librarian and her father a minister, and both attended Shaw University, also Lynch's alma mater. Lynch later received her Bachelor of Arts degree, cum laude from Harvard College and her juris doctorate from Harvard Law School.
There was a period where she worked in private practice. In 1990, she joined the U.S. Attorney's Office in Brooklyn, the Eastern District of New York. She rose through the ranks as a prosecutor involving narcotic cases, violent crimes and public corruption.
Lynch was also a defender of civil and human rights, with two high-profile civil rights cases that included the prosecution and conviction of two New York City police officers who brutally assaulted a Haitian immigrant in a Brooklyn police precinct.
Lynch felt that as a prosecutor she was protecting her community. She felt the burdens of the law, she said. She saw many instances where people were not given the benefits of the law.
"Justice is about the protection of the most vulnerable in our society," she said. "I wanted to give all of that back to my community. Justice looks like me. Justice looks like them."
Lynch's nomination process took six months before she was confirmed. Asked by St. Thomas UVI Student Association president Christopher McDonald, "Was it because of race or gender?" she replied, "How others see us – black, a woman – is always how they try to put you in their vision of where they think you should be. It's not you. It's someone else's inability to see you."
There were many instances when Obama's initiatives were stymied, Lynch said, but that isn't the only way to measure his legacy.
"Legacy is the way Obama's administration made us feel. He made a real legacy. He had the ability to listen. He had the ability to learn. He was the best boss ever," Lynch said. "I was proud to serve him."
Sherkquan Henry, who is Miss UVI 2019-2020, asked Lynch about her final speech as the attorney general. Lynch gave the speech at the 16th Street Baptist Church in Birmingham, Alabama, where in 1963 four young girls were killed in a terrorist bombing. It was a harsh reality of segregation, she said.
"We have come a long way, but we still have a mighty long way to go. We have to work. Freedom is not free," she said in the speech.
Adversity is not a cause for despair, she said. It is a call to action.
"We must not despair. We must not become bitter. We must work."
Lynch applauded Obama's signing of the hate crimes bill into law as a step toward change to "help protect our citizens from violence based on what they look like, who they love, how they pray."
"I learned that everyone deserves to know they have a chance at justice," Lynch concluded.
A musical interlude followed with a saxophone solo selection by UVI music major Sherwin Williams.
President Hall and board vice chair Roebuck awarded the Lynch an honorary degree. Special thanks were given to Chief U.S. District Judge Wilma Lewis for arranging the convocation program.