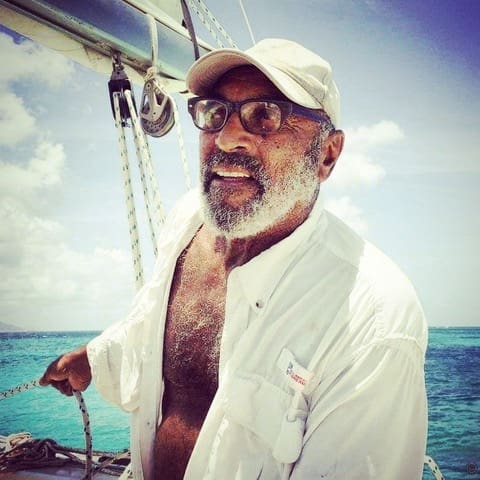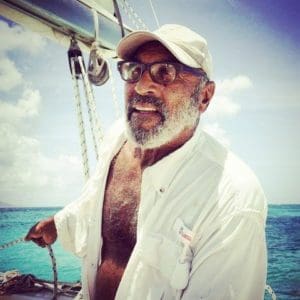 Skilled sailor and former Calypso King Llewellyn Westerman will take the helm of his Mongoose 37 trimaran once again. That's a promise.
He'll sail between the St. Croix Yacht Club and Buck Island Reef National Monument, carrying tourists and locals to snorkel the trail – with no motor for backup. He'll pick up his guitar again, too, and sing his island lyrics. He'll regale sailors at St. Croix International Regattas, as is tradition.
"When? Your guess, my dear, is as good as mine," Westerman said in a phone interview last week.
The 81-year-old Westerman, called Lew by many, is recovering from the loss of his right leg due to poor circulation. He weighed in from Wooster, Ohio, where he and his partner of 30 years, Karen McCoy, are staying until his therapy is complete and it is safe to travel.
Although the coconut telegraph between Washington state and Florida holds that Westerman had sung calypso from his wheelchair to fellow rehab patients at Edwin Shaw Rehabilitation Hospital in Ohio, he denies it.
"I said, 'Daylight come and they sending me home' when I wheeled out of rehab," Westerman countered the rumor. "I am saving my singing for when I get back," he said.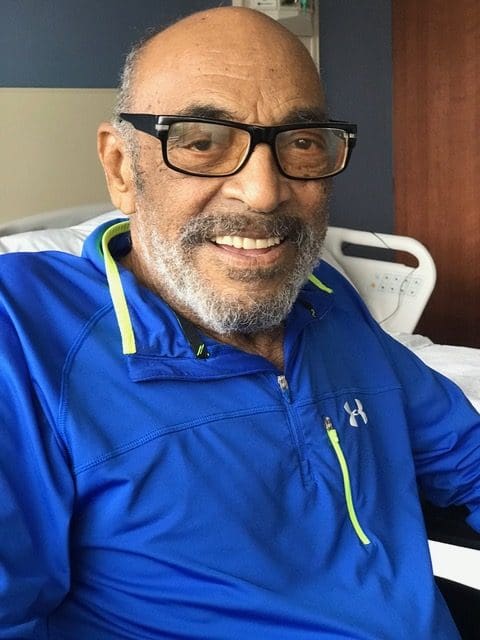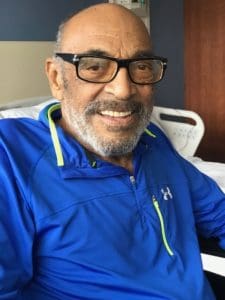 Born and raised on Nevis, Westerman was taught poetry as a youngster in school and loved it.
"Calypso is poetry with music," he said. "I listened to Sparrow, Melody, Beginner and Kitchener – all the old guys who played on the radio."
By the time he arrived on St. Croix in 1960, Westerman had his own radio and it never left his side. His favorite station played calypso during the day and country at night. In the Virgin Islands, he got to know quelbe.
"That's what Jamsie [Brewster] sang. Quelbe music is like a story in which you repeat the chorus over and over again," Westerman said. "You get the story the first time you hear it. Calypso has stanzas, which is different. There's a lot more to be said in calypso than in quelbe."
"Both quelbe and calypso are storytelling island music; what they call it depends on which island you're on," he said.
He said that the calypso recordings of the 1950s and '60s were made by artists from the Bahamas, Jamaica, Trinidad and St. Kitts-Nevis. Crucians had quelbe, and in Antigua they called it benna, he said.
"I don't know how to spell benna. I never sang it," he said.
When Westerman first came to the big island, he met a calypso artist from Guyana named John L. Nichols, known as The Great John L.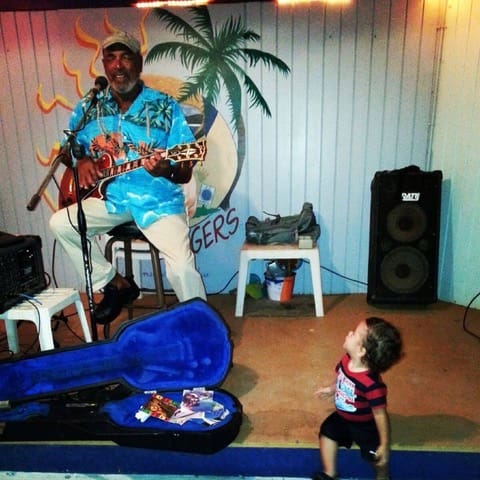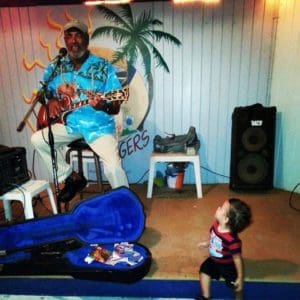 "When I met him, John L. said, 'I hear you from Nevis boy.'" Nichols had a friend in Trinidad who was a relative of Westerman. That bond led to a longstanding friendship between the two musicians.
Nichols counseled Westerman to write his own material rather than only singing classics such as "Yellow Bird" and "Jamaica Farewell," which he played for guests at the old Grapetree Bay Hotel. Fans wanted Westerman to record those old classics, but Nichols disapproved.
"You are a calypso singer, while I, on the other hand, am a calypsonian. Do you know the difference?" Westerman recalled Nichols asking.
"'A calypso singer is someone like you who sings other people's calypso. A calypsonian is someone like me who sings my own material,'" he said Nichols told him.
Westerman thanked his friend and started writing music. He won the first calypso competition he entered, at Island Center in 1983. A judge that night, The Great John L. shook Westerman's hand and pronounced him a calypsonian.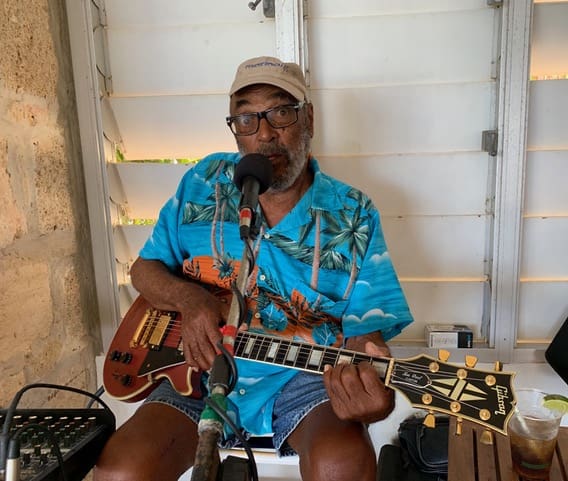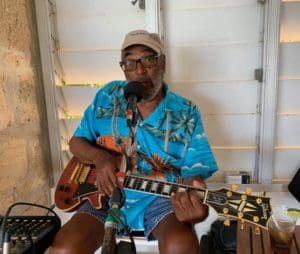 Nichols, crowned Calypso King for years running in the 1960s and '70s, came regularly to hear Westerman play at The Moonraker on Queen Cross Street in Christiansted and insisted on calypso. According to Westerman, Nichols would "sit there and doze off, then he would raise his head up and say 'Calypso, boy, calypso.'"
After one of those nights at The Moonraker, Westerman drove Nichols home as he often did. The next morning, he learned his good friend had passed away.
Westerman's CDs – "Sail, Sail, Sailorboy," "Unity" and "Colour" – include his original hits such as "Ode to John L.," "Sail, Sail Sailorboy," "Come Bac Gal," "Underwater," "Down Pon de Bayside" and "Beautiful St. Croix," which he recorded for the Department of Tourism.
While Westerman perfected his calypso skills on St. Croix, he was already a skilled sailor when he arrived on the island, the son of a sailor and the grandson of a sailor. He and his brother Inglore, also known as Glu, had frequented the Nevis waterfront as kids and learned to sail on a 12-foot boat there.
His uncle moved to St. Croix in 1914, and his mother followed suit in the 1950s. When his brother got a chance to sail to the island, he packed his clothes in a pillowcase and went, Westerman said. On his return to Nevis, Glu encouraged Westerman to go, telling him how nice the island was. In January 1960, Westerman left for St. Croix.
He lived first in the countryside, but soon moved onto a boat in Christiansted, a home more in sync with his seaman's nature. He worked with Bill Miller running Buck Island excursions and, in 1962, began work at the Grapetree Bay Hotel entertaining guests and taking them out to Buck Island. These days, Westerman is one of six concessionaires permitted to take folks on snorkeling excursions there.
"If six boats can take care of the flow of people who want to go, why have any more?" Westerman said.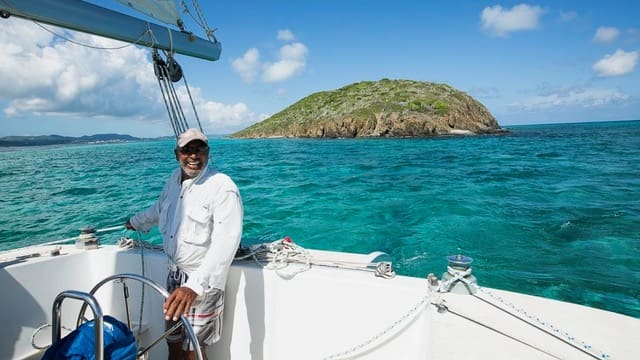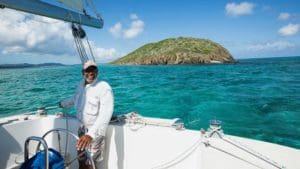 He started his own excursion service, Llewellyn's Charter, in 1979 with his Newick trimaran, Charis, and all went well until Charis capsized in Hurricane Hugo in September 1989.
"I brought it ashore, fixed it, it capsized in Marilyn. I brought it ashore and fixed it. And in Lenny, lefty Lenny, west to east Lenny, two other boats hooked up on my ground tackle and brought me ashore," Westerman said.
George "Moose" Silver designed Charis' replacement, a 37-foot Mongoose trimaran christened Charis +.
"Moose will tell you it's 36 feet, 10 1/2 inches," said Westerman.
Silver, Westerman and Glu, who had also moved to St. Croix by then, built the new boat.
Meanwhile, Westerman continued his charters using a friend's monohull and a "beautiful" Bristol 29.9 he bought – and loved – to hold himself over. When Charis + was launched, he parted ways with the Bristol.
With Westerman at the helm, Charis + has won many regattas in the multihull class, and back in the days of the "Round Island Race," she typically came in a good hour or more before other boats were sighted in the distance.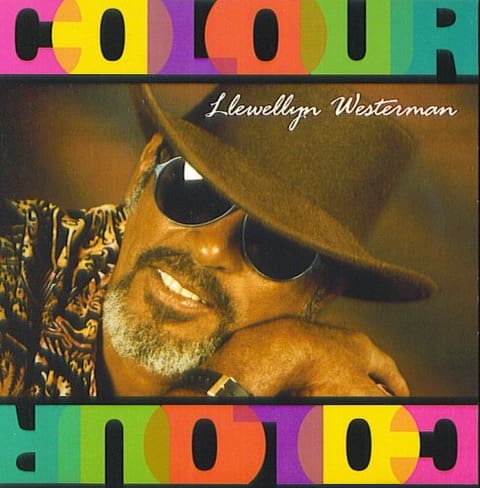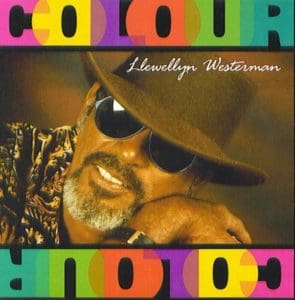 "Lew is a Crucian icon," said Bill Berdan, who moored his trimaran Wind Walker in Teague Bay near Westerman for years. A sailor and musician himself, Berdan, now in St. Augustine, Florida admires Westerman's talents and seeks him out whenever he visits the island. He hopes to see his buddy on the seas and on the stage again next trip.
Meanwhile, Westerman sells his CDs on the island, and they also are available at Riddims, the downtown Christiansted music store.
"I will come back singing and sailing, yes," said Westerman. His rehab therapists think he's in good shape, he said, and Glu is readying his dinghy.
He still feels his lost leg, like a phantom pain. "It jumps," he said.
Nevertheless, Westerman will sail on.