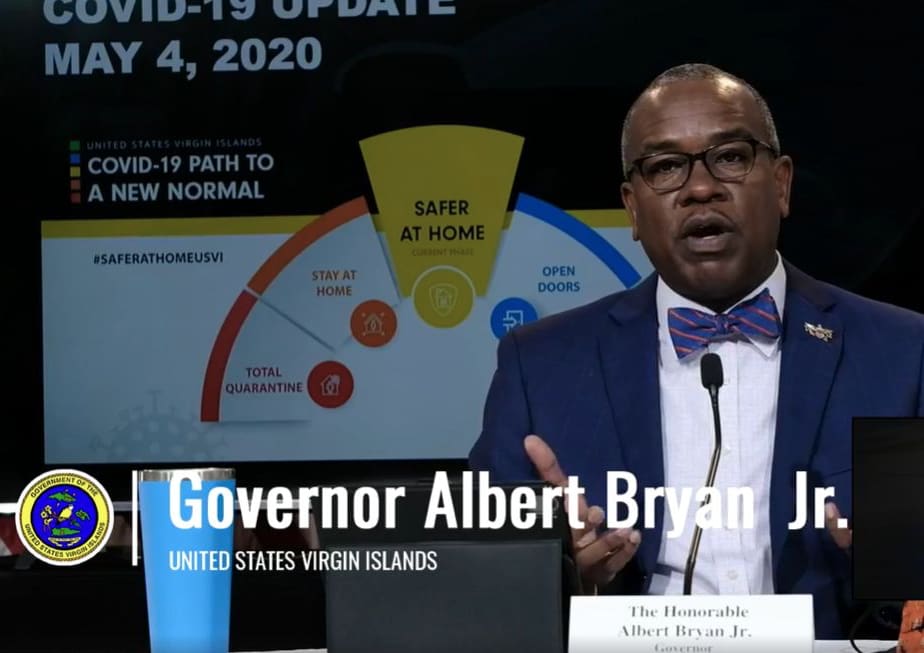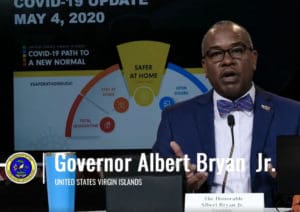 The phased reopening of the U.S. Virgin Islands began Monday, but progress depends on how well people adhere to the safety measures, Gov. Albert Bryan Jr. said Monday during his news conference updating the territory on the state of the COVID-19 pandemic.
"This virus is not going anywhere anytime soon so we cannot hide from it," Bryan said. "Rather it is about learning how to live with it until at some point a vaccine or effective treatment is available."
In his weekly briefing, Bryan said laying the foundation now for testing, dealing with surges and knowing when to open and close will help the territory build a larger pandemic policy as the world continues to battle COVID-19 and plan ahead for future outbreaks. At the base of the plan is the government's commitment to keeping the public informed and making decisions that ensure residents and families are safe, he added.
A "safer-at-home" order that allows for the opening of certain non-essential businesses went into effect Monday and while Bryan said all 130 tests conducted since last Thursday have come back negative, operations will continue only if businesses adhere to the safety guidelines still in place. Additionally, residents need to get tested if they feel sick, have recently traveled or have been exposed to anyone with the virus, he said.
"We need to know immediately," Bryan said. "Any hesitation by you to be diagnosed puts our entire territory in jeopardy. We have enough tests to make sure you don't have COVID-19 or, even if you do, to isolate you if that is what you need. We can do whatever you need to make sure you are OK."
As of Monday, the V.I. Department of Health has reported 1,046 residents had been tested and 965 have been confirmed as negative; 66 are positive, and 15 pending. Four deaths have been recorded and 11 active cases are being tracked, including three at St. Croix's Gov. Juan F. Luis Hospital. Bryan said one of those patients was being discharged, while another was on a ventilator.
The good news, he added, is that the territory has reached a milestone: With 1,000 tests conducted, roughly 1 percent of the population has been tested, he said.
"We are getting to a point where we are getting beyond the disease," Bryan said, adding that the increase in testing can be attributed to an aggressive push for contact tracing after the small surge recently experienced on St. Croix. "We are able to rapidly deploy resources and quickly track down where a person has been and get them tested."
In the meantime, Bryan said his team continues to be in contact with local businesses to make sure they are able to put safe social distancing protocols in place, sanitize equipment or provide masks if necessary. Starting Monday, residents over the age of two and without any existing respiratory conditions – such as asthma – are required to wear masks inside businesses and in public areas to safeguard against possible spread. Barbershops, hair salons, gyms and private health care practices are among the non-essential businesses allowed to open their doors, along with movie theaters and bowling alleys that Bryan said are not allowed to serve food or drinks, or have residents gathering or sitting down.
Local movie theaters are expected to open June 1, along with Tropical Ten Pins on St. Croix. Chicken 'N Bowling on St. Thomas has gone out of business and will not reopen, he said.
Gaming centers and casinos will also remain closed until at least June 1 and residents are expected to wear masks when riding in taxis or on safaris in order to maintain social distancing. Bryan urged the public to report violations to Licensing and Consumer Affairs at 340-713-3552 on St. Croix or 340-714-3522 on St. Thomas-St. John.
The governor said combatting the negative economic impact of the pandemic might be a bigger battle, but good news is on the horizon. A plan for the payment of economic stimulus checks has been approved by the U.S. Treasury and funds could start being released as early as next week. Meanwhile, approximately 2,430 unemployment insurance claims have been paid out, for a total of $1.7 million, and Bryan said checks continue to be issued daily.
Meanwhile, Human Services Commissioner Kimberley Causey-Gomez said during Monday's news conference that additional federal dollars will be available to families of students in kindergarten through 12th grade who have access to or receive school lunch. While the department is still working on collecting data on eligible schools and families so the program can roll out in June, she said that through the new Pandemic Electronic Benefit Transfer (PEBT) program, eligible students will receive food cards with specific dollar amounts that can be used at participating convenience and grocery stores.
All public schools have been registered for the program and Causey-Gomez said Human Services is working with local private schools to gather data on which ones are eligible to participate.