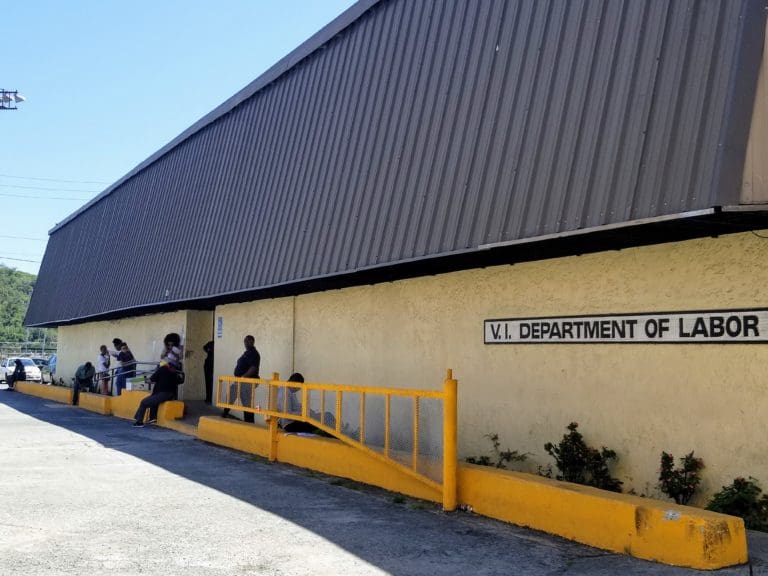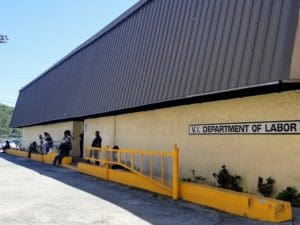 The V.I. Department of Labor is temporarily waiving many of the work search and other requirements to receive unemployment insurance, to help increase access to resources during the pandemic, the department announced Tuesday.
The release cites the U.S. and USVI emergency declarations and Gov. Albert Bryan Jr.'s order to close or reduce non-essential business activity and reduce social interaction to slow the spread of the novel coronavirus that causes COVID-19.
Backdated to March 13, the order waives all work search requirements for unemployment for several classes of unemployed people affected during the health emergency.
– Individuals who are suffering from symptoms of the COVID-19 virus or disease.
– Those whose business has closed based on the mandates of social distancing.
– Those in quarantine or displaced from work to care for a child in elementary or secondary school whose school or child care facility has been closed in response to COVID-19.
Unemployed workers seeking benefits also will not have to search for other work provided they take reasonable steps to preserve their ability to come back to that job when the quarantine is lifted, or the illness subsides. If any employee is affected by COVID-19, they will be deemed to have "justifiable cause," as defined in Title 24, section 304, of the V.I. Code for their failure to participate in such services.
To be eligible for unemployment benefits, applicants have been required to register for work search online and meet a minimum number of work search activities per week. This is also waived until the end of 2020.
For employers, the Department of Labor will not assess benefit charges against employer's unemployment insurance accounts until the end of the year. Therefore, the current flat tax rate of two percent for new employers and 2.5 percent for experienced employers will remain during the state of health emergency.
Employers communicate the following to employees impacted by COVID-19 related employment interruption or reduction in work hours. The model language in the notification to employees should be as follows and contain the following language:
– Unemployment insurance benefits are available to workers who are unemployed and who meet the requirements of the Virgin Islands U.I. eligibility laws. You may file a U.I. claim in the first week that employment stops or work hours are reduced to less than 20 hours in a week.
– For assistance or more information on an unemployment insurance claim you can call the St. Croix office at 340-773-1994, on St. Thomas/St. John call 340-776-3700 or apply online.
Those seeking to file a claim will need to provide the following:
– Your full legal name.
– Your social security number.
– Your authorization to work, if you are not a U.S. citizen or resident.
For any employer that needs to furlough, layoff or reduced staff hours the Department of Labor is requesting that employers:
– Send a letter to the Unemployment Insurance Division that includes the names of the affected employees in advance of the reduction of hours to 20 a week, discharge or layoff.
– Contact the Department of Labor directly at the following numbers to gain information on services that can be provided for affected individuals: St. Thomas/St. John 340-776-3700 or St. Croix 340-773-1994.
Individuals affected by reduced hours, furlough, layoff or interested in finding out eligibility criteria, contact the department. People can file an unemployment insurance claim by phone by calling 340-713-3425 in the St. Croix District or 340-715-5725 in the St. Thomas/St. John District. Claims also can be filed online.
Questions about the status of your claim can be raised by calling the V.I. Department of Labor.