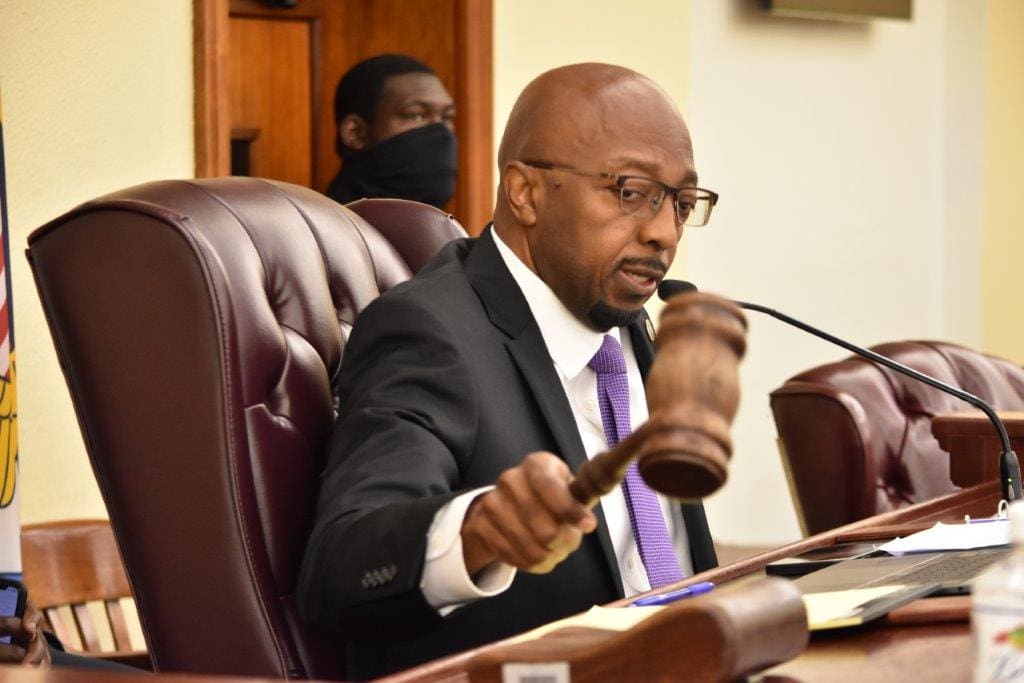 The Senate Rules and Judiciary Committee moved six nominations forward to the full Senate on Thursday.
Those nominations were: Jeffrey Boschulte to the Board of Land Use Appeals and Board of Architects, Engineers and Land Surveyor; Ryan Wisehart to the Board of Architects, Engineers and Land Surveyor; Elissa Runyon to the Coastal Zone Management Commission; Franklin Brathwaite Sr. to the Taxicab Commission; renomination of Henry Smock to the University of the Virgin Islands Board of Trustees; and Julio U.B. King to the Board of General Contractors.
Brathwaite was a physical education teacher for 29 years. He started as a part-time taxi driver in the early '80s.
He was questioned about gypsy taxis, taxis receiving credit cards, limousine regulation and taxi service after dark.
He said gypsy taxis and limousines need more regulation. He also said he thinks all taxis should have the ability to take credit cards but does not think that requirement should be mandated. He said taxi drivers do not like operating after dark because of "past situations where bad things happened."
The longest testimony was offered by Smock, who is being renominated to UVI's board of trustees, on which he has served for 25 years. He listed the accomplishments of UVI during his previous five-year term.
He was asked by Sen. Genevieve Whitaker if there is equality between capital projects on both campuses. He said a multipurpose building is going to be built on St. Croix, but could not give a date for its groundbreaking, and he noted the Research and Technology Park was rebuilt.
He added the UVI Medical Simulation Center, a state-of-the-art medical education facility on the Albert A. Sheen Campus on St. Croix, is slated to open this fall. The Simulation Center will provide an immersive medical simulation experience to students, as well as continuing education and certification courses for local and visiting health care professionals.
He said one of his short-term goals is to get the Reichhold Center back up and running, but he does not see that happening before early 2022.
Sen. Milton Potter asked Smock about his thoughts on virtual learning versus in-person teaching. Smock said he thinks there is no substitute for in-person teaching.
Boschulte, who was nominated for the Board of Land Use Appeals as well as the Board of Architects, said, "If I am confirmed, serving on these boards will be an extension of sorts of my professional duty as an architect in our community, as the primary responsibility of licensed architects is the duty to protect the public health, safety and welfare through our decision-making process."
Boschulte grew up on St. Thomas and, after graduating from high school, attended the University of Virginia, leading to an architecture degree. At Georgia Tech he earned a Master of Architecture degree. He became a licensed architect in 2000.
Wisehart, whose nomination to the Board of Architects moved forward, said he obtained his land surveyor's license in the Virgin Islands in 2002. He was with Brian Moseley and Associates for more than two decades, before purchasing the company in 2012. His practice has included residential, commercial, local and federal government projects.
Runyon, who is pursuing a seat on the Coastal Zone Management Commission said she is interested in beach access, hotel reconstruction and an expansion of projects covered by certain permits from CZM. She said that silt fences that are supposed to stop erosion are being improperly installed. She also said that developers should show "some restraint." She said she does not think huge mansions being built on St. John are good for the environment.
If King's nomination to the Board of General Contractors is approved, it will double the members on the board. He told senators, "I believe the board can be instrumental in ensuring the quality of construction of buildings and structures in the territory remains high and one that serves as a model to other jurisdictions in the region and abroad. Notwithstanding the ravages of the two Category 5 hurricanes in 2017, I believe the territory has seen an improvement with respect to the resiliency of buildings and structures which is testament to the fine work done by construction contractors."
As president of J.U.B. King & Assoc. Inc., he performed architectural services, project management and home inspections, and he engaged in commercial, industrial and residential construction projects ranging from several hundred thousand to millions of dollars.
He said he has been a licensed contractor since 1987.
In other business, the committee voted to move to the full senate an act directing the commissioner of the Department of Planning and Natural Resources to impose a five-year moratorium throughout the Virgin Islands on permits for the construction and operation of gasoline stations.
Sen. Janelle Sarauw in introducing the bill said there are already 32 gas stations on St. Thomas, 30 on St. Croix and three on St. John. She added that six permits are pending for new gas stations in the territory.
Also attending the meeting were Sens. Donna Frett-Gregory, Novelle Francis Jr., Carla Joseph and Franklin Johnson.