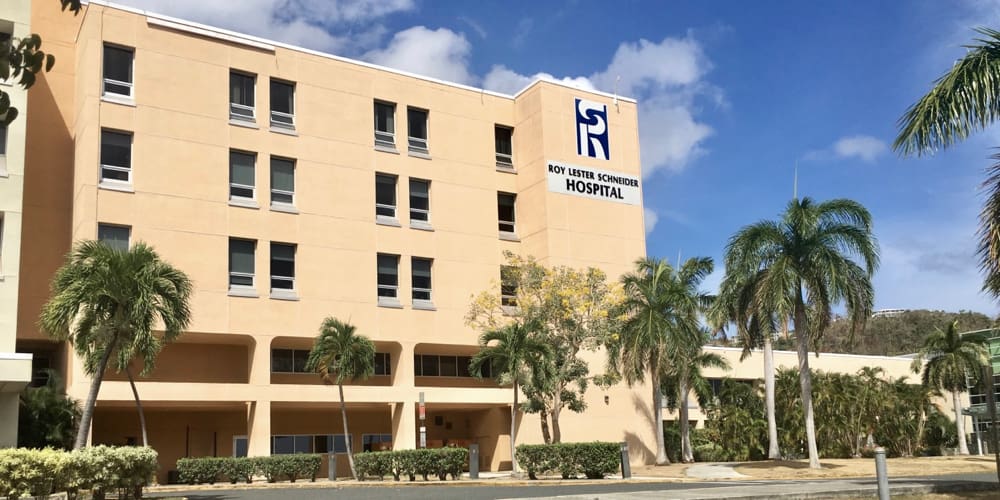 Dr. Luis Amaro, interim Chief Executive Officer of Schneider Regional Medical Center, told the Territorial Hospital Board on Wednesday the projected deficit for Schneider stands at $6 million, but due to non-budgeted COVID expenses and loss of revenue, it could be twice that amount.
A big problem is a delay in reimbursement by FEMA of $5 million, according to Amaro. The St. Thomas hospital advanced operational funds to outfit the hospital in "all things COVID," expecting to be paid back by now, he said. Budget Director Jenifer O'Neal sits on the hospital board; Amaro said he will be talking to her soon about a loan until the FEMA funds are released.
After publication, FEMA Public Affairs Officer Eric Adams said FEMA has funding obligated and ready to disburse. But the V.I. Territorial Emergency Management Agency releases the funds. Adams said the process for reimbursement is for the hospital to submit documentation to VITEMA showing the work is completed, then, once the documentation is complete, VITEMA can draw down funds from FEMA and reimburse the hospital.
Due to COVID, the revenue the hospital counts on has declined significantly, and the hospital is 6 percent under budget with cash collections, Amaro said.
"We are behind in our revenue by approximately $1.8 million. We are over in our expenses by approximately $1.9 million, and we are unfavorable in our profits and losses by $3.7 million. When you factor in our [V.I. government] allotments it goes down to $3.2 million," he said.
The March 30 financial report for St. Croix's Gov. Juan F. Luis Hospital delivered similarly dire messages.
"Cash forecasts from both internal and external consultants show that if we do not receive our owed government allotment in a timely manner, additional resources will be required to help fund operations," the report reads. And, "without receiving the monthly allotments on time and in full, our ability to meet payroll is severely impacted."
The report further states that Luis hospital's yearly cost reports for FY 2014 to FY 2020 show "the average loss per year is approximately $18 million."
Likewise, JFL hasn't seen a reimbursement from FEMA, and revenue is estimated to decrease 25 percent due to COVID.
Payables were $35.2 million at the end of February, with the largest amounts being owed to the Internal Revenue Bureau at $7.2 million and the Government Employees' Retirement System at $1.1 million.
An ongoing staff shortage has added $5.4 million in expenses for locums – temporary medical workers – for FY 2020 and resulted in $3 million in overtime costs for full-time employees for FY 2020.
After hearing reports from hospital executives, the Territorial Hospital Board approved several contracts, including one for engineering services at Schneider with EYP Architects and Engineers, to be paid with federal disaster funds. A three-year contract with Jackson Cleaning Services was also approved.

The board also approved two medical appointments at Schneider Regional and 11 new policies and/or procedures for JFL, most relating to COVID-19. Seven clinical and departmental policies, procedures and guidelines were approved also, including a policy for patient complaints and grievances.
Board Chairman Christopher Finch reported some actions taken in executive session. A Chief Financial Officer was approved for Schneider and the board changed terminology slightly to include similar language for Schneider and Luis' allocation of resources procedure. They also clarified the role of a trauma specialist. Final approval was given to the board's human resources committee to explore alternative retirement benefit options, Finch said.
Present at the virtual meeting were board members Finch, O'Neal, Dr. Jerry Smith, Dr. Frank Odlum, Greta Hart-Hyndman, Dr. Anne Treasure, Faye John-Baptists and Marise James.
Editor's note: This has been updated to clarify FEMA's drawdown process.