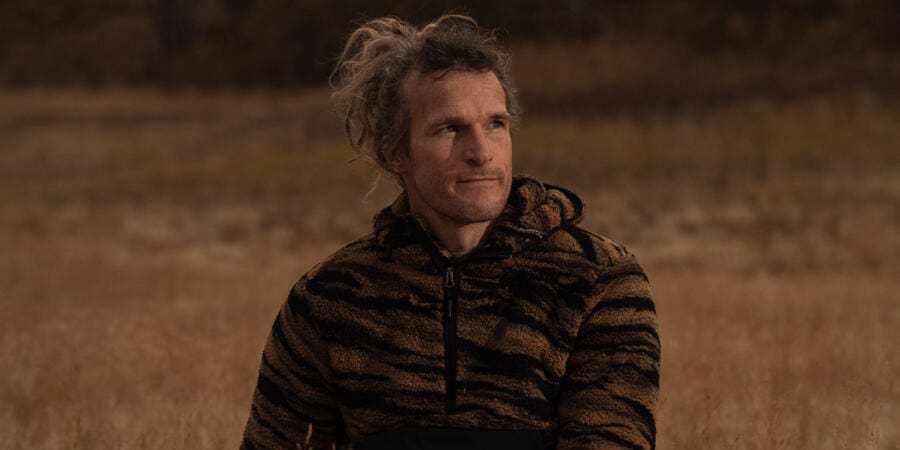 Matt Corradino, a St. Croix resident and owner of Mt. Victory Eco-Lodge, will try to outlast other survivalists on the History Channel's TV show "Alone" starting at 9:30 p.m. Thursday, June 3.
Corradino and his wife were both invited to audition for the eighth season of "Alone," which runs this summer. They decided he should accept and sent several videos to show his skills. One video showed him treating stings by multiple Jack Spaniards by chewing tan tan and applying spit poultice on the bites. Other videos demonstrated his abilities to make a fire with stone tools, hunting and fishing.
Corradino accepted the invitation to the show, filmed in British Columbia, because he liked the idea of challenging himself. He said he wasn't interested in winning, but viewed the adventure as "a vision quest."
Of 25,000 applicants, Corradino was one of 25 selected for boot camp and chosen again when the group was whittled to 10 and two alternates.
He had never seen the series and decided he should probably watch it. After seeing the show, he told himself, "I don't want to do that." He told himself if he faced those obstacles in real life, he "would just go home," when the challenge became overwhelming.
Corradino didn't say how long he lasted on "Alone" or if he won the $500,000 prize. There will be 10 episodes this season.
The scenery around Chilko Lake was exquisitely beautiful with acres of giant Spruce trees and "Caribbean-blue lakes" with fresh water. He saw several bears, and eagles were "flying over constantly." The wind was constant, and the temperature was usually in the 40's with one 80-degree-day.
The participants on the show are allowed to take 10 items and certain food to help them survive on their trek. The St. Croix survivalist included a bow and arrows, fishing line and hooks, a knife, a saw, a sleeping bag, paracord, a pot, a water bottle and a snare wire. He eschewed an ax because it would take too much energy – burn too many calories.
He was glad he took the water bottle, because the other contestants had to carry their pots when they were hiking or hunting to get water from a stream or the lake. They told him the water in the pots started tasting pretty bad after the pots were cooked in for days on end.
The participants could choose two food items for the journey including beans, pemmican, hardtack, jerky, chocolate, biltong, gorp, flour or a combination of rice, sugar and salt. Corradino packed two pounds of dried garbanzo beans and lentils.
The time in the woods was very difficult, he said. The land was difficult to traverse because there were many downed trees. He only consumed 500 – 1000 calories a day and because of the strenuous work, he lost 25 pounds. He ate about a handful of beans a day.
"Little failures become magnified when you don't have nutrition," he said.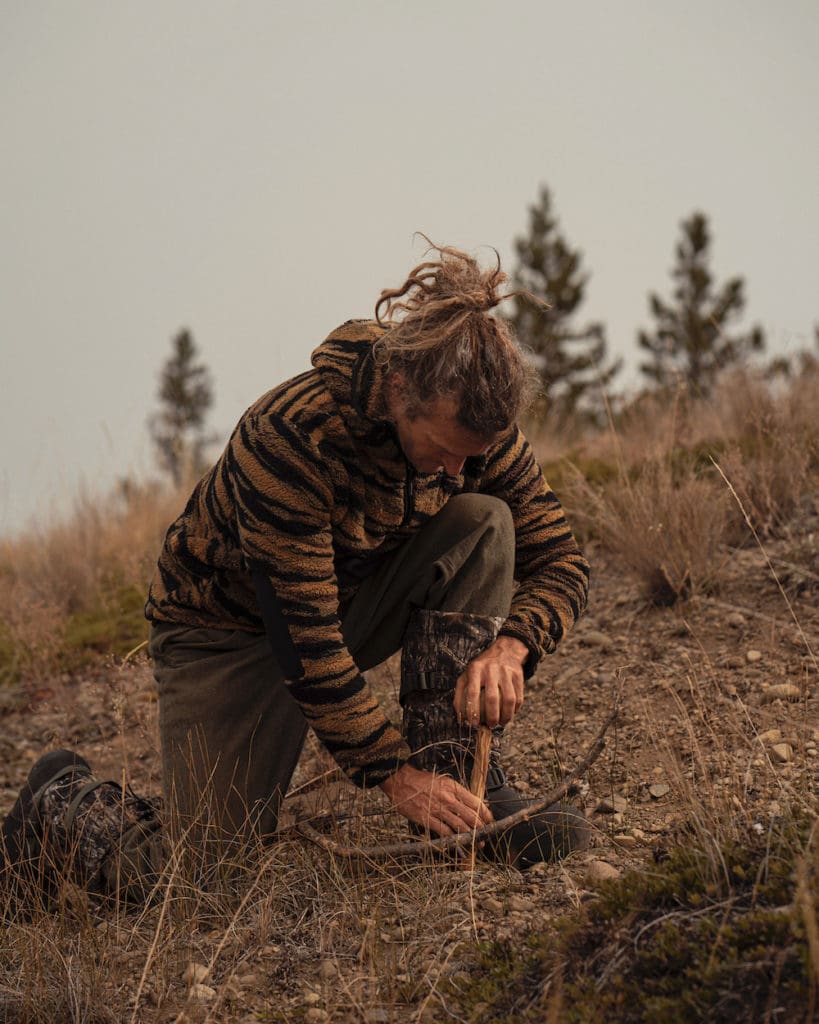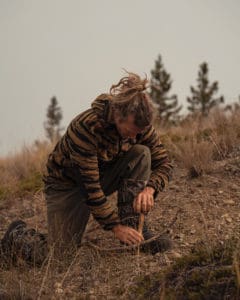 The History Channel implemented a series of safety precautions that included a satellite phone and a GPS tracker with an emergency button for each participant. Every 10 days, a medic examined the contestants and recorded vital signs. They weren't allowed to talk to the competitors.
Being alone meant the brain never shut down. Corradino was always thinking ahead, planning and second-guessing himself. Having someone there to say, "The fish weren't biting today," instead of feeling incompetent because he didn't catch any for the second or third time started to eat away at his confidence. Being alone meant there was more time for self-talk and criticism and there was no other voice to listen to for comfort.
"It was not what people expect," Corradino said.
Loneliness was the biggest challenge, he said, and he didn't describe how it affected him it in just one sentence.
"It was an existential crisis."
"It was at the core of what it means to be a human being."
"I was constantly regulating emotions."
The contestants carried two cameras and had two Go Pros as well. Corradino called his cameras "Chad," "Jorge," "Gordo," and "Gary." It gave him someone to talk to and helped him "to remember not to teach but just narrate" his photos and videos.
Making shelters, tracking animals, hunting and fishing are part of the series, and one episode will include Corradino's encounter with a grizzly bear and her cubs – the area has the densest population of grizzlies in North America. But, he said he was not afraid in the moment. He pays attention to his heart rate, and it didn't increase. He was probably too occupied, planning how to respond and locating his bear spray, he said.
Corradino thinks one reason he was selected for the competition is that he is the rare survival instructor who grew up in a city – Norfolk, Virginia. His only contact with the outdoors when he was young was an occasional camping trip. It wasn't until high school that he decided he really liked being out in nature, and in college, "it bit me" and he wanted to be in the wilderness as much as possible.
"I didn't even want to party anymore," he told the Source.
As a young man, Corradino read a book by Tom Brown Jr., an American naturalist, tracker, survivalist, and author, then took classes and decided he was destined to be a primitive survival instructor. He taught skills for seven years at the Tom Brown, Jr. Tracking, Nature and Wilderness Survival School in New Jersey. He married, and the couple lived in a wigwam they constructed in the Pine Barrens of New Jersey where they both taught classes.
"I knew what I wanted to do but never believed it was possible to sustain myself," he said. "But maybe teaching would be the main breadwinner."
The first time Corradino visited St. Croix was for a Midnight Band concert in 2007. He visited several times before getting a job to teach wilderness survival – what he likes to call "bush skills," in 2008. The Corradinos eventually purchased Mt. Victory from Bruce Wilson, now teaching and living there with their two children.
"They are impressive little woodland creatures," he said.
Corradino's skills include tracking, shelter building, hunting, bow and arrow making, stone tool work, snare wire trapping. He and his wife teach the classes at Mt. Victory and lead a survival training for four days living off the land on the northwest part of the island.
Referring to his experience, Corradino told the Source he classifies his experience on "Alone" as a "big success."
"I learned what I need to do for my personal mental health, every day," he said.
Editor's Note: The prize is $500,000. We initially reported a different amount.