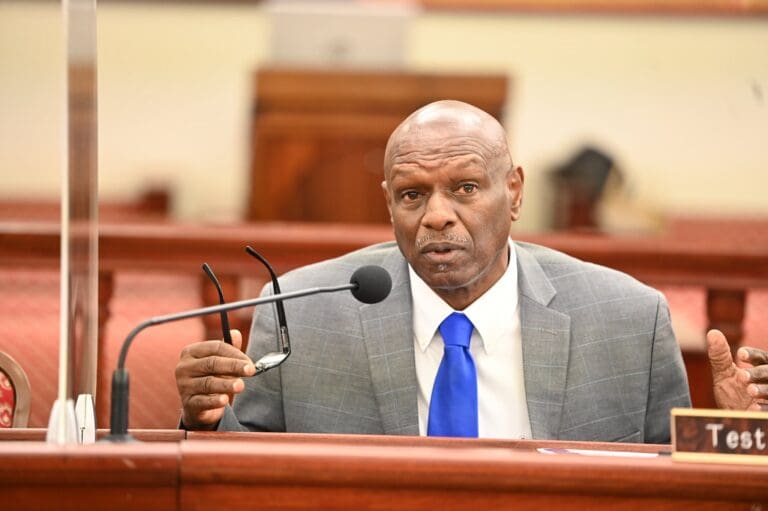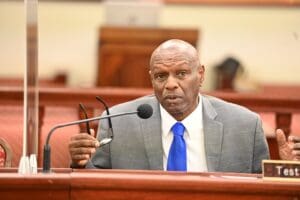 Two major multimillion-dollar St. Croix port projects should be finished this year and one on St. Thomas is scheduled for completion next year, V.I. Port Authority Executive Director Carlton Dowe told senators Tuesday.
Dowe briefed the Committee of Government Operations and Consumer Protection on ongoing projects and how the decline in the tourism industry is linked to the Port Authority's recent decrease in revenues.
"VIPA currently has over $60 million in capital projects ongoing in St. Croix and $50 million in capital projects on St. Thomas," said Dowe. "We expect to complete two major projects this year and one next year."
The two projects near completion are the Gordon A. Finch Molasses Pier, at a cost of $12.2 million, and the Wilfred Bomba Allick Port and Shipment Center, which will cost $15.9 million. The Cyril E. King Parking and Transportation Center is a $26.8 million project and is expected to be completed in the summer of 2023. Plans call for it to provide 561 parking spaces.
"One project high on our list of priorities is the construction of a new U.S. Customs and Border Protection terminal at the UVF Marine Terminal in Red Hook," said Dowe.
Dowe added that the project will allow international travelers, such as those from the British Virgin Islands, to enter St. Thomas without having to go through St. John. However, that project funding is on hold as it requires dredging. It will cost $9.5 million.
Dowe noted that with the decline in the cruise industry in 2020, cargo imports decreased and caused a $9.2 million loss in marine revenues.
"Thirty percent of the cargo that comes into St. Thomas goes on cruise ships," said Dowe.
Dowe added that VIPA received a $21.9 million grant from the U.S. Maritime Administration to expand the Crown Bay Cargo facility, which will play a significant role in assisting with transshipment throughout the Caribbean. According to the executive director, the Legislature approved the transfer of the former Addelita Cancryn Junior High School property to the Port Authority so that they could expand the cargo facility in Crown Bay, and they are seeking similar funding to expand the container port on St. Croix.
Relating to air travel, Sen. Milton Potter asked about food vendors, and if there are enough to support the influx of passengers that travel through the Cyril E. King Airport, in particular. Dowe said that more vendors are needed.
According to Dowe, the King Airport was built to accommodate 300,000 passengers, but about 900,000 passengers travel through the facility.
"When it was built back then they were saying that the future growth is about 300,000 passengers. That's some 30 years ago," said Dowe.
Senators asked about plans to terminate long lines for airport departures, more specifically at King Airport. Dowe responded that infrastructure changes, such as the second-floor expansion, will alleviate that.
"We're in the final stages now of developing the drawings so that we can utilize the second floor of that airport," he said.
Sen. Novelle Francis also mentioned installing jet bridges for passengers on St. Croix to enter and depart aircraft, saying "it's long overdue." According to the senator, having jet bridges will protect passengers from being exposed to the elements and address those with disability issues.
In addition, Dowe added that "hotel development in St. Croix is also critical." He said, "These hotels sell themselves and airlines follow these kinds of things," suggesting that airlines will bring more passengers to the island if there are more hotels.
Sen. Carla Joseph likewise noted that visitors who stay overnight "pay huge benefits" compared to visitors who come on cruise ships.
Sens. Carla Joseph, Novelle Francis, Marvin Blyden, Franklin Johnson, Milton Potter, Janelle Sarauw, Alma Francis Heyliger, and Donna Frett-Gregory were present.