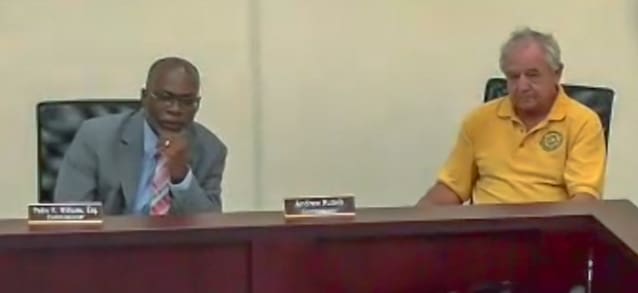 The Water and Power Authority presented to the Public Services Commission Monday a proposal to add 60 megawatts of solar power on St. Croix, which would effectively mean that over half the big island's power would be generated by the sun.
WAPA CEO Andy Smith told the commission, "Any solar power we produce is going to be cheaper than burning fossil fuel." He cited costs per kilowatt hour from solar being around 8 cents; WAPA currently calculates its fuel cost at 22 cents per kilowatt hour.
However, the proposal that his team favors would cost 14 cents per kilowatt hour because it includes battery backup. In 2010 the territory set the goal of reducing its use of fossil fuels by 60 percent by 2025. It has cut some of its use, but not near that figure. The solar farm in Spanish Town on St. Croix produces 4 megawatts of power.
Seven firms, four international and three local, took part in WAPA's request for proposals. Smith said WAPA preferred the proposal from Leeward Renewable Energy, which offered the 14 cents per kilowatt hour price over a 35-year contract. The other firms had price increases over the years. Leeward also has solar panels on hand; the other firms could take a year or two getting panels, according to Monday's presentation.
Smith said, "We will not own or operate the facility." What the PSC was looking at were proposals for a power purchase agreement.
Commission Chair David Hughes said he was "very happy" with the process WAPA went through, and the fact that seven firms were involved was "phenomenal."
According to Smith, he will present this same information to his Governing Board later this week, and he hopes to return to the PSC as well as its Governing Board with an executable power purchase agreement in October.
Leeward Renewable Energy says on its website that it owns and operates 24 renewable energy facilities across nine states, totaling more than 2,500 MW of installed capacity, and has 20 GW of projects under development spanning over 100 projects.
The other global vendors participating in the process were NextEra Energy and Invenergy.
The local vendors were Haugland VI, VIElectron, Core Development, and West Indies Solar. West Indies withdrew.
One sticking point for Commissioner Pedro Williams was that Leeward Energy had not yet submitted to the PSC an application to be designated a Qualifying Facility. He was assured that it was soon coming.
Commissioner Andrew Rutnik said he was for the project. He said that WAPA had only been giving "lip service" to plans to develop solar projects so far.
Smith added that the authority was in negotiations with Wind Advantage to evaluate wind power for St. Thomas and St. Croix.