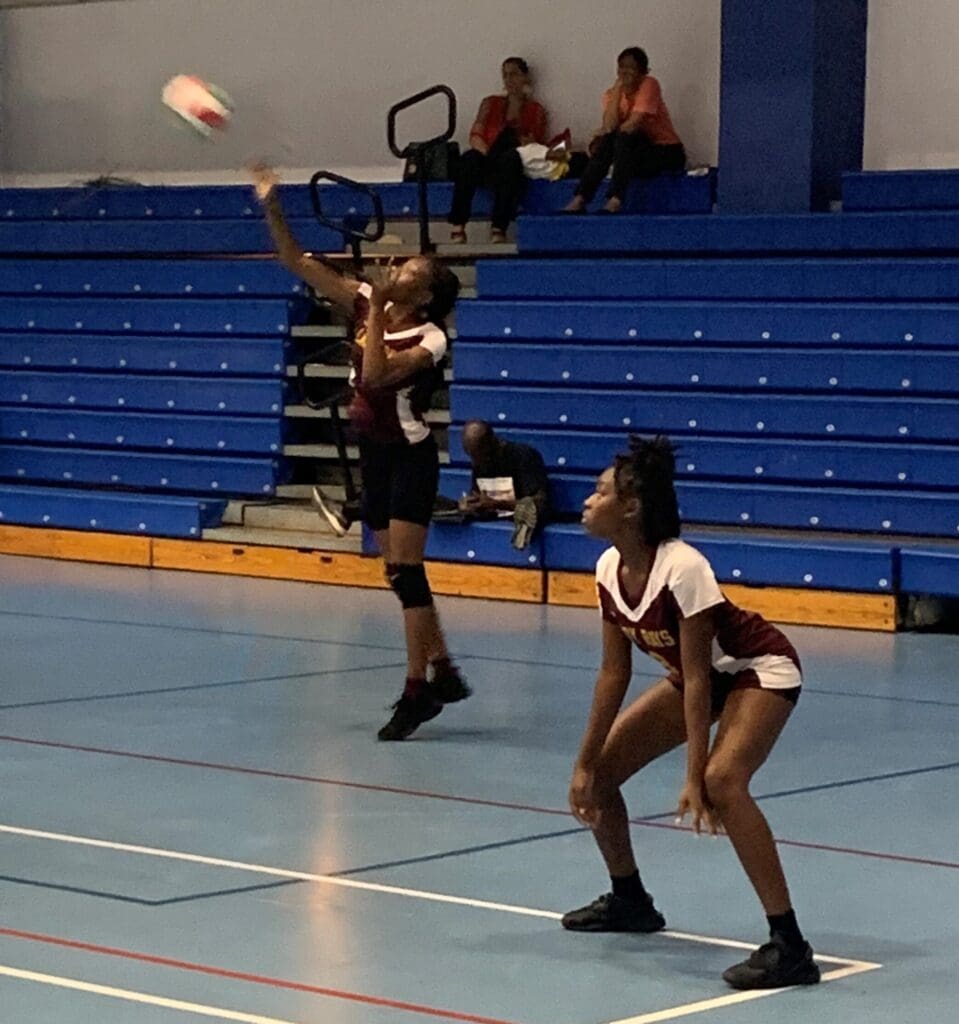 One week into the St. Thomas/St. John Interscholastic Athletic Association volleyball season, some familiar faces and one new face sit on top of the various league divisions.
In the Varsity Girls Division, the defending champions Charlotte Amalie High School Lady Hawks and their rivals the Lady Hurricanes of Antilles School both boast 3-0 records. The two teams have a date for Monday, October 3, 2022, at 5:15 p.m. in the MCM Center. This will be the first of three scheduled meetings this season.
The Varsity Boys Division features three undefeated teams after seven days of competition.  Antilles School is at the top with a 3-0 record. Charlotte Amalie High School and Virgin Island Montessori School and Peter Gruber International Academy (VIMSPGIA) both have a 2-0 record. The Hurricanes will take on VIMSPGIA on Monday, October 3, 2022, at 5:15 p.m. at the MCM Center. CAHS will battle Antilles on October 13, 2022, at 5:15 p.m. at Antilles Gymnasium. The Hawks of CAHS was scheduled to play the Volts of VIMSPGIA on Wednesday, September 28, 2022, however, those matches were rescheduled due to unexpected minor maintenance repairs at the playing facility.
Charlotte Amalie Lady Hawks are alone in first place in the Junior Varsity Girls Division.  They pulled off an impressive win in their last game, coming back to beat the Lady Canes. Gifft Hill is in second place in the four-team league. St. Peter & Paul is the final school competing in the Junior Varsity Girls Division.
There are three teams with unblemished records in the Middle School Girls Division. Gifft Hill leads the pack of eight teams with a 2-0 record. All Saints Cathedral School and Antilles Hurricanes follow close behind with a 1-0 record.
The action continues on Thursday with two scheduled matches at the Bertha C. Boschulte Middle School and one at Gifft Hill School in St. John.  The games at the MCM Center will be rescheduled as repairs to the facility are scheduled to be completed on Thursday.
Here are the current league standings:
VARSITY GIRLS
TEAMS
WINS
LOSSES
Antilles School
3
0
Charlotte Amalie High School
3
0
Gifft Hill School
1
2
Ivanna Eudora Kean High School
1
2
Virgin Islands Montessori School and Peter Gruber International Academy
1
2
All Saints Cathedral School
0
3
VARSITY BOYS
TEAMS
WINS
LOSSES
Antilles School
3
0
Charlotte Amalie High School
2
0
Virgin Islands Montessori School and Peter Gruber International Academy
2
0
Ivanna Eudora Kean High School
1
1
St Peter & Paul Catholic School
1
2
All Saints Cathedral School
0
3
Gifft Hill School
0
3
JUNIOR VARSITY GIRLS
TEAMS
WINS
LOSSES
Charlotte Amalie High School
3
0
Gifft Hill School
2
1
Antilles School
1
2
St. Peter & Paul Catholic School
0
3
MIDDLE SCHOOL GIRLS
TEAMS
WINS
LOSSES
Gifft Hill School
2
0
All Saints Cathedral School
1
0
Antilles Hurricanes
1
0
Antilles CANES
1
1
Bertha C. Boschulte Middle School
1
1
Addelita Cancryn Intermediate School
0
1
Calvary Christian School
0
1
Virgin Islands Montessori School and Peter Gruber International Academy
0
2