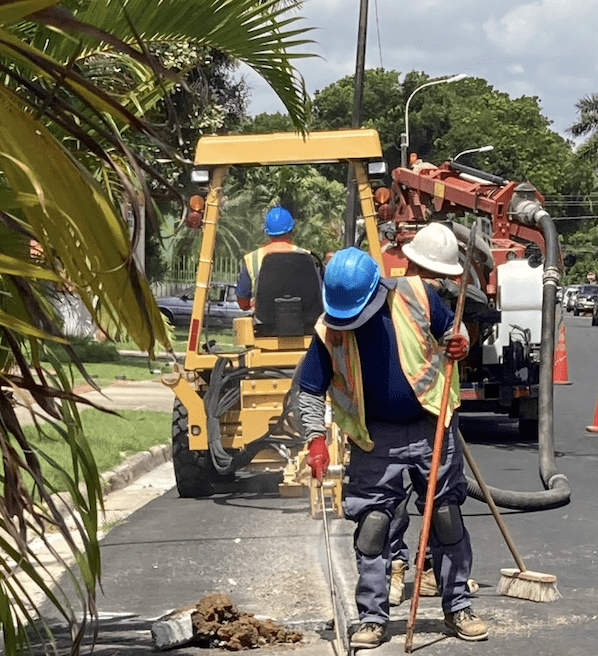 Members of the Public Services Commission Tuesday were trying to do away with what one of its advisors called the "outdated and unnecessary" as they "built a bridge to the new."
Walter Schweikert of Georgetown Consulting Group quoted from an FCC document as he reported to the commission his analysis of the request by V.I. Telephone Corporation (or Viya as it is commonly known, or Vitelco as it was previously known), to be deregulated. The request was submitted to the PSC in January after the phone company committed to not raising customers' rates for the next five years.
Commissioner Andrew Rutnik said the telephone company now had under 20,000 customers and that he supported the request. A Commission staff member said, "Vitelco is shrinking. Liberty is growing."
Liberty became the big telecommunication player in the territory in October 2021 when it bought out Broadband V.I.
Earlier in 2021, Broadband V.I. secured $84.4 million in Federal Communications Commission Connect USVI funds to complete a comprehensive, high-speed fixed internet network. Liberty, which sent a written comment concerning Vitelco's request, has taken over the Connect USVI project.
Chair David Hughes said the Commission was not prepared to act on the staff recommendation relinquishing some of its regulatory power over Viya now and all of its regulatory oversight within five years.
A spokesperson for Viya said the company agreed with the framework of the recommendation put forward by Georgetown Consultants but disagreed with some specifics. He said Vitelco would send a written response to the recommendations of the consultant to the Commission within the next two weeks.
Hughes said that the Commission wanted a full report from its staff on the request and recommendations so it could take action at its April meeting.
Following the discussion about Vitelco, Bala Balakrishnan, general manager of Liberty, gave a presentation on Connect USVI, which is supposed to bring high-speed internet connection to every home and business in the territory.
Balakrishnan said as much of the fiber cable that could be laid underground would be underground. However, he added that sometimes Water and Power Authority poles or Vitelco poles would have to be used. Discussions with both entities are reportedly ongoing.
According to a press release earlier this month, Liberty V.I. is continuing its fixed fiber network construction process with four new projects on St. Croix and St. Thomas. The projects, which will take approximately seven weeks overall to complete, will benefit customers in the East End, Green Cay, and Sunny Isle-Clairmont areas on St. Croix and Estate Smith Bay on St. Thomas.
Balakrishnan was asked if he saw any challenges getting all homes and businesses connected in the five-year time frame dictated by the federal government. He responded that work could only go as fast as permits were issued. He added that much of this was done through collaboration with the Department of Public Works and that DPW was currently understaffed.
Commissioners Raymond Williams and Pedro Williams also attended the meeting.