A disorganized tropical wave is forecast to enter the Caribbean and bring much-needed rain to the USVI and Puerto Rico on Wednesday and Thursday.
"The interaction between a vigorous tropical wave propagating westward across the eastern Caribbean region and a developing, weak upper-level trough to the west of the local islands will promote unsettled weather conditions between today and late Thursday night," according to an update from the National Weather Service in San Juan, Puerto Rico, on Wednesday.
"The resulting rains from the expected showers with isolated to scattered thunderstorms could result in flooding impacts. Breezy conditions and thunderstorms could result in deteriorating marine and surf zone conditions," the NWS update continued.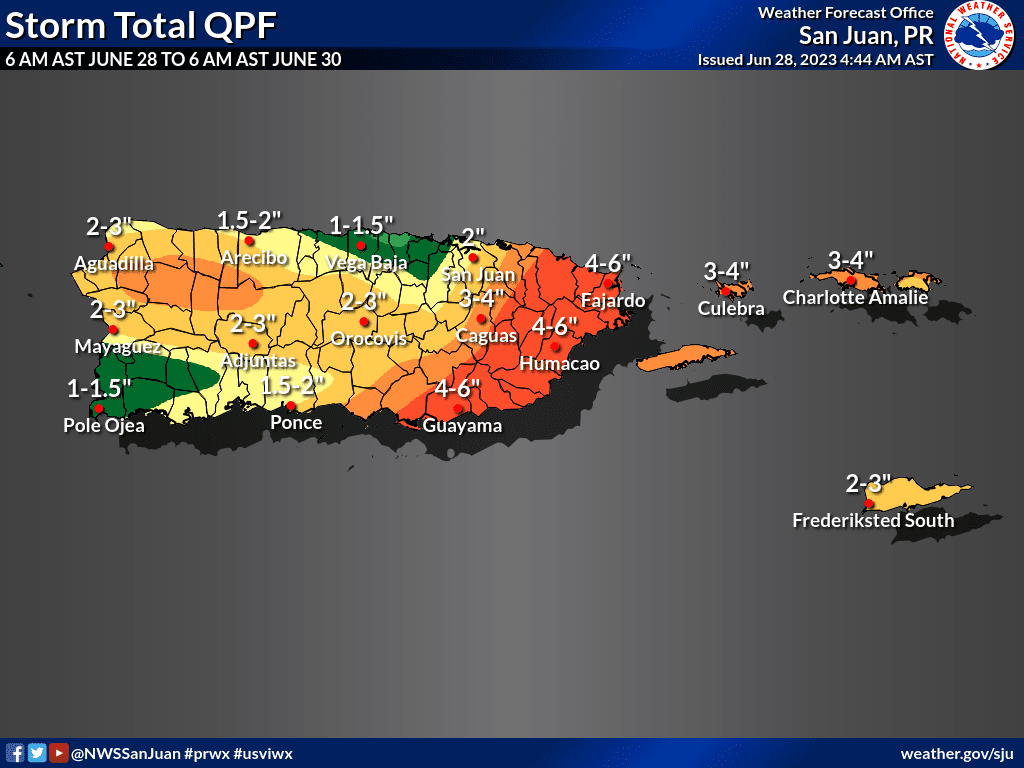 While this tropical wave has not organized into a tropical storm, the precipitation associated with the system may be heavy at times, resulting in up to 2-4 inches of rain across the USVI. Excessive rainfall may cause flooding in some areas, including flash flooding. The NWS explained that "flash flooding" occurs very quickly and can become dangerous.
"Flash flooding occurs so quickly that people are caught off-guard," according to the NWS. "Their situation may become dangerous if they encounter high, fast-moving water while traveling. If people are at their homes or businesses, the water may rise quickly and trap them or cause damage to the property without them having a chance to protect the property."
The NWS shared the following information regarding possible weather-related risks associated with this event:
Excessive Rain Event:
Excessive Rain: Urban areas, roads, and small streams may experience flooding. There is a chance of isolated flash floods
Thunderstorms: Isolated to scattered thunderstorms may produce frequent lightning and thunderstorm winds
Marine: Small craft should exercise caution, especially near thunderstorm activity

Visible satellite imagery obtained at 4 p.m. AST Wednesday shows a disorganized tropical wave moving across the Caribbean region. Heavy rain and gusty winds are possible on Wednesday and Thursday. (Photo courtesy of NOAA)
Although there are some risks associated with heavy precipitation, the potential of rainfall will likely help the drought situation, which has been deteriorating across the USVI. For a recent update on the current drought conditions across the USVI and Puerto Rico, click here.
Weather alerts, including information about flooding, will continually be updated on the Source Weather Page. USVI residents and visitors can also sign up for emergency alerts from the Virgin Islands Territorial Emergency Management Agency and the National Weather Service.