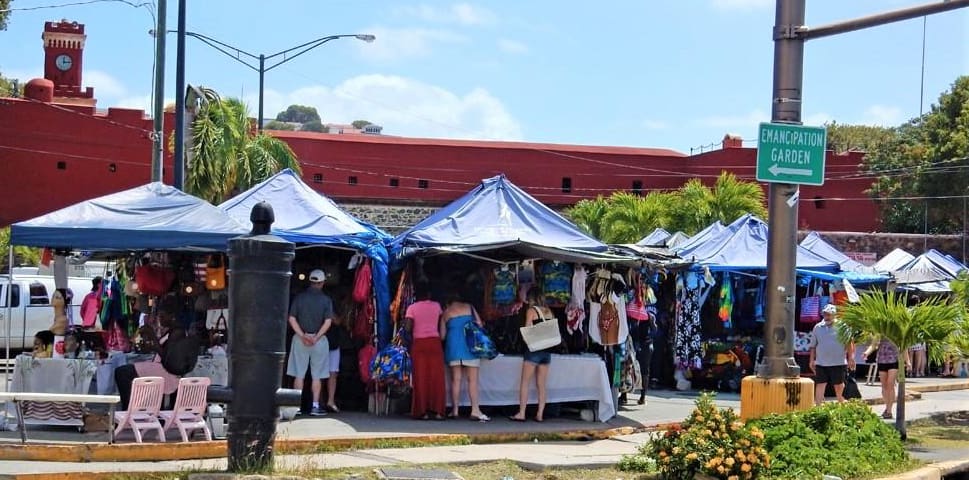 Licensing and Consumer Affairs officials met with St. Thomas' Vendors Plaza merchants at a town hall meeting Tuesday to talk about the run-down state of the major tourism site.
The mandatory meeting held with permitted merchants also looked at the Department of Licensing and Consumer Affairs (DLCA) and police department rules and regulations and updated the vendors on waterfront renovations and their future impact on Vendors Plaza.
According to DLCA, permitted vendors have a grace period until Aug. 19 to comply with existing rules and regulations, as well as any other existing territorial or federal violation.
"DLCA shall educate before it regulates," acting DLCA Commissioner Richard Evangelista said. He added, "DLCA shall be firm but fair."
Property and Procurement Commissioner Anthony Thomas said the government would soon be renovating a white building across from Vendors Plaza, which formerly housed a federal office, to provide restrooms on the first floor for patrons and permitted vendors. The work should begin in the next 12 to 18 months, he said.
Thomas also said there were plans to provide wireless internet for the plaza, located at Emancipation Gardens, while Public Works Commissioner Nelson Petty said there were plans to provide vendor spaces along the waterfront during the second phase of the downtown revitalization project.
Conditions at the plaza have been atrocious for decades, according to the news release from the DLCA. Back in 2001, the V.I. Historic Preservation Commission and St. Thomas Historic Trust urged the vendors be moved to a location more convenient for cruise passengers. DLCA proposed putting in temporary restrooms in 2001 as well. Additionally, Sen. Myron Jackson, then the director of the Historic Preservation Office, had plans to replace the hodge-podge of tents and tarps with hip-roofed vendor stalls.
Two decades later, beat-up, multi-purpose nylon tarps still predominate.
In 2009, Gov. John deJongh's administration held similar town hall meetings and proposed plans to upgrade the area, but with some resistance from vendors. At the time, there was reportedly a modest $100,000 available for improvements.
In 2015, after Gov. Kenneth Mapp took office, DLCA Commissioner Devin Carrington told the Legislature that vendors have what amounted to irrevocable lifetime leases, and many, if not most, sublet their spots for a tidy profit.
"There is presently going on among the vendors a system, for lack of a better word, of absentee vendors," Carrington said.
"There are vendors charging rentals of up to $1,500 per month, whereas we only charge them $200 per year," he elaborated at the 2015 hearing.
At the same 2015 hearing, DLCA legal counsel Frederick Norford said that, while there is no law stating that vendors have lifetime leases, they have them in practice.
"They draw the 64 spots in the lottery, but there is nothing that says they have to let in anyone from the outside. So they just draw from amongst themselves." They have a list, and if one of the lifetime vendors dies, the next person on the waiting list gets in, Norford said in 2015.
Carrington proposed moving the plaza from its current, limited location by the Historic Preservation over to the Department of Sports, Parks and Recreation, and he urged the Legislature to appropriate funding to pay for renovations.
The informal system of absentee vendors profiting off of a government-issued franchise at the St. Thomas Vendors Plaza mirrors the territory's broken taxi system, whereby individual speculators purchase "taxi medallions" granting the right to operate a taxi for tens of thousands of dollars, then do not work driving taxis, but rent them out to those who do the work.
The next Vendors Plaza town hall meeting is scheduled for the first quarter of fiscal year 2020.