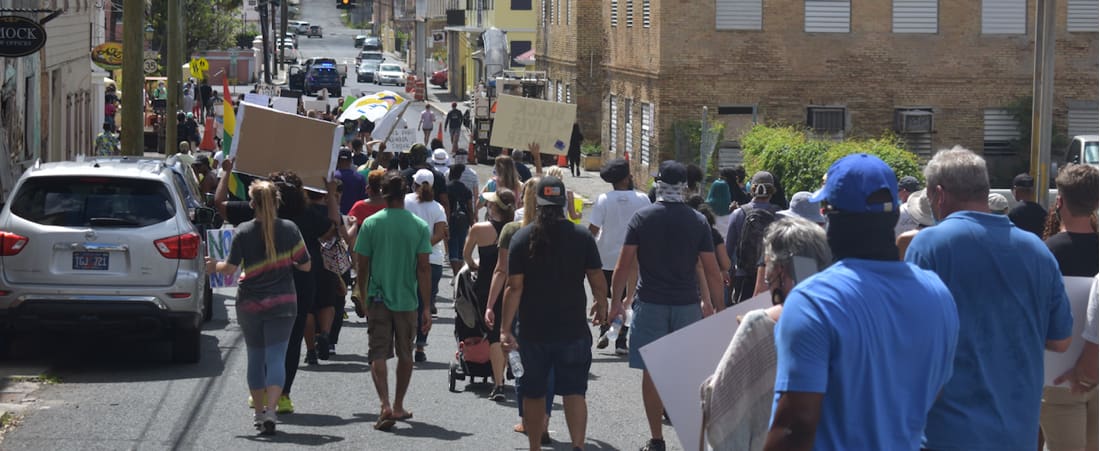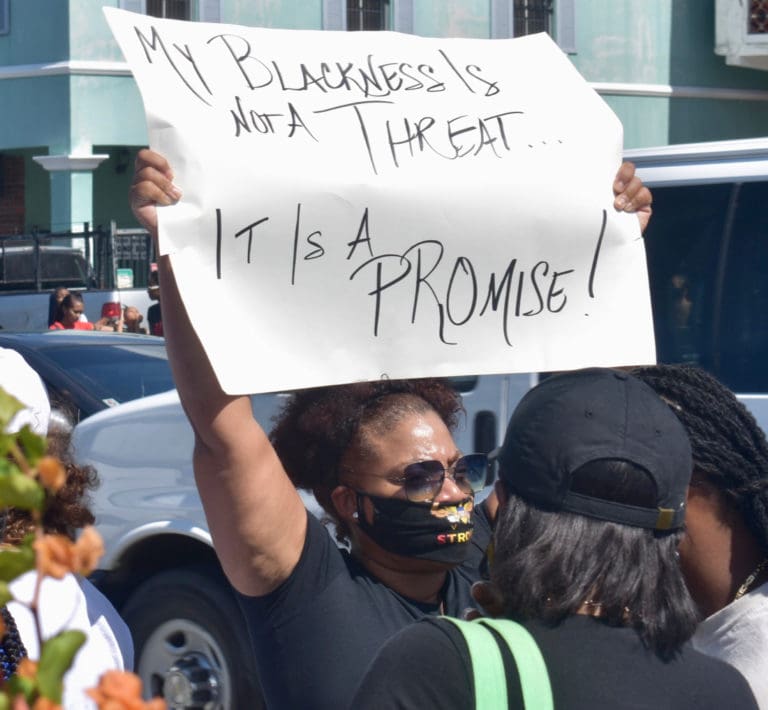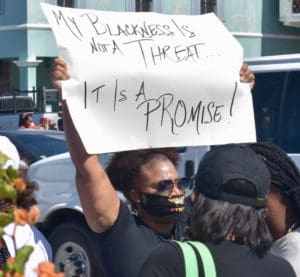 About 1,000 St. Thomians walked from the FirstBank on the waterfront to Roosevelt Park Saturday as part of a Black Lives Matter protest and memorial organized by Anjali James and Brigitte Berry.
The organizers said the event's purpose was "to stand in solidarity with our black brothers and sisters in the USA. We are speaking out against racially motivated crimes and hate against African American communities. More importantly, in our local community, we need to remain united in our quest to reclaim our beautiful peaceful island and demonstrate a repudiation of the senseless gun violence and homicides within our community."
After George Floyd died in police custody when Derek Chauvin, of the Minneapolis police, knelt on his neck for almost nine minutes, pressing his knee into Floyd's neck while the man lost consciousness. Since that Monday, May 25, demonstrations and protests have broken out around the world decrying police brutality and the continued taking of black lives by police around the United States.
Saturday's event on St. Thomas began at 9 a.m. as participants observed a nine-minute silence, so protesters could realize just how long Chauvin was on Floyd's neck.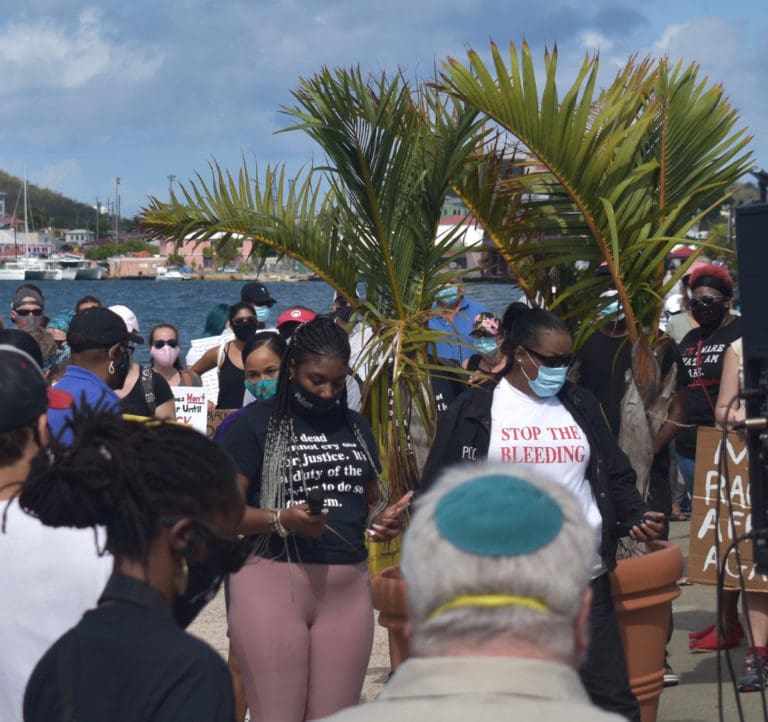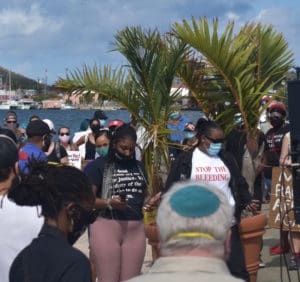 James then read the names of the 22 victims of gun violence in the territory so far this year – Ray Thomas, Ferdinand N. Marshall, Gyasi Chiverton, Jahlil Ward, Carlos Ingles, Endry Montero Bacili, Mikal Dore, Jahkim E. Santiago, Malik Graham, Malcom Francis, Luis Perez, Deshaune Harrigan, Michael Mckie, Junior Akimo Freeman, Shaq'kil Roberts, Bertstand Gilkes, Jamal Jacobs, Jahkerby Charles, Elon Frett, Mendel Felix, Selena Chitolie and Terrance Leroy James.
James said the V.I. community needs to address gun violence.
"Let's stop the gun violence and also be grateful we don't experience the police brutality and the killings that our brothers and sisters on the mainland are," James said. "We really appreciate to live in a community where we don't have to live in fear."
Protesters then marched the route to Roosevelt Park as chants of "No Justice, No Peace" and "Black Lives Matter," among others, could be heard throughout the crowd as cars and trucks passing by honked loudly to show support.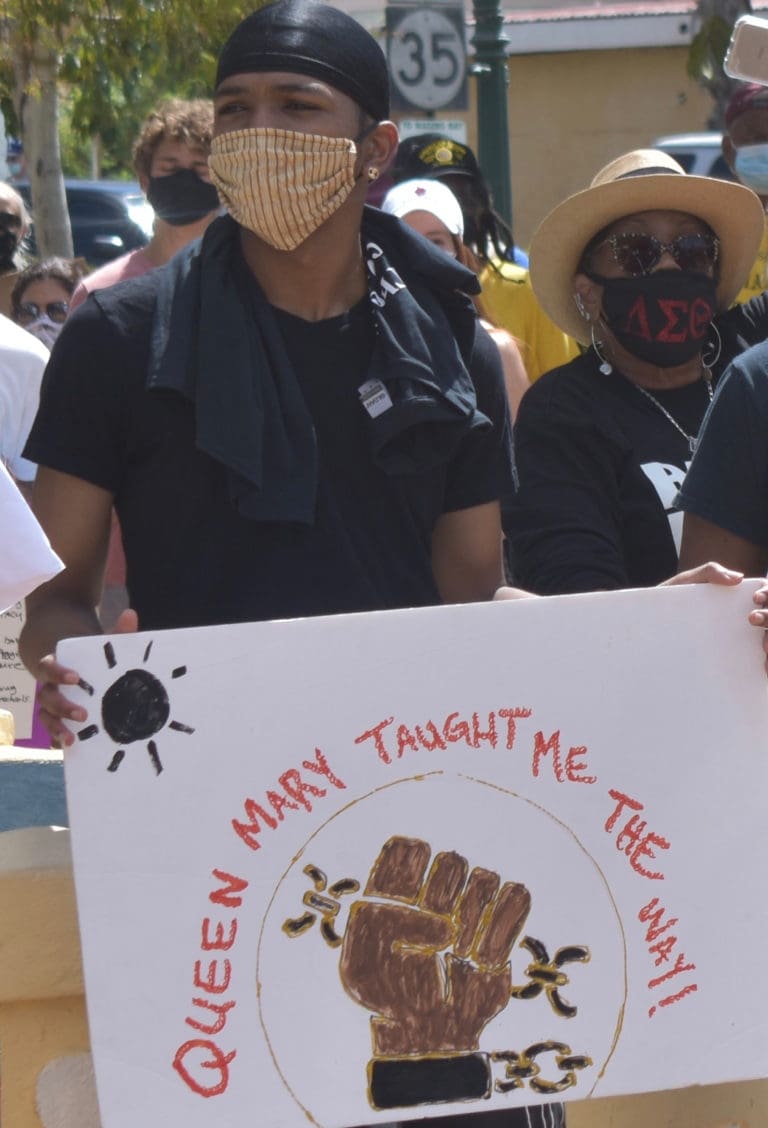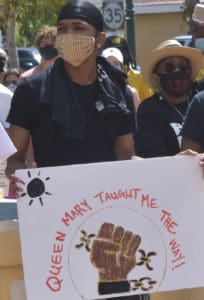 At the park, the group lead by the organizers continued to chant and sang "We Shall Overcome."
After the event, James said she was happily surprised by the turnout.
"Almost too much," she said. "I didn't expect this kind of response, just incredible, the fact of everyone coming together on all our islands for a good cause."
Berry applauded James for the effort.
"She's only 20. I can't remember the last time I worked with somebody on something and being so on the same page," Berry said. "Being able to help with this is an honor."
James said Saturday's rally was just the first step.
"This isn't just all noise and no action, we definitely have a plan, this isn't the end and there is more to come," she said. James said she wants to work with senators on a youth coalition. Berry wants to continue to work on youth apprenticeship programs, adding, "We want more of a change for our Virgin Islanders."
Black Lives Matter/George Floyd events also took place Friday on St. Croix and Saturday on St. John.